Crochet squares are the cornerstones of so many different types of projects. A single crochet square can be framed and hung as a work of art. A bunch of crochet squares can be stitched together to create a large blanket. And there are many, many options in between. Let's take a look at a bunch of crochet square patterns – including free and for sale individual square patterns and patterns for square-based crochet projects.
Crochet Square Free Patterns
Meditative crochet square pattern for mindfulness crochet by @spincushions in a post about the #craftastherapy hashtag on Instagram. Meditative crochet is a cornerstone of the work that I shared in my new book Hook to Heal.
Flower stitch granny square free crochet pattern from Not Your Average Crochet. This is a great square because it incorporates a floral design, which is a popular option, but it also incorporates really textured stitches, which gives it a three-dimensional feeling.
Granny Square Flower free crochet pattern from ByHaafner. Here's a flat version of a floral granny square if that's more your cup of tea. Another pretty choice for sure.
Square in a Square in a Square Granny Square updated free crochet pattern from Sue Pinner. This is a cute idea, showcasing the repeating, rotating square pattern through color changes.
Bella Coco Sunburst Blanket free crochet pattern via LoveCrochet and an interview with the designer
Pretty puffy square free crochet pattern from RedAgape, a different version of a puffy floral square
Flower granny square free crochet pattern from Stitch Craft Create; this one is so boldly colorful!
Flower square crochet pattern free from RedAgape; another flat alternative – isn't it amazing how many different squares there are that can evoke their own feelings even though they're all based on the same ideas?
Blooming flower square free crochet pattern from Rescued Paw; this one has a wiggly fun feeling!
12″ crochet flower granny square pattern from @LittleMCrochet; The real pattern here is for the flower but it's nice to have the square pattern, too, because there aren't a lot of patterns that show how to make a flat, closed square (as opposed to the open spaces in a traditional granny square)
Squaring the Circle crochet pattern free from Spincushions; here's an alternative to the closed square, which first starts with a circle
Lacy flower granny square free crochet pattern from Meladora's Creations; the colors here hint at Halloween but you could achieve an entirely different impact with your own color selection
Free crochet dishcloth square pattern from @fiberflux; use this closed crochet square pattern to make gifts for yourself or others
Three round crochet square free pattern from Rescued Paw; when you want small squares that work up quickly then go for a crochet pattern like this one!
Crochet popcorn granny square free pattern by @UCrafter via @allfreecrochet; this one is a five round granny square that also works up quickly
Bobble stitch crochet sheep square free pattern @repeatcrafterme; a perfect single square for a wall hanging in a nursery or great for baby blanket projects!
Four points square free crochet pattern @jessie_athome; this is a great pattern that showcases a diamond/star inside of the square
Crochet puff stitch square free pattern @olgalacycrochet; this looks especially great in the natural yarn!
Pixel crochet squares free pattern @repeatcrafterme; these can be used in different color combinations along with graphs to create a wide variety of image-based blankets!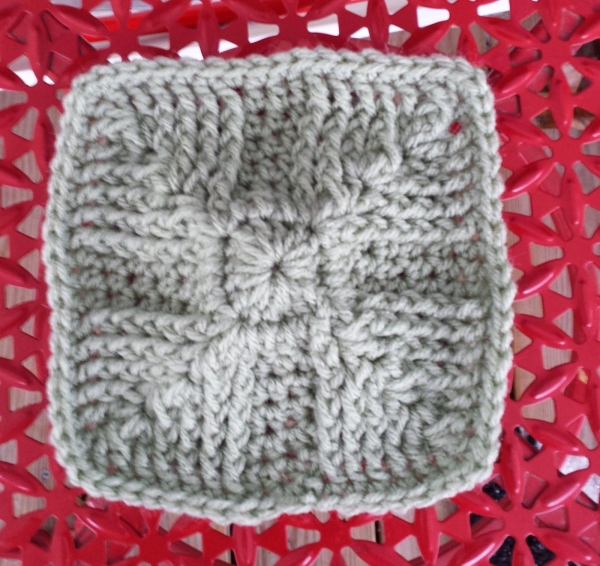 Corner Pop free crochet square pattern from DragonflyMomof2; an astounding textural crochet pattern. Luscious to the touch.
7″ x 9″ crochet block free pattern from @UCrafter; although this one isn't quite a square, you could tweak it to make it on or simply use the crochet pattern as is to make washcloths, blanket squares, etc.
Crochet flower square free pattern from Suz Place who is always terrific at offering bold floral patterns
crochet square free pattern @mamas2hands – updated version here – offering us a very unique twist on the idea of a circle-in-a-square
Crochet flower star square free pattern from Twilight Taggers; where the star-shaped crochet flower sits atop the closed square pattern
Mayapple floral crochet granny square free pattern by @UCrafter for Stitch and Unwind; where the flower pops out from the center
Keito Palette has modified Wink's crochet picot mandala into a square! Awesome!!
Mini Magic Mandala Square Crochet Video Tutorial @mooglyblog; what genius color use!
Crochet Square Patterns to Purchase
13″ and 20″ crochet square patterns for sale from @spincushions; these large squares are great for big blanket projects but an individual square, worked in a solid color like this or a bunch of colors instead, would make a stunning wall hanging
Crochet Square Project Patterns (Free)
Crochet granny square potholder free pattern @mamainastitch; what an adorable use of small crochet squares!
Granny square clutch purse free crochet pattern by Not Your Average Crochet; this is a really contemporary clutch that gives a nod to the past with those granny squares
Crochet slippers free pattern from @fiberflux; a great way to turn squares into a useful shape that's cute as well as cozy
Boho granny square fingerless gloves free crochet pattern from Crochet in Paternoster, another great way to make squares into a shape for accessories!
Poncho free crochet pattern @crochet_stuff; these crochet flower squares prelacy and open and stretch nicely for the right shaping in this poncho
Rainbow granny square crochet blanket pattern free @redheartyarns by @jessie_athome; it's always great to use the colors of the rainbow in a project!
Primary Colors crochet blanket free pattern from Underground Crafter; a great square and a nice use of color placement
Mitered square pet blanket free crochet pattern from Underground Crafter; this is a good pattern to keep on hand, not just to use as a pet blanket but to gain an understanding of the idea of the mitered square
Crochet squares festival-inspired purse pattern free from @CraftCreateUK; take it to a music festival or just take it to school with you!
Candy scarf crochet symbol chart pattern free from ByHaafner; I love the alternating color scheme here!
Crochet Square Project Patterns (to buy)
Kaleidoscope Eyes crochet blanket pattern for sale from @feltedbutton who always offers us the most amazing crochet blanket designs that are super rich in color
Cornucopia crochet blanket pattern for sale from Amanda's Crochet Blanket Adventures, another great source for very colorful, intricate, fabulous crochet blankets!
Circles and squares crochet blanket pattern for sale from Crochet Spot; the alternating circle and square is a nice twist on the play of these two motifs together in one crochet afghan
Crochet bolero pattern by Doris Chan for sale @websyarn; there's a great use of granny-style pentagon shapes here in addition to the basic squares to create the shaping for this top
Desert in Bloom crochet blanket pattern for sale from The Lazy Hobbyhopper; this one makes me smile since I'm originally from the desert town of Tucson, AZ
Fringed crochet boho vest pattern for sale from Outstanding Crochet – a perfect boho, music-festival-inspired crochet pattern that has a nice blend of structure and laciness
And More
5 tips to design your own blanket using your favorite crochet granny squares by @UCrafter via Stitch and Unwind
How to turn a granny square into a granny rectangle with blocking via @stitchstory – great showcase of how blocking can change fabric to suit the needs of a project
How to join granny squares with mattress stitch @ucrafter. She also shares How to join granny squares with a whipstitch. There are many different ways to join your crochet motifs!
Another option: How to join crochet squares
How to make a square crochet envelope from Hello Hart
Tutorial for making a stashbusting crochet scarf @spincushions
Hello Hart did a great tribute to the granny square in a post that shares some of its history
You might also like: