In this post you'll find links to the best of the best in crochet art, crochet patterns, crochet fashion from all around the web this week.
Sponsor Love
@yarnvalet launched this week; this is a family business of knitters and crocheters who are making some really cool tools for yarn storage and craft organization. They also had some free downloadables on their site this week, like this project pad row counter: "It will help you count your rows as well as pattern repeats! Just download, print and fill out: what project you are working on, needle/hook size and yarn."
Something Special
12-Week Christmas CAL from Red Heart Yarns, Pattern Paradise, Charmed by Ewe, and Hooked Haberdasher – begins 9/4/15
Crochet Health
Family Craft Studio did a beautiful post about making crochet Mandalas For Marinke, writing (in part):
"With so many overwhelming changes happening in my life currently, I took the opportunity, while making my mandalas, to consciously reflect on the state of my mind. At first, every few stitches I noted the different stresses, the anxieties, and feelings of lonely stagnation. With each round I created, I would focus on, restructure, ease out of, and then close the door on another stressor as the last stitch on my round closed too."
Crochet Art
Yarnbomb artist London Kaye is joining Lion Brand Yarn for a big yarnbombing event on 8/30/15 in NYC Union Square
Hello Hart interviewed MonicaJ about her crochet lace stones art
Crochet artist Kate Jenkins shared this crochet fish photo sneak peek that will be part of the "fish counter which will form part of my exhibition 'Kate's Plaice the Stitchmongers' at The Knitting and Stitching show at Alexander Palace 7th-11th October"
Crochet teepee by Greedy For Colour, sneak peek from her book Let's Go Camping!: Crochet Your Own Adventure
, due out in September and available for pre-order now
Crochet Books
Edward's Menagerie – Birds
crochet book review by Fiber Flux; this book is the follow-up to Kerry Lord's Edward's Menagerie
The Crochet Workshop by Emma Osmond
Crochet Fashion
Free People crochet dress via Outstanding Crochet
Perrie Edwards in mustard crochet dress
Crochet Designers
Knitwear designer Andi Smith shares her love of crochet on the Marly Bird podcast. Marly Bird also had an interview this week with Amy Shelton of Crochetville.
@jessie_athome did a crochet designer roundup of the wonderful work by @elk_studio
Crochet Patterns
Wink's mandala blanket crochet pattern free from A Spoonful of Yarn (Wink's sister-in-law), who touchingly wrote: "I feel weird now it's done. It's not like now it's finished, Marinke will come back. There's no magic that makes all the missing go away. But it helped me heal. I hope it helps other people heal to, or just bring a smile to their face. For whatever reason they decide to make this, make it with love."
Mega Mandala cushion free crochet pattern from Red Agape, mentioned earlier this week in the roundup of 40+ crochet mandala patterns
Bobble crochet tote bag free pattern from Love Crochet
Fringed crochet boho vest pattern for sale from Outstanding Crochet
Peacock Stitch shawlette free broomstick lace crochet pattern from Underground Crafter
Adder's Fork Twisted and Twirled crochet necklace free pattern from @jessie_athome
4-in-1 hat/cowl convertible crochet pattern for sale from ACCROchet
Tribal Typhoon Toque crochet hat pattern for sale from Glamour 4 You
Colorful crochet cowl free pattern from Elk Studio
Chunky finger crochet scarf free pattern from Hopeful Honey; learn how to finger crochet here
v-stitch crochet shawl pattern free from Cream of the Crop Crochet via Stitchin' Mommy
Stellar Stripes crochet shawl free pattern from Marly Bird
Wave stitch fingerless gloves free crochet pattern from Meladora's Creations
Adjustable crochet ottoman pouf pattern for sale from Crochet Spot
Crochet dreamcatcher pattern by Little Things Blogged via Craftbits
Romantic Mori Lariat crochet pattern for sale from Maya of Little Treasures
Toddler's crochet lamb hat free pattern from Mama in a Stitch
Simple shells toddler legwarmers free crochet pattern by Chaleur Life via My Hobby is Crochet
Extended single crochet hat pattern free from Posh Patterns
Cute-as-a-Button Crochet Baby Bib free pattern from @allfreecrochet
Minnie Mouse Crochet Hat free pattern from @crochet_stuff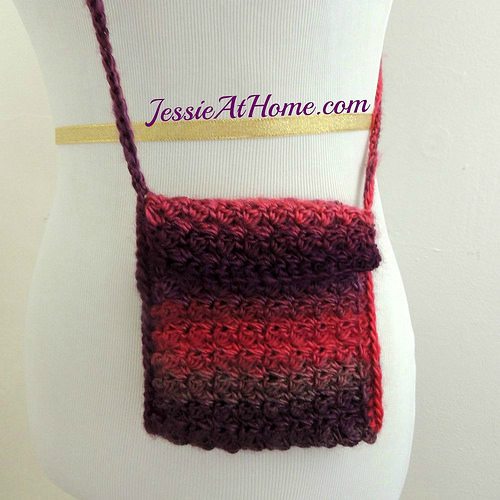 Quick little bag crochet pattern free from Jessie At Home
Crochet octopus pattern for sale from Fresh Stitches
Crochet flag free pattern from @ucrafter; make it in the colors of your favorite teams!
Tunisian crochet laptop sleeve pattern for sale from RSS Designs
Apple cozy free crochet pattern from Repeat Crafter Me
10 crochet patterns for tooth fairy pillows including this one from Moogly
Crochet Tutorials
How to Pineapple Crochet on Craftsy
How to Chevron Crochet from Rescued Paw Designs
How to crochet smock stitch from Melody's Makings
How to crochet custom bag handles from Moogly
How to join granny squares with a whipstitch @ucrafter
How to figure out the number of yardage used in a finished knit or crochet project; tutorial from Little Monkeys Crochet
How to make tassel borders for crochet blankets from Lazy Daisy Jones
Crochet News
"As a U.S. Army infantryman during World War II, Vern Farnham saw hard fighting from Marseilles, France, to Stuttgart, Germany … Now, more than 70 years after the end of World War II, the 90-year-old Parrish resident continues to serve his fellow veterans by crocheting colorful afghans for patients at Bay Pines VA Healthcare System. So far, he's made 425, all to show the vets that someone cares about them, and bring them a little cheer."
Super bulky crochet hooks now for sale from Steel and Stitch
Love a pattern someone has created in crochet for the home? Enter them as a fan nomination in the Third Quarter Crochet Awards, open now.
Yarn Things
How to Make Yarn from Sheets and Pillowcases from Creative Jewish Mom
Other Crafty Stuff
Beautiful beaded fabric necklaces by Maya of Little Treasures
How to Make Yarn Mache Baskets @CraftCreateUK
Paper art by Annie Vought via Jealous Curator
Resin, wood and epoxy art sculptures by Bryan Ray via lppshop