There are a lot of upcycling crochet ideas in my roundup of eco-friendly crochet from back in 2013 but that was quite some time ago so I thought I'd add some new ideas with a fresh roundup.
How to Make T-shirt Yarn Baker's Twine from bilingual blog Nur Noch via @recyclart
"Mark Bridges, Oscar nominated costume designer for Inherent Vice, is leading the pack toward the future of fashion." He explains that this vintage crochet dress worn by Katherine Waterson was a thrift store find that he dyed a bit to make the color brighter.
Old table upcycled with crochet
Stool upcycled with crochet from daniellajoe
More crochet-covered stools from upcycling artist Samantha Claire Wilson
Recycled telephone wire crochet from artist Magda van der Vloed
Plastic and paper bags upcycled with crochet to make an apron – tutorial on Etsy blog
How to Update Jars with Crochet Covers via @creativejmom
@sandracherryhrt shares how she saved shrunken socks with a crochet upcycle
Denim upcycled into a crochet rag rug from little_v_and_me
Gina Michelle uses recycled plastic bottle yarn to crochet this cage skirt
My Recycled Bags shared a free crochet pattern for making a plarn crochet wheelchair tote
Crochet Dynamite offers a free pattern for upcycling capri sun bags with crochet to make a magazine tote bag.
Aluminum can crochet hat made by KatsCoolCreations on Etsy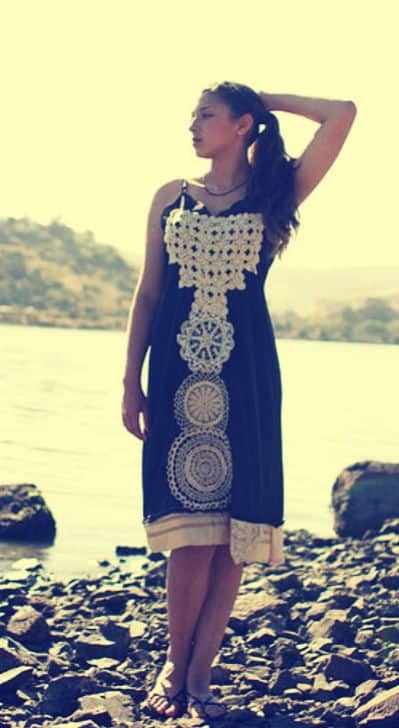 20 crochet dresses made of doilies
Enjoy upcycling? You might like these 20 upcycled sweater tutorials.