Two days ago we took a look at 12 Tunisian crochet patterns and yesterday we looked at 12 Tunisian crochet photos for inspiration. But what if you don't know this niche of crochet, yet? Here are some resources to help you learn Tunisian crochet.
Tunisian Crochet Tutorials
Expert guide to Tunisian crochet from @SimplyCrochet_
Learn the basic Tunisian Crochet stitch over at Crocheting the Day Away
How to Crochet Tunisian Simple Stitch via @websyarnstore
How to Work Tunisian Simple Stitches in the Round via @crochetme, which also has How to Crochet Tunisian in the Round
How to Crochet Tunisian Purl Stitch via @mooglyblog
How to Tunisian Treble Crochet via @crochetspot
How To: Tunisian Crochet Lace Stitch via @menglar
how to crochet tunisian bump stitch @crochetme
How to Crochet Tunisian Even Stitch by @AGMode
How to Tunisian Crochet Entrelac @crochetspot
How to do a grafting seam in Tunisian crochet @crochetme
Zen Crochet shared a unique crochet stitch tutorial for "orange wedges", describing it as "regular crochet meets Tunisian crochet".
Note that most of these blogs share additional Tunisian crochet tutorials besides the ones I've linked here so explore those blogs for more information on how to Tunisian crochet!
Tunisian Crochet Books
Tunisian Crochet Baby Blankets by Sharon Silverman
Tunisian Crochet for Baby by Sharon Silverman
Tunisian Shawls by Sharon Silverman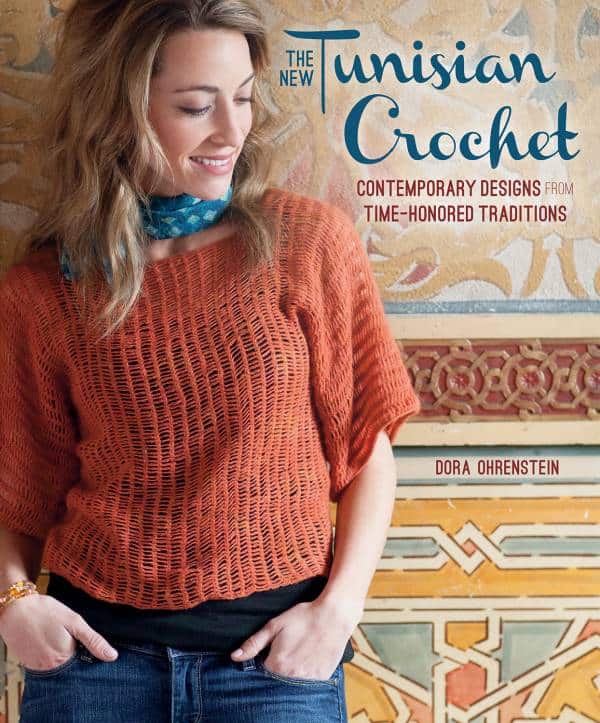 Dora Ohrenstein's The New Tunisian Crochet: Contemporary Designs from Time-Honored Traditions
which I loved
Tunisian crochet patterns and tips free ebook from @crochetme
Tunisian crochet baby blankets by Kim Guzman
Tunisian Crochet Today: Projects for You and Your Home
by Sheryl Thies
Crochet for the Kitchen: Over 50 Patterns for Placemats, Potholders, Hand Towels, and Dishcloths Using Crochet and Tunisian Crochet Techniques
by Tove Fevang
Tunisian Crochet Classes Online
Custom Fit Tunisian Crochet by Dora Ohrenstein on Craftsy
Tunisian Crochet (Style and Color) by Jennifer Hansen on Craftsy
Learn Tunisian Crochet with Kim Guzman at Annie's
Learn Tunisian Crochet Colorwork with Rohn Strong at Annie's
Tunisian Cables and Lace with Kim Guzman at Annie's
Tunisian Crochet Articles
Here is a little bit more information on Tunisian crochet: