If you love to crochet in color then you'll appreciate this variety of super colorful crochet patterns. Want to crochet colorful works but don't feel skilled enough? The tutorials on colorwork crochet at the bottom of the post are for you.
Colorful Crochet Blanket Patterns
Monet's Garden Throw Crochet Pattern for sale from @FeltedButton, who is one of the most skilled designers of both free and paid patterns featuring detailed, perfect colorwork.
Free crochet blanket pattern also from @feltedbutton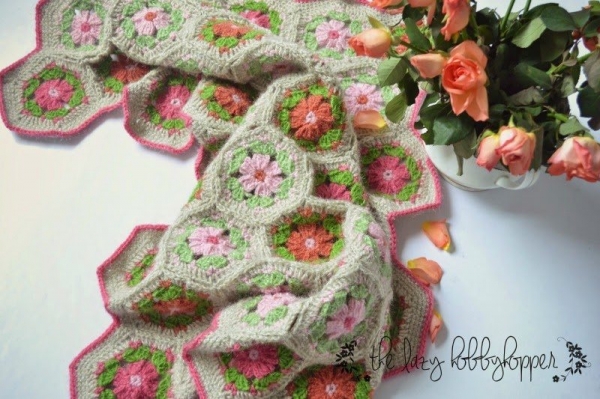 Hexagon flower crochet blanket pattern for sale from The Lazy Hobbyhopper
Free crochet afghan pattern from @mooglyblog
Crochet animal alphabet afghan free pattern @repeatcrafterme
Crochet squares blanket free pattern from Laurel's Place
Crochet owl blanket pattern for sale from Little Treasures
Colorful striped crochet blanket free pattern from Rescued Paw
Prism blanket crochet pattern for sale from @feltedbutton
Colorful Crochet Cushion Patterns
Reversible rainbow crochet cushion pattern/ tutorial @holly_pips
Princess and the Pea crochet pillow pattern @redheartyarns in the Whimsical Wonderful Pillow Patterns ebook
Sarah London's Gisele crochet pillow pattern
Crochet pillow/ cushion pattern for sale from @annemariesblog
Rainbow Sherbet Throw Pillow free crochet pattern by @twinkiechan
Other Colorful Crochet Patterns
4-strand crochet basket pattern free from @emmaleithbox
Colorful dragon crochet pattern from Heidi Bears who makes lots of great colorful crochet animals
How to make a granny hexi crochet butterfly @fiberflux
Peacock motif free crochet pattern from @madewithloops
Colorful crochet coasters free pattern from mjukdesign
12 Petal crochet flower pattern free from Suz Place
Crochet hexagon flower free pattern from Sucrette
Free crochet pattern for floral candle mat via BellaCrochet
Crochet Colorwork Tutorials
Crochet colorwork tutorial (with info on stranded colorwork vs tapestry crochet colorwork) from @SolRencoret
How to change yarn colors in crochet via @websyarnstore
4 ways to join a new color of yarn @happily_hooked