Here is this week's edition of crochet link love where I try to support the crochet community by sharing links to the best of the best in crochet art, crochet patterns, crochet fashion and more from around the web this week.
Sponsor Love
Thanks so much to today's sponsor Plum Deluxe!
Tea is the perfect pairing for crochet! Join the Plum Deluxe organic tea of the month club and always have a fresh, seasonal tea on hand. All-organic, fair trade, non-GMO, vegan, gluten free – and only $10/month! Mention 'Crochet Concupiscence' for a special gift in your first shipment.
Check out the great post Plum Deluxe did on crochet trends as well as their tips for creating a cozy crafting space.
Something Special
Flo shares her experience of crafting the popular Sophie's Universe CAL so far in this crocheter interview
Crochet Quote
"Her toes hide in the basket of soft yarn and she looks very concentrated where she sits with her legs crossed and her back straight. With hook in one hand and yarn in the other she works her way forward. Without problem." – My Rose Valley in a post about her daughter learning to crochet
Crochet Art
Mixed media art doll with new crochet flower brooch by Hello Hart! She also shared a beautiful pair of knit, crochet and embroidery gloves she gave to her daughter as a tangible reminder of mom's love as she heads away.
News article about #100womenproject: "Reader asked for 100 vines but has received more than 400 from 15 countries. "I'm insanely overwhelmed by the openness of the women who shared their art and their stories". Thanks to any of my readers and Instagram followers who joined me in contributing wisteria vines to this project! (photo above were few of the ones I sent in)
250,000 crochet poppies being installed in Fed Square for Anzac Day. Picture: Norm Oorloff Source: News Limited
Check out the wonderful eWoodStory mini Masterpiece frames with their artwork in crochet, knit, embroidery and more via @stitchstory
Crochet Books
Love in Every Stitch: Stories of Knitting and Healing
by @LeeGantKnits. This is a book that includes healing stories of knit and crochet and it will likely appeal to fans of Crochet Saved My Life: The Mental and Physical Health Benefits of Crochet
. Stitch and Unwind has an interview with the author.
Pam Mackenzie reviewed Dora Ohrenstein's Crocheter's Skill Building Workshop
@annabooshouse announced the release of her new crochet book: Beginner's Guide to Crochet: 20 Crochet Projects for Beginners
Crochet Designers
Crochetology shares why she doesn't gauge swatch and what she does instead in this post about crochet shorts
Krista of @RescuedPaw shared a bit about herself and how a portion of all her crochet design sales go to animals in need
@crochetbyfaye has a new Interweave crochet class on Solomon's Knot lace
Crochet Fashion
Calypso St. Barth's bridal collection includes a crochet dress via @bustle; see more crochet wedding dresses here
Crochet maxi dress from Ecote via Outstanding Crochet who always finds the best crochet fashion!
Former Australia's Next Top Model contestant Simone Holtznagel shared: "how cool is my custom crochet bikini by @beijobaby"
7 summer fashion trends perfect for crochet @aboutathome @aboutdotcom
Crochet Patterns
I've rounded up 100 free crochet scarf patterns over @aboutdotcom @aboutathome including this one from @jessie_athome
Candy scarf crochet symbol chart pattern free from ByHaafner
8 Mommy-and-Me Crochet Patterns including these matching ballet slippers from PatternParadise via @becraftsy
Crochet teddy bear free pattern by Pamela Mackenzie
Japanese knot plarn tote bag free crochet pattern from My Recycled Bags
Hexagon crochet purse pattern free from Hopeful Honey, part of the lovely Hexi Blog Hop CAL, which also includes patterns this week from @gleefulthings and @fiberflux
Bobble Stitch clutch crochet purse free pattern @bhookedcrochet who also has a terrific basketweave basket crochet pattern this week
Beautiful thread crochet handwarmer pattern for sale from Mamachee
Aviator hat free crochet pattern by @ucrafter
Crochet striped earflap hat free pattern, multiple sizes, from Alli Crafts
Turban newborn hat free crochet pattern from Cream of the Crop Crochet
New crochet hat pattern for sale from Akua Lezli Hope
2 new colorful crochet blanket patterns for sale from @feltedbutton
Girl's rainbow tank top free crochet pattern by @jessie_athome
Celtic Weave and Cluster Stitch Rainbow Mile-a-Minute Crochet Afghan free pattern by Meladora's Creations
Crochet shawl pattern for sale from @elkstudio_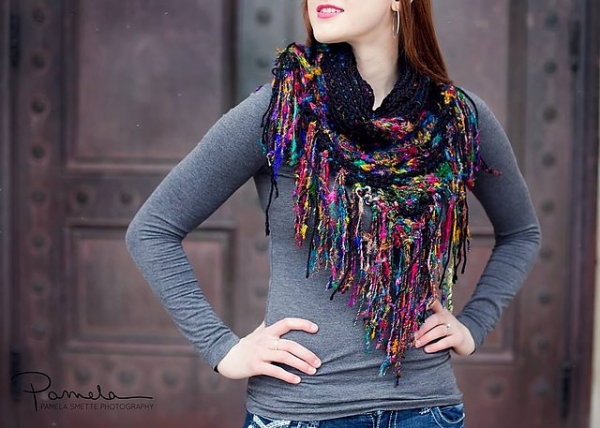 Silk sari yarn crochet scarf pattern for sale from @jbhcrochet
Rainbow cup cozy free crochet pattern from @fiberflux – also good for organizing your crochet hooks
Crochet rainbow washcloth free pattern @SCCelinaLane
Finger puppets free crochet pattern from @mooglyblog
Crochet dog leash free pattern from Mamachee
Puff stitch crochet face scrubbie free pattern from Cream of the Crop Crochet
Loofah-style crochet bath scrubbies free pattern from Annoo's Crochet World
Crochet Tutorials
4 ways to join a new color of yarn @happily_hooked
How to crochet a perfect circle @kpwerker
How to check your crochet gauge from Posh Patterns
Crochet Tips
How to crochet double treble stitch via @fiberflux; more about this and other tall stitches here
@crochetkitten explains the difference between FLO and BLO crochet and when to use each
Upcycling Tips: 10 items you can recycle with crochet
Crochet News and Info
67 Blankets for Nelson Mandela Day broke a crochet world record; these records are being broken left and right! Stel of Haak-n-stekie, writing about it, shares: "Thousands of knitters and crocheters had worked on beautiful blankets, to give away to strangers, to people in need, in crisis. Everyone who has made a blanket knows that you don't do it in a just a few days, and that, for me, is the greatness of this event, that thousands of people had been willing to put in the time and the effort, from grannies to school girls, corporate yuppies to the Sharks rugby team, this is was a collective effort that makes one happy."
Yarn Stuff
Forever in Fibre shared how a yarn blending board works
How to read yarn labels from Stitch and Unwind
@mamas2hands shared her yarn purchase from Redfish Dyeworks
@NYAcrochet shared what the yarn she bought from Welthase
10 items you can crochet with plastic bag yarn
2 new Boutique yarns from @redheartyarns; I also like Boutique Fleecy, one of the 5 most unique Red Heart Yarns
Little Woolie shared her yarn studio
Other Crafty Things
Lithuanian Knitting: Continuing Traditions is a travel-memoir-history-knitting book. Interview with the author via editor @kpwerker
DIY Moon Phases Cross Stitch Kit
How to Dye Textiles in a Front Loading Washing Machine @apttherapy
@molliemakes shares: "Made You Look, a pioneering documentary about the DIY graphic arts scene in the 21st century. With interviews from top British creatives, publishers and agency owners, the film explores why more people than ever are turning to analogue means."
Special Thanks