Welcome to the 2014 Awesome Crochet Blog Awards.
Today's award is for:
Best Crochet Interviews
And it goes to:
About This Award
Learn more about what these awards are here. This specific award is for the best crochet interviews. These are a really important part of the crochet community. Interviews help us get to know the people behind the patterns and artistic creations that inspire us. They de-mystify the process of crochet while shining a spotlight on the work. A good interview provides us with information that we couldn't find elsewhere around the web.
About The Winner
The winner of this award is Gwen Blakley Kinsler of Crochet Queen: Royal Ramblings. Gwen is a crochet artist, teacher, designer, author and the founder of the Crochet Guild of America. She is also a member of the National Needlework Association, a crochet retreat leader and an entrepreneur who founded her own business called Fiber Impressions in the early 1990's.
Gwen learned to crochet in the 1970s. Her Amazon author bio shares:
"In 1971 as a Peace Corps volunteer in Honduras, Central America, she never dreamed that the simple thread crochet learned from co-workers in a small mountain village would lead her on an awesome and passionate crochet journey. Whether it is the "artistic genes" she inherited or the decade in which she learned, Gwen has always pursued unique and extraordinary crochet designs. She was inspired by generous designers eager to share their knowledge and creativity."
Gwen enjoys designing accessories and teaching freeform and beadwork crochet. She loves celebrating the artistic aspects of crochet and she writes about all aspects of the needle arts. She learned to knit in 2011.
The tagline of her site reads:
"The Queen is passionate about crochet and she is always looking for ways to "hook" her readers into reading about her weekly crochet ramblings."
Connect with Gwen on social media:
Why The Winner Won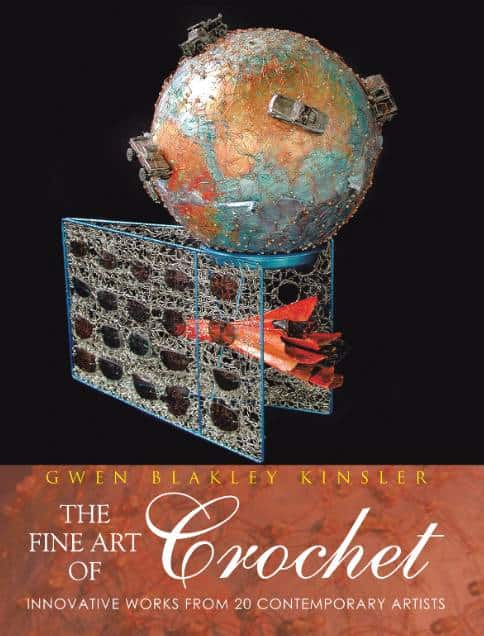 Here are some of the reasons that I selected this blogger for this crochet award:
Strong writing combined with good interview questions. Her intros lead well into the interviews and the interviews are edited and clear.
She adds interviews to other information. For example, she has done author interviews as a way of telling us about new crochet book releases.
She interviews a range of people in crochet – some of those who are most well-known in the industry and then others who are more niche, off-the-beaten-path folks.
This Winner Previously Won
In previous years I've awarded this blogger:
Other Categories I Could Have Chosen
Each person is only awarded one award each year (and likewise, each award only goes to one person with a few exceptions) but of course each amazing blogger often does many things well. Some of the other categories that I easily could have given this blogger an award for include:
Support the Awards
If you win one of the awards (or if you just want to show your support of this awards project) you are more than welcome the spread the word. Feel free to use the image above and resize as needed to add to a blog post or your blog's sidebar. Please link back either to this post or to the main post. You can also spread the word through social media. The more the merrier … And extend a hand to give a congratulations to this winner!