Link love is my way of giving back to the crochet community by highlighting the great work out there each week from crochet bloggers, designers, artists and more. Here are this week's links …
Do you enjoy link love? It takes a lot of hard work. Donations appreciated to keep it going. Every bit helps.
Something Special
HAPPY MOTHER'S DAY!! That's a checkerboard crochet blanket that my own mama made. Read about some other crocheters' moms here.
Crochet Quote
"I get inspired all the time. I am always in the mood for creating. I get inspired by nature, by a new dress I got, by a lovely hairstyle I see, by beautiful yarn or beads I find, by a romantic movie I see. I always want to create. I feel happiest when I crochet and create beautiful items with my own hands." Varna of My Handmade Passion via @the_upcoming
Crochet Art
Lucy of Attic 24 is seeking stiffened crochet mandala donations for a big art display at Yarndale, similar to the potholder display art of Anu Tuominen
Creative Carmelina has a new crochet folk art mixed media collection in her Etsy shop
ArtScene had a lovely article about yarnbombing in general and YarnbombingLA in particular
Crochet Designers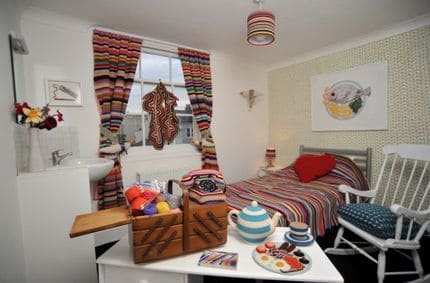 Kate Jenkins of Cardigan just celebrated 10 years of business with a party held at Hotel Pelirocco where she designed the Knit and Crochet Room. She has also launched a Facebook page to showcase all of her Fishy Friday crochet/ art fish.
Congrats to CreJJtion who has written her first crochet book. It's being published in Dutch with diagrams and images.
Crochet Fashion and Accessories
Check out this dress from the amazing collection of @JulianaRacquel, daughter of Anna Maria Horner
Low-income teen crochets her own prom dress using pop tab crochet
@utsandiego highlighted the beautiful crochet jewelry of Miriam Chor Freitas
Freeform crochet purse by Renate Kirkpatrick
Crochet Patterns
Free crochet blanket pattern via @olgalacycrochet
Free crochet lotus bloom dishcloth pattern from @fiberflux
Granny heart crochet dishcloth free pattern from Daisy Cottage Designs
Free crochet pattern for summer scarf by @ElkStudio_
Free crochet skirt pattern by @myhobbyiscroche; see other crochet skirt patterns here
@annemariesblog shares a free crochet ring pattern
Free crochet iPhone cozy pattern by Pink Milk
Free crochet neck warmer pattern from Cats Rockin
Free crochet keyhole scarflette pattern from @craftybegonia
Free crochet washcloth pattern from @feltedbutton
Crochet Tutorials
How to Foundation Double Crochet (Increases and Decreases) via @mooglyblog
3 Options for Blocking Crochet via @crochetme
How to get a knit look with double crochet via Cats Rockin
Crochet Tips
@crochetme offers the tip to use stitch markers when working rows of Tunisian crochet chevrons
5 ways to choose colors for your next project by Stitch and Unwind and @allfreeknitting
Stacey of @freshstitches has some good advice about working through a lack of inspiration
Crochet News
Wood and Wool Stool did posts everyday sharing the photos and info about the Marrakech Crochet Retreat that looks so amazing. There's another one in the fall if you want to go! @idalifestyle went to this one and also has posts this week about the experience (with lots of great photos as well!)
@molliemakes and creation both shared the new @simplycrochet_ and @redheartyarns granny square a day craft app. I'll have to check this one out for my next review. In the meantime, see more crochet apps here
Comez is debuting another advanced "crochet machine" (although the truth is there is no such thing as a crochet machine, all true crochet has to be handmade).
Deap Vally gives a crochet update to @RackedLA
Other Crafty Things
A knitting robot. Awesome. It takes her about five hours to knit a scarf.
Gail Callahan shared what it means for a yarn to be reskeined. Spotted thanks to @kristinnicholas
Special Thanks