Link love is my way of giving back to the crochet community by highlighting the great work out there each week from crochet bloggers, designers, artists and more. Here are this week's links …
Did you know that you can sponsor a link love post and get seen here?
Something Special
This just made me so sad. I really hope that the crochet hat gets returned.
Crochet Quote
"Crocheting keeps me from fretting about my sick parents. There's pleasure in creating physical objects in a digital age." – @Sollenbum on Twitter, in response to my question about how yarncrafting heals you – a topic I never tire of discussing in depth!
Crochet Art
I am in love with this crochet granny square nail art by Hooklook seen on @knithacker
"One of the most surprising exhibits of the season at the UO's Jordan Schnitzer Museum of Art is Jo Hamilton's half of a new show called "Contemporary Oregon Visions: Jo Hamilton and Irene Hardwicke Olivieri." (source)
@make shared the yarnbombed Fargo bus by @oleknyc; did you ever see my roundup of Olek crochet videos?
Crochet Picasso by Julie Adore
@ravelry shared some knit and crochet plants which reminded me of these yarn gardens
Crochet deer head (submission to Craft School Sunday @creativejmom); reminds me of this roundup of taxidermy crochet
Crochet Books
@crochetkim reviewed Crochet for the Kitchen: Over 50 Patterns for Placemats, Potholders, Hand Towels, and Dishcloths Using Crochet and Tunisian Crochet Techniques
on the @cgoaboard blog
@cutecrochet and @crochetkween both reviewed Mommy & Me Crocheted Hats: 30 Fun & Stylish Designs for Kids of All Ages
by RAKJPatterns
@molliemakes shared The Belle & Boo Book of Craft: 25 Enchanting Projects to Make for Children; it's a multi-craft book with at least one crochet project (a blanket)
And @craftgossip shared the @molliemakes wedding craft book (Mollie Makes Weddings: Projects & Ideas As Unique As You Are
), highlighting that it includes two wedding crochet patterns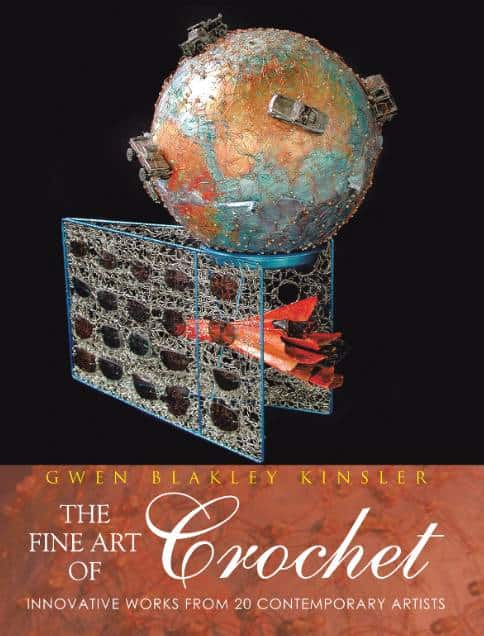 The Fine Art of Crochet continues on its blog tours with great posts about it by @stitchstory and @vashtirama
Crochet Design and Designers
@crochetkitten shares a helpful chart of children's measurements for kids' crochet designers
@BlackSheepWools selected knit and crochet blogger @knittingkonrad as blogger of the month and shares the interview
Illuminate Crochet interviewed @twinkiechan
@planetjune continues sharing her super interesting crochet meerkat design process; this one is making the body
Crochet fox blanket by [email protected] who shares some of the design adaptation info and sketching
Crochet Patterns
Free crochet hat pattern by Cats Rockin
Budding Arches free crochet shawl pattern from Fiber Projects; more free crochet shawl patterns here
And another free crochet shawl pattern, this one from @lionbrandyarn
Crochet potholder free pattern from Howling at The Moon; related: crochet dishcloth patterns
Free crochet stool cover pattern from Mamachee
Crochet bunting free pattern by @jessfediw
Free crochet flower patterns for both 6-petal and 12-petal daisies from @RepeatCrafterMe
Free crochet necklace pattern from Little Treasures
Crochet bowls free pattern by @craftyenough spotted on @craftgossip
Free little crochet Easter bunny pattern from @twinkiechan
Crochet Crown of Thorns unique free pattern from @croshame
Fishbowl Crochet Hat free pattern by Daisy Cottage Designs
Vintage corsage cowl free crochet pattern by @fiberflux
Free crochet coin purse pattern from @mooglyblog; check out other crochet coin purses here
Sea Song crochet blanket pattern for sale from @feltedbutton
Crochet lapghan free pattern from @olgalacycrochet
Crochet Tutorials
How to Crochet Broomstick Lace guide from @crochetkitten
Cats Rockin shares How to Carry a Non-Working Yarn
Crochet Tutorials and Videos for the Beginner via @ElkStudio_
How to Add Ruffles to Crochet Patterns from Stitch and Unwind
Crochet Tips and Info
@Crochetme shares some tips for choosing yarn for crochet projects
@crochetspot answered a question I posed recently, sharing the difference between a blanket, throw and afghan
Crochet News
Susie Hewer has broken her own record for crocheting the longest chain while running a marathon; see other crochet world records here
Crochet group donates to children with disability (source)
Well, I don't agree with the info in the video. (I think crochet is probably common in China, as everywhere, and I don't think it's at all hard to learn.) That said, I always think it's neat to see crocheters in action around the world. And I'm super curious about this suggestion that the craft "be added to the national heritage list so that more people will learn the skill."
Other Crafty Things
Sugar String Easter Baskets DIY via @apttherapy; this site also had a cute roundup of DIY baskets and home organizers
Knit Fabric Wrap-a-Round Skirt Tutorial by @jessfediw
Thread patterns on Tableware by Jun Murakoshi via @dezeen
@craftypod reviewed sewing project book At Home with Modern June
(by @modernjune)
Powerful project: quilt embroidered with homicide victims' names
Special Thanks