Link love is my way of giving back to the crochet community by highlighting the great work out there each week from crochet bloggers, designers, artists and more. Here are the links from the last week or so …
Did you know that you can sponsor a link love post and get seen here?
Something Special
@MerryMessyLife and eight other bloggers are doing a cancer charity CAL. She says, "we are going to be making four projects (or more if time allows!) to mail to a chapter of Crochet for Cancer, Hooks of Hope, located in Eastern Pennsylvania. They give crocheted items to hospitals all across America to patients undergoing chemo and radiation." (The other participating bloggers are @ElkStudio_, @mooglyblog, @petalstopicots, @BeaRyanDesigns, @fabiwcreates, I'm Hooked, Curious Tiff Crochet, Adventures of KT and The Squid and Grammy Dirlam.)
Crochet Quote
"When I like something in crochet, I tend to make it to death. If I make a pretty doily or egg cosy, i'll go on to make another ten. I guess whilst the pattern is fresh in my head and my enthusiasm is right on up there, then it stands to reason to make more and not just leave it at one." – Coco Rose Diaries
Crochet Art
Kate Jenkins has her work in a crochet art show all May; see Kate's Crochetquarium
@croshame is having a sale on her awesome crochet art dolls
Emma Lamb shared the Lalylala crochet dolls by graphic and textile designer Lydia Tresselt who sells the patterns
@denofgeek shares the Cuddle Scunner Kaiju (inspired by Pacific Rim) along with an interview with artist Patrick Dougan
Crochet Titanic by The Lazy Hobbyhopper
Yarnbomb by @hijennybrown via @knithacker
I loved seeing According to Matt's beautiful crochet flower bouquet
And this crochet ukelele by Bigunki
@twinkiechan shared the video and photo from her new Tako (Octopus) Scarf photo shoot
Crochet and Craft Books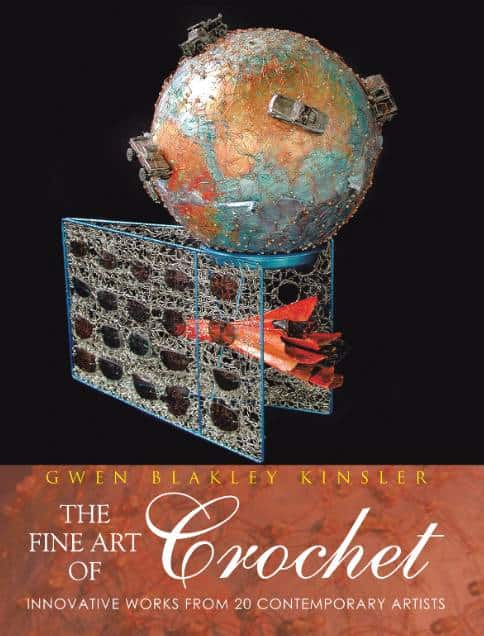 Andrea at The Fiber Forum reviewed The Fine Art of Crochet by @crochetkween. She says, in part, "Gwen refers to the works of these amazing artists as "awe-inspiring" and "cutting-edge" and I could not agree more. I have barely been able to put it down since I received it. It is a joy. " The book was also reviewed this week by @craftgossip and others, as its on a book tour
And @crochetkween reviewed a couple of crochet books this week including Cute Crochet World: A Little Dictionary of Crochet Critters, Folks, Food & More
by Suzann Thompson (@textilefusion), of which she says in part, "Suzann draws her inspiration from her daily life, but often consulted illustrated children's books or Google images to find out things like "Where exactly do a sea turtle's flippers attach to its body?" The resulting motifs show the immense imagination and almost architectural skills that she used in this book! Suzann has not just re-cycled familiar motifs as is often the case; but she has created new themes and provided some very interesting combinations of stitches that make truly unique shapes."
@craftypod reviewed Intentional Printing: Simple Techniques for Inspired Fabric Art
by Lynn Krawczyk (@SmudgedTextiles)
@kristinnicholas shared Cloth: 30+ Projects to Sew from Linen, Cotton, Silk, Wool, and Hide
by Cassandra Ellis
Crochet Patterns
Free crochet triangle bunting pattern via @creativejmom
Simple shrug free crochet pattern from @lionbrandyarn
Free crochet scarf pattern from @myhobbyiscroche
Crochet flower brooch pattern by Made with Loops
Free crochet flower pattern from Daisy Cottage Designs
Crochet flower bouquet pattern by @repeatcrafterme
Crochet flower granny square pattern free from @aboutcrochet
Color n Cream has a new crochet coaster pattern for sale
Baby Kisses Crochet Hat Pattern from Cats Rockin
Crochet Tutorials
How to Crochet Tunisian Even Stitch by @AGMode via @crochetme
ReveDreams offers a four-part tutorial for embroidering on crochet, spotted via @CraftGossip
How to Work the Back Post Double Crochet Stitch (Photo + Video Tutorial) via @fiberflux
Chainless Starting Treble Crochet by @mooglyblog
How to De-Stash and Donate Your Yarn by @AFeistyRedhead on @becraftsy
Crochet Tips
"Why spend all that time stitching a garment, only to stop short of making it look great! Blocking is an essential part of finishing your garment off perfectly. Blocking evens out your stitches, sets your size, and in some cases can even mask your mistakes." – Patty Lyons, via @mamas2hands
@crochetme offers some crochet tips for the @elevenhandmade crochet top on the Interweave magazine cover, such as starting with a foundation chain
@planetjune recommends finger protectors for knitters and crocheters
@artlikebread has an article on @crochetspot providing information on color pooling in crochet work
Craft News and People Who Crochet
Surgeon Dr. Mark Stelzer shares his love of crochet
@lastejeymaneje shared Knit You. "Knit You is a brand of clothing and accessories created by the Link Association. The products are handmade by volunteers and residents at institutions that care for senior citizens and Alzheimer's sufferers. 100% of the profit from sales is distributed to the participating institutions."
Kings Point Crafters. sew, knit and crochet for charity. "Formed in 1975 the Krafters donate handmade lap robes and afghans to the James A. Haley Veterans Hospital in Tampa and other items to the SCC Emergency Squad and Samaritan Services as auction items for fundraising events. In the past, donations also have gone to Metropolitan Ministries for the homeless and to area nursing homes."
Elizabeth Walker crochets for prremies; so does the Yummy Mummys group
Libraries are expanding their offerings. Knit and crochet groups are one way. I'd suggest they consider starting some crochet book clubs!
"New Beginnings Artisans, a group of about 20 refugee women from Nepal, Afghanistan and Ethiopia led by volunteers, meets once a week to create homemade items to sell — things like jewelry, purses and soaps."
Illuminate Crochet has a great interview with Jenn Wolfe Kaiser
@poetryinyarn interviewed Michele Maks who is behind the new Mainly Crochet subscription pattern site
Other Crafty Things
New one of a kind yarn from @websyarnstore. "We're thrilled to indroduce this colorful, one-time-only yarn to celebrate WEBS' 40th Anniversary this year – it's our own Valley Yarns Huntington, hand dyed by Lorna's Laces in their scrumptious colors! Valley Yarns Huntington is an extremely soft, machine washable sock yarn that's definitely not just for socks. These 100-gram hanks contain 436 yards!" Made in Peru, dyed by @lornaslaces
Juniper Moon Farm shared shearing day
@kpwerker shared a nice post called Taking the DIY out of Business, about hiring the right help when needed in a small business. This week she also shared her experience at the Craftcation event.
@crochetspot reviewed one of my favorite yarns: Patons Silk Bamboo
Special Thanks
To Lupey Loops for linking to my article on mohair yarn pros and cons in her great comprehensive article on working with mohair.
To Illuminate Crochet for including me in the list of crochet blogs she loves. She says, in part about Crochet Concupiscence, "wow where do I begin? This blog is like the vortex of crochet. It has it all: news, patterns, ideas, art, fashion, everything! Kathryn updates really frequently so there's always something new going on. She's really good at bringing together all kinds of crochet related stuff from all over the web, from the obscure to the super popular. Her round-up posts are amazing too and make it easy to find what you're looking for whatever that may be." Others on this great list include @futuregirlcraft, @freshstitches, @gocrochet, @repeatcrafterme, @twinkiechan and more so I'm in great company!
To Sussle for awarding me a new scholarship for my efforts sharing crochet and crafts on their site. I am proud to be their first two-time winner and to be sharing my love of our craft there.