I've just learned about the 52 Week Crochet Blogging Challenge hosted by Julie of Red Berry Crochet. The challenge has been going for a little while so I decided to catch up with everyone else by answering Week 1-6 questions in this one post, mostly using links to existing posts to keep things easy for everyone.
Week One: How Do You Celebrate National Crochet Month?
Last year I asked this question as a question of the day and got so many amazing inspiring answers from people! For my part I usually try to highlight what other people are doing (especially their free pattern offers) each March with links on my blog.
Week Two: Start a Crochet Notebook, Journal or Blog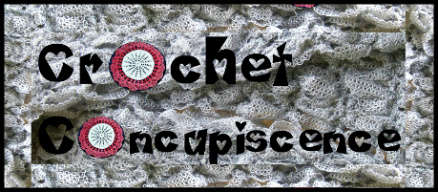 I'm all set on this one. I started this crochet blog three years ago and have been blogging here daily about crochet ever since. I have my own crochet notebook and my next book, Hook to Heal, has a whole section on inspiration for making and keeping a crochet journal. I also keep the digital versions of my crochet notebook in the form of photo posts on Pinterest and Instagram.
Week Three: Crochet a Flower
My favorite crochet flowers I've made were the ones using the patterns from the Crochet Sunflowers book by Kristin Nicholas.
Week Four: How Did You Learn to Crochet?
I've done a full roundup of the simple and more complex answers to this question in this post.
Week Five: Learn a New Crochet Stitch
I think it's great to learn new crochet stitches. I haven't actually learned any in awhile myself, though, because life has been a little stressful and it's been more beneficial for me to retreat into meditative crochet. That said one of my favorite more recently-learned crochet stitches was broomstick lace. And if anyone is looking for ideas on what to learn next, here's a post on 25 crochet techniques to try.
Week Six: How Do You Organize Your Yarn?
In 2012 I put together an elaborate plan to surmount my stash; it failed. I've tried various yarn organization techniques over the years, changing depending on what's going on with me and my space at any given time. Right now here's what I've got:
Each WIP is in its own bag with the yarn that's going to be used for it and that bag is in Closet 1. The current WIP is next to my working couch.
Special favorite yarn is organized into vintage bowls as decoration in my living room where I can see it, enjoy it and be inspired by it.
All other yarn is organized by color (and somewhat by weight, in certain cases) and put into bags which are all stored in Closet 2.
This is what works for me but sometimes I do envy other people's amazing yummy yarn stash displays.
Now I'm caught up on the blogging challenge. Tomorrow's post will be the current week's post.