I've been perusing the upcoming crochet books on Amazon and have compiled a list for you of the books coming out between now and year's end in our niche.
General Crochet Pattern Books
Yarn, Yarn, Yarn: 50 Fun Crochet and Knitting Projects to Color Your World
by Susanna Zacke and Sania Hedengren. "Follow interior decorators Susanna Zacke and Sania Hedengren as they redesign their world with vivid colors and playful patterns."
Modern Crochet
by Molla Mills. "Molla Mills demonstrates how to crochet a variety of home furnishings, including rugs, cushions and storage baskets, as well as stylish accessories and jewellery for both you and your friends."
T-Shirt Yarn: Projects to Crochet and Knit
by Sandra LeBrun – 18 crochet projects and 6 knitting projects, all made with tarn
Tapestry Crochet: 64 Playful Patterns for Children
by Renate Kirkpatrick. "With their bright colors and fun designs, these crocheted tapestries are perfect for decorating a child's room. Renate Kirkpatrick introduces crocheters to a new technique and a kaleidoscope of patterns based on easy-to-follow graphs like the ones used in cross stitch."
It Girl Crochet: 23 Must-Have Accessories
by Sharon Zientara
Easy Crochet Weekend: 30 Quick Projects to Make and Wear
by Nicki Trench
25 Knitting and Crochet Patterns Refashioned for Today
by Marine Malak and Geraldine Warner
Amigurumi/ Animal Crochet Books
Cute Critter Crochet: 30 of the Most Adorable Projects Ever
by Maki Oomachi. "Cute Critter Crochet includes step-by-step instructions with diagrams and colorful photographs showing how to make the cutest crochet projects ever–all featuring adorable animals."
Edward's Menagerie: Over 40 Soft and Snuggly Toy Animal Crochet Patterns
by Kerry Lord
Amigurumi at Home: Crochet Playful Pillows, Rugs, Baskets, and More
by Ana Paula Rimoli. "With her zany design sense and extraordinary creativity, best-selling author Ana Paula Rímoli reveals a fun collection of practical and appealing projects for the home. For every crocheter, this delightful assortment features motifs ranging from cupcakes to caterpillars, clouds, and robots."
Bathtime Buddies: 20 Crocheted Animals from the Sea
by Megan Kreiner. "20 tub-safe toys that use water-friendly materials. Stitch seahorses, whales, dolphins, and more; add clever finishing details."
Hello Kitty Crochet: Supercute Amigurumi Patterns for Sanrio Friends
by Mei Li Lee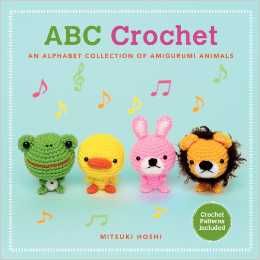 ABC Crochet: An Alphabet Collection of Amigurumi Animals
by Mitsuki Hoshi
The Night Before Christmas in Crochet: The Complete Poem with Easy-to-Make Amigurumi Characters
Tunisian Crochet Books
Tunisian Crochet for Baby
by Sharon Silverman
Tunisian Crochet Today: Projects for You and Your Home
by Sheryl Thies
Bead Crochet Books
Bead Crochet Basics & Beyond: 27 Jewelry Projects
by Candice Sexton – book and DVD
Bead Crochet Jewelry: An Inspired Journey Through 27 Designs
by Bert and Dana Freed
Crafting Conundrums: Puzzles and Patterns for the Bead Crochet Artist
by Ellie Baker and Susan Goldstine. "This book is for crafters, puzzle lovers, and pattern designers alike. Experienced bead crochet crafters looking for a project to curl up with may well choose to skip ahead to the pattern pages and begin crocheting from our abundance of unique, mathematically inspired designs."
Embellished Crochet: Bead, Embroider, Fringe, and More: 28 Stunning Designs
by Cari Clement
Other Specific Crochet Pattern Books
The Big Book of Granny Squares: 365 Crochet Motifs
by Tracey Lord
Granny Squares-All Shapes and Sizes: Over 50 Projects and Techniques to Give the Classic Crochet Pattern a Whole New Look
by Beatrice Simon and Barbara Wilder
100 Colorful Ripple Stitches to Crochet: 50 Original Stitches & 50 Fabulous Colorways for Blankets and Throws
by Leonie Morgan
Crochet Purses and Accessories
by Anne Rouzier, Vildan Uckardes, Thérèse Moisant and Jacqueline Breuil. How to crochet 18 handbags, clutches, and totes–plus 7 other accessories.
35+ Potholders to Crochet: Step-by-Step Patterns for Unique Kitchen Essentials-From Classic and Practical to Playful and Pretty
by Beatrice Simon
Vintage Crochet Hats and Accessories: 23 Classic Hats, Shawls, and Bags
by Kathryn Fulton. "These 23 patterns include accessories for women, men, and children, all with a vintage-chic look."
Blooming Crochet Hats: 10 Crochet Designs with 10 Mix-and-Match Accents
by Shauna-Lee Graham
Crochet for Baby All Year: Easy-to-Make Outfits for Every Month
by Tammy Hildebrand, whose patterns I always love
Simply Sweet Crochet: Boutique Designs for Little Girls
by Cony Larsen
Easy Weekend Crochet Hats: Ski Hats for the Entire Family
by Jennifer Cirka
Knitted and Crocheted Slippers by Alison Howard
Flowers to Knit & Crochet
by Jan Ollis and Susie Johns
Cute Crochet World: A Little Dictionary of Crochet Critters, Folks, Food & More
by Suzann Thompson
Little Christmas Decorations to Knit and Crochet
by Sue Stratford and Val Pierce. "Previously published in the highly successful 20 to Make series as 20 to Make Mini Christmas Knits by Sue Stratford and 20 to Make Mini Christmas Crochet by Val Pierce, this book provides 40 delightful projects".
How to Crochet Books (Beginner and Advanced Techniques)
Hooked on Crochet
by Ruth Maddock. "Hooked on Crochet is the first learn-to-crochet book to feature fashion-led projects that will capture the imagination of anyone who wants to learn from scratch, as well as inspiring those who can already crochet with a new design collection."
First Time Crochet: The Absolute Beginner's Guide
by Deborah Burger
Crochet for the Absolute Beginner
by Pauline Turner. "Restyled, and with fresh new photography, Crochet for the Absolute Beginner is the ideal novice's guide, containing crochet expert Pauline Turner's clear, step-by-step guidance, inspiring projects and helpful hints and tips."
Go Crochet! Skill Builder: 30 Crochet-in-a-Day Projects to Take You from Beginner to Expert
by Ellen Gormley. "The book is a virtual encyclopedia of techniques, from blocking and color play, to clusters and beadwork. Readers will even learn how to create intricate Tunisian and Bavarian stitches."
Reversible Color Crochet: A New Technique
by Laurinda Reddig. "Innovative crocheter Laurinda Reddig created a unique and award-winning form of crochet that produces clear images that look exactly the same on both sides."
Super Stitches Crochet: Essential Techniques Plus a Dictionary of more than 180 Stitch Patterns
by Jennifer Campbell and Ann-Marie Bakewell
How to Crochet: Learn the Basic Stitches and Techniques
by Sara Delaney. "Sara Delaney shows you her techniques for working a basic chain and creating single and double chain stitches. You'll learn about changing colors, joining, fastening off, reading crochet patterns, and working with different shapes."
How to Crochet: Techniques and Projects for the Complete Beginner
by Emma Varnam
Idiot's Guides: Crochet
by June Gilbank
Crochet for Kids: Basic Techniques & Great Projects that Kids Can Make Themselves
by Franziska Heidenreich
And Other Unique Crochet Books
Knot Guilty
, the next crochet mystery by Betty Hechtman
Crochet 2015 Day-to-Day Calendar
by Susan Ripley
And Even More
I don't have cover previews for these ones yet, but they're also coming out this year:
Which 2014 crochet books are must-haves for you? Share your answers in the comments section!