Let's continue my series of 625 More Things for Crochet Inspiration. It started with 25 Most Amazing Works of Crochet Art and continued with the 25 Most Popular Free Crochet Patterns and the 25 Best Cities for Crochet Lovers. For today's post in the series I want to look at 25 Yarn and Crochet Apps. I'll be doing this one in two parts because it requires a lot of research, so there are ten crochet apps in this post (plus a bonus list of magazines) and then part two will have the other 15 crochet apps.
I already did a post on this back when I first started this blog but apps come and go. Besides, I didn't even have a smartphone at the time so I didn't get to check out those apps for myself. Now I went on my iPhone and checked out each of the apps to share on this new, updated crochet app list. There are a variety of different types of apps listed here: crochet tutorials and videos and patterns, crochet magazines and blogs, crochet-related games, yarn measuring apps and more.
1. Crochet Decoder
This is one of the few apps that I personally reviewed previously. It's sold for iPhone for 99 cents. Here's what I said originally:
"Interesting app. It's basically designed to provide you with quick information about crochet abbreviations, symbols, yarn weights and hook sizes. This is not detailed information but it's an easy way to pull up a reference for these things. For example, if you can't remember what BLO means in a pattern then you can quickly look to see that it means to work in the back loops only. I don't know that I would use this a lot but if I ever start to work with crochet symbols then I would probably reference this as I learn."
This is a good app for beginners (or beginner crochet pattern-writers) who want a reference tool for symbols, abbreviations and tools.
2. Kids Crochet Patterns
This is a free iPhone app for (as you would guess) kids' crochet patterns. It links to 5 free crochet patterns and then gives you an option to purchase 45 other patterns. The free crochet patterns are worth the download. There's a cute kids' crochet sweater, a sock monkey crochet blanket and other cute designs. I didn't purchase any of the other patterns but I imagine they might be of interest to someone who does crochet a lot of things for kids.
In addition to the patterns there is a tab showing you how to crochet (with photos and text), a link to Youtube video instruction, a guide to crochet (abbreviations, info on hooks and notions, learning the different stitches, various tips, etc.) and a quiz to test your crochet knowledge. The quiz was kinda fun to do just because I'd never tested y crochet knowledge before. And I felt like the guide to crochet was fairly comprehensive.
A good app for beginners to learn crochet and for people seeking more kids' crochet patterns (free and paid).
3. Lion Brand Yarn's App
This free app from the Lion Brand Store offers a wealth of information for knitters and crocheters. You can search for their free patterns, sorting by craft (knit, crochet, other), skill level, items, recipient (baby, for example), size and yarn type. Once you select a pattern you get the same basic information that you get from patterns on the Lion Brand website – info on the pattern, skill level, materials list, instructions and available reviews. So this app gives you access to loads and loads of free knit and crochet patterns.
The app also gives you map links to nearby Lion Brand Yarn retailers, list of their yarns, access to Lion Brand videos, links to the brand's Facebook and Twitter pages and more.
This is a good app for people who like the Lion Brand as well as anyone who wants access to a lot of free knit and crochet patterns.
4. Knitting and Crochet Patterns by Craftsy
This is the app associated with the Craftsy website; you can sign in to your existing Craftsy account if you're already a member so that you can access all of the patterns / info you have stored there. You have to be a member to be able to access your patterns through the app but you can search patterns within the app even if you're not a member.
The app links to thousands of crochet and knit patterns that you can purchase and download. These patterns are written by independent designers. The patterns are organized by category, with very detailed category options (mittens and gloves are two categories, for example). Within the category you see photos of projects and the cost of the pattern. When you click on the one that you want you're able to see additional photos, project details and a link to the designers' page. You can then opt to follow the designer if you want to be up to date on all of their projects.
This app is good for Craftsy website members as well as for people who like to purchase crochet and knit patterns from indie designers.
5. The Crochet Crowd
This free app provides links to The Crochet Crowd's various offerings including their in-app Facebook updates, YouTube crochet tutorials, photos, website, blog and more.
There is also a section where you can access free crochet patterns from All Free Crochet. So for example, I clicked into free afghan patterns and saw their featured patterns, current contests and giveaways, and top 10 projects. Then I browsed their categories, selected "basketweave", followed a link I liked and was able to ge the full pattern info free on my phone.
My only gripe on this one is that there are regular pop-up ads asking you to join as a member (for free). This is understandable since it's a free app and could be eliminated simply by joining, so it's irksome but not a huge deal.
This is a comprehensive crochet app that's great for people seeking free crochet patterns as well as for people interested in staying up to date with Mikey and The Crochet Crowd.
6. iStitches
This is a free knitting and crochet app that has a lot of nifty features.
The best of these is "My Projects", which you can use to keep track of a pattern you're working on. You can enter tons of information on the project you're working on – selecting an icon of the item (a hat for example), entering a name and hook/yarn details, and adding numbers for rows and rounds, increases and decreases, stitch details and repetitions. The info gets saved and you can access it over time. It's basically a great way to keep track of where you are in a project so that you don't lose your place as you work. (It serves as a stitch counter.)
The app has helpful information on needles and hooks. It has a tool where you can select your chosen hook and get yarn suggestions or vice versa. For example, let's say you have a yarn and you don't know what weight it is or what hook size to use; hold the yarn up to the examples on the app, find the size that matches and click it to get the recommended hook size.
You can download basic knitting and crochet stitch instructions for free. You can buy more advanced crochet stitch patterns. The app has a custom sweater sizing tool but only for knitting stitches right now.
This app seems to offer a lot of information, although a lot of it is beginner crochet information. I think it works best as a stitch counter and can be good for people who are seeking basic crochet stitches and help choosing hooks and yarns.
7. Red Heart
This is Red Heart Yarn's free app.
This is a great resource for the free crochet and knitting patterns available through the brand. You can search for the patterns that you want to use and then view the pattern, email the link to yourself or print it directly from your phone. The pattern search tool allows you to select the craft, the skill level, the project type (doilies, sweaters, etc.), who its for (adult, baby), and the pattern language. This app also offers video tutorials for various projects.
Hit the "products" tab on the bottom to check out the different yarns and books that are available through the brand. You can search by yarn type (new, baby, eco, holiday, etc.) or by yarn weight. Once you select a yarn you can see all of the information about it that you would find on the yarn label.
This is a good app for people who like the Red Heart brand as well as anyone who wants access to a lot of free knit and crochet patterns and video tutorials.
8. My Mountain Hat Designer
This is a unique free app that allows you to choose from selected knit and crochet hat designs, customize the colors and then order the pattern that you've created.
Here's what you do:
Press "create hat".
Choose "without photo". (This gives you just the hat options. Alternatively, choose "take photo" and you'll take a selfie and the hat will be placed on your head so you can see what it looks like on you.)
Scroll through the available hats. There are 21 options – some are crochet, some are knit, some are available as either. You can also choose to add a pompon the hat.
Choose your size (medium or large adult sizes).
Choose colors (for example, on my hat I could choose two colors plus a different color for the pompon. Or if you don't want to choose, shake your iPhone and get a random selection.
Name your hat and hit "free pattern". (At this stage you can also share what you created on Facebook if you want.)
You are taken to a page that tells you what yarn and hooks you need and has a tab for "pattern" where you'll find your free hat pattern.
This is a fun app to play with since it's highly visual. And it's a nice app if you're looking for free crochet hat patterns that you can easily customize with the colors you want.
9. iStitch Counters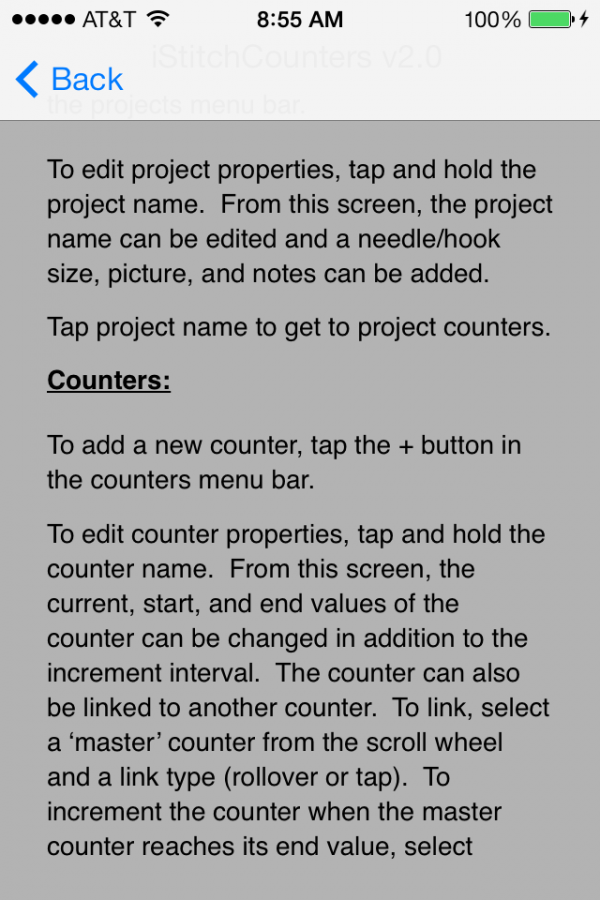 This is a really simple free stitch counter app.
This app has a really simple interface. When you go to the first page it says "projects" and you can hit the + to add a new project. Then the project is added to your list of projects. Click on the project that you're working on and hit the + again to create a "counter". Then you just tap the counter each time that you get to the end of a row or round so that you can keep track of your stitches. You can add new counters anytime you want. (So if your project calls for 3 rows dc and then 2 rows sc you might choose to do one stitch counter, tap it three times at the end of each row, then do another stitch counter called sc and tap it twice at the end of each row.)
What's nice is that you can name your projects and counters for each project however you'd like so this is really customizable to whatever way you would like to keep track of your stitching as you work. However, if you're new to stitch counters (like I am) there's a little bit of a learning curve to figure out how to use them. There's a helpful "instructions" tab in the settings of the app.
This is a good crochet / knitting app for people seeking a simple free stitch counter.
10. Stitch Minder
This is another free stitch counter app.
This one doesn't seem to let you save projects over time so it's one that's designed for use as you're working on one project at a time. The plus side is that it's super simple. You have the option to choose from seven sections that each have their own counter: rows completed, pattern row, pattern repeats, increase row, increase repeat, decrease row and decrease repeat. You can edit or reset these at any time.
This seems like a good beginner crochet stitch counter app for people who are working on one project and need to keep track of their rows as they go.
BONUS: Crochet Magazines
In addition to those crochet apps, there are also a bunch of crochet-related magazines that you can download to your Newsstand on iPhone / iPad. Generally this means that you can see different issues that are for sale, preview them and download them if you want them (or else automatically get them with a subscription) and then you're able to view the whole digital version of the magazine online. Magazines I found that include at least some crochet:
A Needle Pulling Thread
Baby Crafts
Casa Creativa (Italian language DIY for the home)
Crafts Beautiful
Crochet
Crochet Today
Crochet World
Handicraft
Homemaker Magazine
Inside Crochet
Kindred Stitches
Knitsy
Simply Crochet
Mollie Makes
Quick & Easy Crochet
Yarn Magazine
Stay tuned for Part 2 of the big crochet apps roundup. Coming soon!