Happy February! Link love is my way of giving back to the crochet community by highlighting the great work out there each week from crochet bloggers, designers, artists and more. Here are this week's links …
Did you know that you can sponsor a link love post and get seen here?
Crochet Art
Mixed media and crochet artist Joana Vasconcelos has a solo exhibit of her work coming up at Manchester Art Gallery. It opens February 15th.
Jessica Polka is inspiring me as she works to create crochet patterns out of protein crystal structures.
Amanda of The Natural Dye Studio shared some of the workings of her Kaleidoscope CAL project. This one is from Agrarian Artisan.
Crochet Books
@stitchstory shared some of the journey behind the publication of Crocheting Clothes Kids Love
All Free Crochet and Stitch and Unwind shared a new downloadable ebook of crochet stitches
@crochetkween shares a book review of Crochet Pink, a set of patterns for breast cancer awareness and comfort
Crochet Designers
@UCrafter interviewed crochet designer Dora Ohrenstein. Thanks to her for mentioning in that article that Dora recently won Crochet Concupiscence's Awesome Crochet Blogger Award for Best Crochet Newsletter.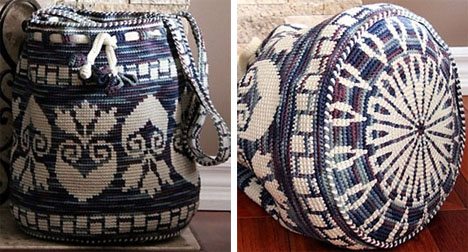 Tapestry Crochet shared Marina Gavrilov's striking tapestry crochet bags and the process behind them.
Crochet Patterns
Circle of Love Crochet Afghan Free Pattern via @mooglyblog
Free crochet pattern for heart granny via @loopsancrafts
I'm in love with this free crochet basket pattern from @gleefulthings
The Lazy Hobbyhopper shares a free crochet pattern for a sunflower potholder
I'm loving this free crochet pattern for a chocolate Easter Bunny from Delight-Gems
Free crochet envelopes pattern from @molliemakes
@petalstopicots shared this free crochet pattern for a bow that personalizes any Valentine's gift
@olgalacycrochet shared a free crochet doily pattern
Free Crochet Star Wars Hat Pattern by Dragonbird via @knithacker
Crochet Tutorials
Interweave's @crochetmedaily shared 3 ways to work into a foundation chain in crochet
Crochet Tips
JD @CraftGossip shared some links to information on caring for your crochet over the years
By Haafner shared her personal experience of packing crochet to travel
@gingerbreadbun shared more tips for teaching crochet classes
Crochet News
Teens crocheting hats for cancer patients
@lionbrandyarn has opened a new retail store in Colonie, NY
The Marrakech crochet workshops in spring and fall are both booked already. So jealous of those who get to partake!
Discovery Canyon High School students created their own version of the hyperbolic crochet reef.
"mum-of-one collects squares of crochet, known as granny squares, and makes them into blankets to help keep homeless people warm in the winter" source
Crochet On The Internet
@OombawkaDesign is hosting a crochet twitter link party where you can find people to follow who tweet about the craft. Several years ago I used to compile list of crocheters on Twitter. I don't know if these people are all still active (some I'm sure are, some I bet aren't) but if you want to check out those suggestions you can find posts here, here, here, here and here.
Emma Lamb has just started curated pins for the crochet board that is part of the MakersUK craft community on Pinterest.
Have you see the Make It Coats craft website? This site is free to use and offers free crochet patterns (as well as free designs for sewing, quilting, knitting and embroidery). This includes videos. You can also find crafty news here. It's new and just getting growing but it looks like it's going to be a fun space and there are already a couple of cute crochet patterns there including one from Tammy Hildebrand.
Other Crafty Things
@swissmiss shared this lovely poster [email protected]_tanamachi celebrating the handmade life
@sfgirlbybay shared this amazing wallpaper designed by Suzanne Shade
Juniper Moon Farm shared some of the history of sheepherding
Special Thanks
@lionbrandyarn quoted me in their Yarncraft Resolutions article where I said that in 2014 "I want to play more with free-form crochet, try techniques I've never done and push my crochet writing in new ways."
Thanks to @GardenChefsNP for linking to my Top 10 Free Crochet Patterns for Barefoot Sandals in showcasing the crochet barefoot sandals she's making.
Thanks to @okmills for saying of Crochet Concupiscence on Twitter: "Your blog is a cornucopia of craftiness, art and color." Check out how they're revitalizing the American knitwear industry.