Before we move forward into new crochet content for 2014, I want to take a look back at all of the amazing things that were shared in crochet last year. Here were the 2013 Crochet Concupiscence posts about crochet in my world, whether it was what I made, what I wrote or what I spotted around me.
I wrote about How I Hooked to Heal; Hook to Heal is the name of the book I spent much of 2013 working on. Related posts: Update on Hook to Heal, Example of a Crochet-for-Creativity Exercise
I rounded up my previous posts for 500 Unique Crochet Items
I did a sponsor post about vision insurance.
I turned my small crochet scarf into a large crochet cowl
Little Crochet Spotted Here and There
I received crochet pasties from Sex on a Stitch
Dollar Yarn Rectangles: More Than Meets The Eyes
I added New Sponsorship Opportunities on Crochet Concupiscence including Pinterest sharing and sharing on other social media
Recent Updates from My Life including Latest Crochet Projects. And I shared my personal crafting goals, my commitment to crochet blogging and some of my crochet blog goals.
Finding Joy in Crochet Dishcloths and Gone a Little Crochet Washcloth Crazy
Crochet Doily Placemat Tutorial
I Saw Crochet at an Arcade Museum
My Crochet Work Space in Online Art Exhibit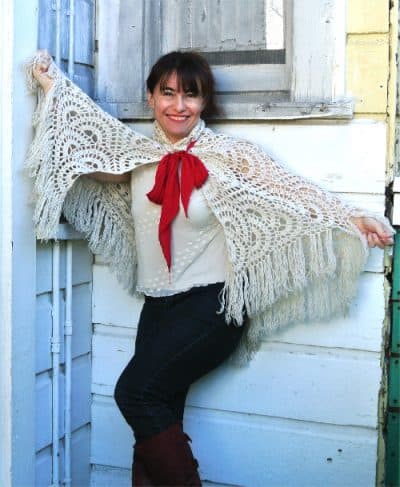 My Style: Crochet Shawl as Cape
Betty: Pet Crochet
My Stashbusting Little Crochet Lamps Project
Super Buddies Simple Cape with Crochet Cord
How I Learned to Crochet and How 6 of Us Crochet Bloggers Learned to Crochet
I crocheted lots of new small items
And I shared a photo of Hudson on my crochet blanket
Tutorial for Easy Crochet Wedding Table Centerpiece
My Crochet Squares at LA Art Museum
I Was Named a Crochet Hero
And I was Named a Favorite Crochet Blogger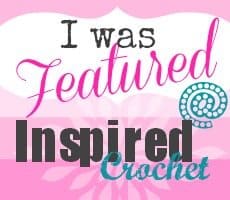 I was interviewed by Inspired Crochet about crochet blogging for the February issue of their digital magazine.
My studio space was featured on Chickiedee Handmade