Unlike almost every other post on this blog, this post isn't crochet-specific. However, I'm really in love right now with the tutorials that so many people are putting out showing how to upcycle old sweaters into cool new things. Whether it's newer clothing, home decor or something else, the upcycled sweater can become a really fun item that's often easy to create. It's a great way to take old crochet, knit and other sweaters and make them into something totally new and awesome. So today I'm sharing links to 20 wonderful tutorials for upcycled sweater crafts I've seen around the web.
1. Upcycled Sweater Vases
There are many different variations for taking old sweaters and turning them into great household vases for decor. The tutorial for this one is free from The Girl By The Sea.
2. Upcycled Sweater Slippers
We Can Re-Do It shares a free craft tutorial for making these upcycled sweater slippers
3. Upcycled Sweater Mittens
The free tutorial for these upcycled sweater mittens is over at Organized 31. I saw it via @makeandtakes thanks to a link on @sulia.
4. Upcycled Sweater Wreath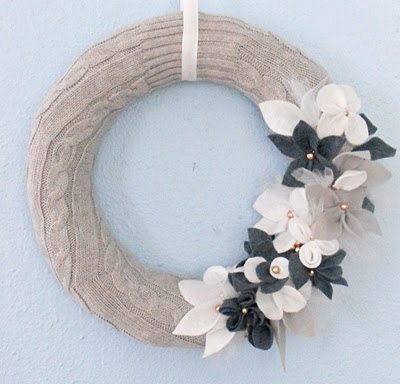 Wreaths are so popular in craft home decor right now. @adrienneaudrey of Crafty Little Gnome shares a free craft tutorial for an upcycled sweater wreath.
5. Upcycled Sweater Legwarmers
Legwarmers are one of the quickest and easiest ways to upcycle old sweaters. This free craft tutorial comes from @BeautyByElisa.
6. Upcycled Sweater Cowl
My Recycled Bags upcycled a sweater into a crochet-edged cowl. She also then used the sleeve to make an cupcyled plastic bag holder.
7. Upcycled Sweater Boots
I adore these upcycled sweater boots. Free tutorial from @instructables.
8. Upcycled Sweater Beanie
Craft tutorial via @pinkwhen
9. Upcycled Sweater Pillows
@maidenjane shares the free craft instructions for making upcycled sweater pillows
10. Upcycled Sweater Tote
The Renegade Seamstress does a lot of great fashion upcycling tutorials. In this one she upcycles a sweater into a winter tote bag.
11. Upcycled Sweater Puppets
Turn old sweaters into puppets with this free @marthastewart craft tutorial.
12. Upcycled Sweater T-shirt
@RockingAroundThe shares a three-in-one tutorial for upcycling the same sweater into a heart applique for a T-shirt, elbow patches and a collar.
13. Upcycled Sweater Armwarmers with Pocket
You can upcycle sweaters into armwarmers or fingerless gloves in a lot of ways. I chose this free tutorial because I love the phone pocket that's added to it.
14. Upcycled Sweater Tablet Cozy
@mesewcrazy1 shares this upcycled sweater tablet cozy tutorial
15. Upcycled Sweater Skirt
@DIYStyle shares a free tutorial for an upcycled sweater skirt
16. Upcycled Sweater Lamp
@freecraft shared the info for making an upcycled sweater lamp; I love knit and crochet lamps!
17. Upcycled Sweater Vest
@danawillard shares a free tutorial for upcycling an adult sweater into a kids' sweater vest. So cute!
18. Upcycled Pet Sweater
@diydelray shares a free tutorial for upcycling a human sweater into a dog sweater
19. Upcycled Sweater Dog Toys
@tailsmagazines shares a free tutorial for upcycling sweaters into dog toys
20. Upcycled Sweater Stocking
@DIYNetwork shares a free craft tutorial for upcycled sweater stockings … in case you're ready to get a jump on stuff for next Christmas!
And a bonus
As a bonus I thought I'd re-shared the knit sweater that I myself upcycled by adding crochet to it. I lengthened it with rows of crochet and I added some crochet circles to look like buttons down the front. It is still one of my favorite sweaters. And it was easy to do because the knitwork was already openwork enough that I was able to easily add rows of crochet without having to do any sewing.