Let's continue my series of 625 More Things for Crochet Inspiration. It started with 25 Most Amazing Works of Crochet Art and continued with the 25 Most Popular Free Crochet Patterns. Now let's look at the 25 best cities for crochet lovers, the places where it's amazing to go because there are terrific yarn stores, great craft museums or simply the top places for relaxing with hook in hand.
1. Buenos Aires, Argentina
I fell in love with the yarn district here in Buenos Aires when I went a few years ago. It's a section of store after store of yarn and roving, beautiful fibers that are affordable thanks to the exchange rate.
2. San Francisco, CA, USA
I'm a little biased because I love this city that I live in but it's a great place for all crocheters if for no other reason than it's home to more than half a dozen cute local yarn stores.
3. Cardiff, Wales
I named this spot a top autumn destination in an article for Crochet Today because it's home to a unique National Wool Museum that would be of interest to yarn lovers.
4. Los Angeles, CA, USA
Southern California has lovely beaches and plenty of activity for your vacation. Check out The Institute for Figuring, which is the  permanent exhibit from the Wertheim Sisters who founded the hyperbolic crochet reef project. Also check out the Los Angeles Craft and Folk Art Museum.
5. Charlotte, NC, USA
Charlotte is a beautiful region that offers a lot of downtime for you to enjoy your crochet work and a lot of outdoor activities for inspiration.
6. Vancouver, BC, Canada
A beautiful destination filled with many events that celebrates makers and crafters. Enjoy!
7. Marrakech, Morocco
There's a bi-annual crochet retreat in Marrakech, Morocco that I would love to check out if I ever got the opportunity.
8. Ireland
Crochet's early history was rooted in Ireland where the craft helped provide much-needed income during the desperate times of the potato famine. Visit the country the craft came from.
9. Brazil
Some of the most interesting fair trade crochet is coming out of Brazil, including traditional crochet techniques and upcycled pop tab crochet.
10. Brighton, UK
Stay at the Knit and Crochet Room in Hotel Pelirocco, designed by crochet artist Kate Jenkins.
11. Honolulu, HI, USA
A trip to Hawaii is always a great vacation. Hawaiian time gives you ample opportunity to crochet during your stay.
12. Reykjavik, Iceland
Enjoy a unique exotic destination where there is amazing Icelandic yarn to purchase.
13. New York, NY, USA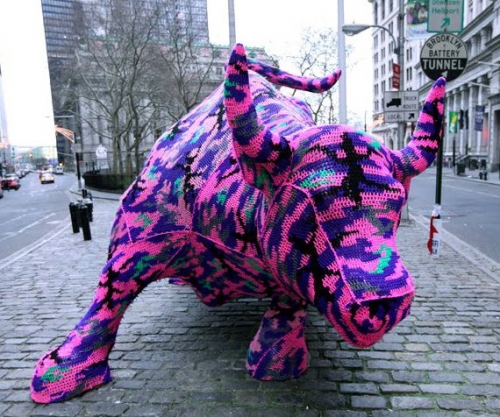 Enjoy the richness of the art museums, get inspired by the creativity of Broadway and make sure to check out the Lion Brand Yarn studio. Maybe while you're there you'll be able to spot some of the latest work from NY yarnbomber Olek.
14. Sydney, Australia
I've always wanted to visit both Australia and New Zealand and hope to get there soon. Sydney is the hot spot and is home to a great craft scene including lots of crochet designers and yarn stores.
15. Geelong, Australia
If you're headed to Australia anyway then you might want to also see this port city near Victoria and Melbourne, home to the country's National Wool Museum,
16. Coastal Maine, USA
The "yarny delights and cozy New England treasures" of coastal Maine were profiled in a Crochet Today article by Meganne Fabrega.
17. Pittsburgh, PA, USA
Go to this city in the spring for the annual Knit and Crochet Festival.
18. Charente-Maritime, France
Knitting designer Sue hosts knit and crochet retreats in her French home throughout the year.
19. Frankfort, IL, USA
Another retreat that might be closer to home for many of us is the recently launched annual Knot Just Knitting Retreat by Yarns to Dye For held in the spring in Illinois.
20. Austin, TX, USA
I included this city on the list of best summer vacation destinations in a Crochet Today post because it's the inspiring home to the early yarnbombing movement.
21. The ABC Islands
Aruba, Bonair and Curacao are all top choices for island destinations that have good weather, beautiful beaches and plenty of relaxing time to just crochet on your vacation.
22. Portland, OR, USA
Head to this great American city at the end of February for the annual yarn store yarn crawl.
23. Boston, MA, USA
If you're seeking a yarn crawl in the fall then head to Boston.
24. Twin Cities, MN, USA
Called a "Mecca for Craft" by the American Craft Council, the twin cities are rich in yarn stores and textile / craft museums.
25. Cruise Anywhere
Book a crochet or craft cruise to a destination of your choosing and enjoy crochet classes on the trip and local yarn shopping upon arrival.