Earlier this year I saw a news article out of Hartford saying that Irene Reed had passed away. This was the first that I'd heard of the crochet artist but I bookmarked the info about her because I knew I wanted to learn more. She was an interesting woman who did some very creative crochet work and I've really enjoyed researching the little bit of information that's out there about her.
About Crochet Artist Irene Reed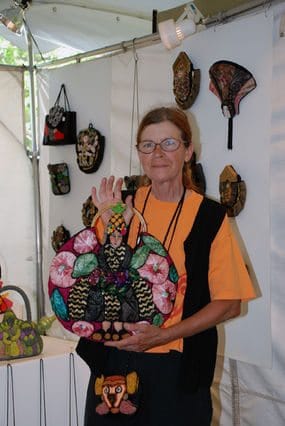 I learned from Paradise City Arts that Reed was a self-taught Hartford-based mixed media fiber artist who worked in crochet as well as fabric, trapunto quilting and found objects. Reed learned to crochet from her mother at the age of five. Shoe designer Stuart Weitzman once commissioned Reed to crochet 12 sculptural shoes for his Manhattan window display and that's when she seems to have really started taking her crochet work seriously as an art form. The artists' work has toured multiple countries and been included in two Smithsonian exhibits. She was named a Master Craftsman by the Society of Connecticut Craftsmen. Her work was sold in various locations including a women's boutique/jazz club in Hartford called Japanalia that started selling her stuff in the 1980s. Reed got a degree from St. Joseph's College in the late 1960s then went back to school and in 2002 got a later-in-life Master of Arts in Human Development/Gerontology from the same school. Reed died from heart-related health issues in November 2012 at the age of 66.
Functional and Sculptural Crochet Art
Reed's work is interesting in large part because it toes the line between what is functional and what is art. Paradise City Arts says, "While many people buy Reed's work primarily as sculpture to hang on the wall, many of her pieces are actually functional handbags." She takes an interesting approach by crocheting a version of a 3D object and then turning that into a bag; for example, she may crochet a teapot and then make that into a crocheted teapot handbag.
The Hartford Courant also noted that Reed's art was filled with this kind of multi-purpose whimsy, saying: "A teapot is also a pocketbook; a chest of drawers has breasts; a pair of goggles has tiny hair curlers and hair brushes and shoes; and a hat is a model of the Colt dome, complete with a prancing colt."
And Andrea Gaines mentioned in Reed's commemorative guestbook (see more below): "Irene was absolutely brilliant, and so kind. She created a unique melding of sculpture and crocheting. Who else could create purses made of nudes on couches, or crochet Picasso faces on teacups?"
A fun fact is that she would add hooks into her wearable designs because she knew that sometimes people would prefer to hang them as an art than to actually wear them. An old 1992 NY Times article says the artist "tries to give her pieces some function to make buying them justifiable".
Various Things Reed Crocheted
Hartford Courant says, "The thousands of works she created reflected Reed's wildly iconoclastic imagination, and were witty, bold and bawdy." Some of those thousands of things included:
a 747 airplane made in silver thread

a life sized chair

a large butterfly pin
"an old fashioned World War I pilot's headgear, complete with goggles and tied-up ear pieces" worn by actress Mia Farrow
"an eerie series of cat mummy necklaces wrapped in string"
annual animals corresponding to the Chinese year animal
a milking stool with udders
helmets showing cityscapes
Mixed Media Art Materials
Irene Reed primarily crocheted with thread. However, she incorporated a lot of different mixed media materials into her work.The Hartford Courant says that some of the materials she used included twigs, beads, plastic figurines of religious icons and even chicken bones. And a second article from that paper adds that her mixed media materials also included shells, buttons, beads, bottle caps, broken frames, nylon stockings, cotton batting, thread cones, clips, keys, drawer pulls, electric components, plastic flowers" and more.
A Creative Mind
Reed's whimsy wasn't limited to the object she crocheted or the material she crocheted it with. The Hartford Courant shares a great example of her true creativity in the form of an anecdote by Japanalia co-owner Dan Blow who sold many of her works. He shares: "It was a 747 airplane, crocheted, of course, in silver thread. All around the plane were crocheted pieces of fruit; on top of the plane were puffy white marshmallows, and the piece was surrounded by mountains crocheted in purple. Finally, Blow figured it out the allusion: Purple mountain majesties above the fruited plane. "She would see a phrase and reinterpret it," Blow said."
Series of Works
Irene Reed created one of a kind crochet and mixed media items. However, she would often make series of things (for example, the aforementioned annual creation of a crocheted version of the Chinese animal of the year). Hartford Courant says: "Over the years, the imagery in Reed's works tended to run in series. Many running themes struck her fancy: robots, spacemen, cat mummies, animal heads, chili peppers, shoes, gargoyles, teapots, houses, scarabs, books, voodoo imagery, hands, altars, religious headgear, jesters, shrines, Picasso-esque faces, Matisse-like odalisques. No two of her items are alike."
Crochet Artist Reed Will Be Missed
There is a beautiful commemorative guest book for Irene Reed that will be available online through November 28 where people have shared beautiful thoughts about the artist and her work.
Photo sources: The photo of Reed holding her purse and the photo of the red shoe purse are by Jen Stern of Craftstylish who saw the artist selling her work at a 2008 Vermont craft fair. The Viking Hat photo is over at On The Verge of Snapping, where you can find more detailed photos of that same piece. The rooster/ fish piece made with crochet cotton, metallic thread, fabric and more is posted on the CT cultural tourism website. The book sculpture is via Paradise City Arts. Most of the other pieces are via Art Exchange.