Of all of the crochet-related posts I read this week, these were the ones I thought you shouldn't miss!
Before we dig in, though, just a reminder that sponsorship / advertising opportunities are now available on Crochet Concupiscence.
Something Special
I want to draw your attention to one of my crochet blog sponsors today.
Knitting in Recovery – One Stitch at a Time is a 501(c)3 non profit outreach program dedicated to teaching knitting to those recovering from substance abuse or other self destructive behaviors.
This group knits and crochet items for others in need to help not only those people but also to help themselves!
Something Else Special
I also wanted to remind you that Crochetville is doing a huge blog tour for (Inter)National Crochet Month with stops on at least one, and sometimes two, crochet blogs daily. Worth checking out; you can see the full schedule here.
Smart Crochet Posts
Beautiful Crochet Makes
@lastejeymaneje shared the crochet cloud brooches by Xau Xau

I love what Creative Carmelina (@crea8ivegirl) is doing with crochet and text.
Just Do shared the crochet star pillows she recently finished
Cosetes Petites shares photos of three crochet squares blankets sent to SIBOL
Crochet artist Gwen Blakley Kinsler is working on Crochet Buffet, a CGOA chapter exhibit
Speaking of food, I'm adoring this limited edition art print of crocheted food from artist Kate Jenkins of Cardigan
Crochet Reviews
How to Crochet
Crochet Patterns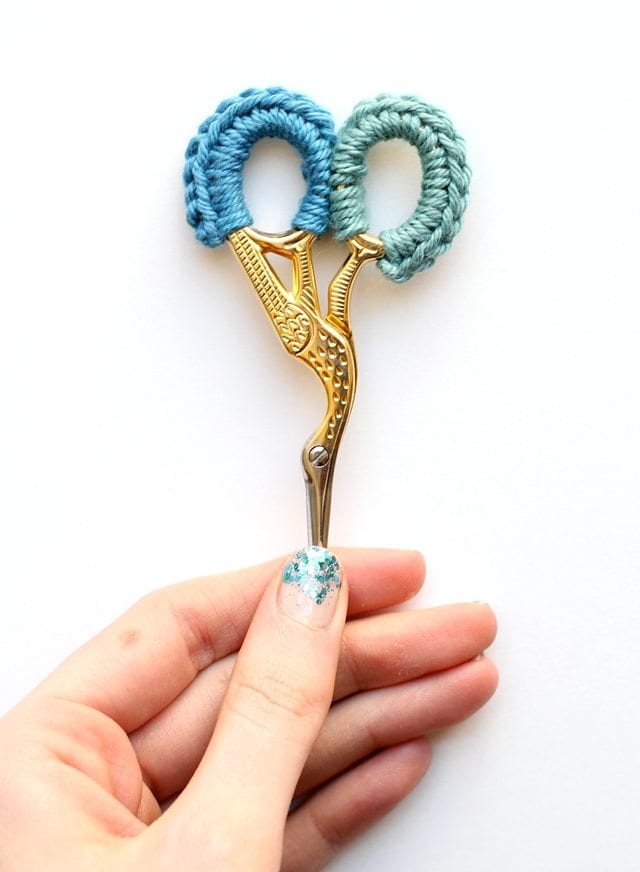 @sheepishknit shared the simple but smart free crochet pattern for making scissor grips
365 Crochet shared the free pattern for this St. Patty's Day masquerade mask
Daisy Cottage Designs shared this free crochet Easter hat pattern
Crochet Hipster Hat, a free crochet pattern from Cre8tion Crochet
@vickiehowell has spotted a trend that foxes are back in home decor; if you agree then you might want to check out the free crochet pattern for this Fox Pajama Bag
Easy Crochet Bedcover Pattern, free from Boocoos
@mooglyblog did a creative roundup of 14 free crochet and knit patterns featuring polka dots!
Stitch and Unwind has updated their collection of free crochet ripple patterns
How to Crochet a Scarf With Red Heart Rigoletto Novelty Yarn. Video by @kristinomdahl, via @crochetattic
Quote of the Week
"I cannot say how much my art has helped me personally in this journey. Even if I'm just rewinding yarn, the effects of creating something (even if it's a crap doll or a new ball of yarn) is soothing. Life's stress of whatever is going on quells, and the sad/mad/angry/overwhelmed feelings lessen their hold a little. The more I think about it, the more I am sure that I would not be in this stage of my life without my craft. Busy hands really do shush busy minds." – Crocheter Knot by Gran'ma said this in a really beautiful post about how life gets tough and yarn / art/ craft can help.
Yarn
Other Crafty Stuff
Some Special Thanks
Happy weekend and happy reading! If you love these weekly roundups and don't want to miss any then make sure you're signed up to get my RSS feed!