In this week's edition of 50 Years of Crochet History we'll take a look at the world of crochet in 1937.
Crocheting in 1937
A filet crochet bedspread pattern that was for sale through a 1937 newspaper
It is really interesting to go through crochet year by year to see how things changed and shifted. For the past several weeks there was a lot of focus on crochet garments but looking at 1937 crochet books and patterns I definitely see a shift towards more patterns for the home including decorative crochet items and crochet afghans. Of course, there were still plenty of crochet garment patterns.
1937 Crochet Techniques
In terms of techniques, there continued to be an interest in lacy and filet crochet as we had seen throughout the 1930s so far. However, I did notice that there were also more patterns featuring textured stitches, like popcorn and bobble stitches. We see that in the bedspread squares shown above from a pattern sold through a 1937 newspaper.
1937 Crochet Style
I did love this crocheted blouse that was sold as a pattern through a 1937 newspaper
1930s crochet hat patterns also continued to have some popularity
1937 Crochet Books
Colorful Afghans in Crochet
. This is a reproduction of a 1937 crochet afghan pattern book, featuring ten different afghan designs including at least one in tapestry crochet. There is a similar crochet afghan book reproduction originally by Bear Brand that is also called Colorful Afghans in Crochet
. There is also a 1937 book from this time by designer Anne Orr called New Afghans for Summer and Winter
.
Colorful Accessories to Crochet and Knit
Crochet Smart Candlewick Cotton Accessories for the Home
: Cotton Crochet Patterns for Bath Mats, Table Doilies, Luncheon Sets, Pot Holders, Chair Sets
The Spool Cotton Company was another one that put out crochet pattern booklets at this time, like this one which is all different patterns for various crocheted table settings
.
Here's another crochet home decor pattern book from Bucilla; this one is sold on Etsy by AtticEmporium
This crochet edgings pattern book from 1937 is sold on Etsy by ButtonsnBooks
There was also a rare book that come out in 1937 called TASTE AND FASHION: From the French Revolution Until Today
. This book was a fashion book, obviously, but I see from the table of contents that it does mention crochet in fashion in two different sections of the book. It would be fun to get a copy of that!
1937 Crochet Designers
As you can see from the above books, many of the crochet patterns that were coming out at this time were produced by the cotton thread companies. We continue to see crochet patterns for sale through magazines as well, mostly with the names of the designers we've been seeing over the past few years. In many cases, these are fictitious names. For example, there are a lot of 1937 Alice Brooks patterns and as I mentioned in the 1934 crochet post this was actually just a pen name given to the designs of many different designers.
Another designer whose name is mentioned again in patterns sold through newspapers is Laura Wheeler. I mentioned in the 1935 crochet article that I'm pretty sure she was actually a real designer and that it's not just a name like Alice Brooks but I'm not sure if this is true and would love more info or confirmation if anyone else knows!
1937 Crochet Patterns
The Age had information for people in 1937 who wanted to purchase this crochet doily square pattern celebrating the King and Queen
I adore this unique crochet hat from 1937; pattern PDF sold on Etsy by SubversiveFemme
Etsy's eStitches sells the crochet pattern PDF for this collared blouse
The PDF of this vintage crochet jug cover pattern is sold on Etsy by VintageKnitPatterns. This same seller also has some crochet tea cozy patterns from the same year.
Crochet in 1937 Magazines
The Homestead (a supplement to The Farmer's Weekly) featured crochet patterns at this time; a few I saw mentioned online were a crochet wool bed jacket and a crochet baby bonnet.
Needlewoman Magazine (like this issue sold on Etsy by sewmuchfrippery) was a popular choice for crochet, knitting and embroidery patterns in 1937
Etsy's MoreLooseEnds says that this 1937 issue of NeedleCraft: The Home Arts Magazine has a crochet pattern from a semi-cape to be worn while reading in bed.
Etsy's Susansfavourites shares that this 1937 Knitting and Home Crafts Magazine has patterns for a crochet rug, crochet placemats and crocheted water lily collar.
An issue of LIFE Magazine from this year shows a woman getting a crochet award for her work; she spent ten years crafting one bedspread!
Thanks to AvidCrocheter for leaving a comment on my 1935 crochet post pointing me to Workbasket magazine, which was launched in that year. I did some research and found out that it was started by John and Clara Tillotson as an eight page needlework service bulletin and eventually became a full magazine sold for more than six decades. I have not yet found any specific 1930s Workbasket issues or crochet patterns but I'm keeping my eye out on this resource. What I did find is a great list of all available Workbasket knit and crochet patterns over on Ravelry. The earliest ones I see there, though, are from the late 1940s. For example, the Luncheon Set seen above is a crochet pattern from a 1948 issue of the magazine.
Popular Science magazine continued to offer suggestions like the one above for using crochet hooks in other ways.
Random 1937 Crochet News
I saw two random mentions of crochet in different newspaper articles about non-crochet topics from 1937:
The Leader-Post shared details of the life of then-11-year-old Princess Elizabeth. It said in part. "After 1 o'clock lunch, the princess may do as she chooses until 2:30. Usually she and her sister play with their dolls, knit or crochet or read."
The Calgary Daily Herald had an article about prizefighter Thomas Farr. Crochet is mentioned as just a descriptive tool when discussing one of the fights, where it says: "It occurred to him that Maxie's eye might look better if it had some crochet work or embroidery in it, so he directed a couple of left hand punches to that neighborhood, and when the fight was over, sure enough, they had to stitch the eye. And with British thread, too." Ha :)
1937 Crochet: Favorite Find
My very favorite 1937 crochet find was a short mention listed in several newspapers about a woman who had started using crossword puzzles to design her own unique crochet patterns: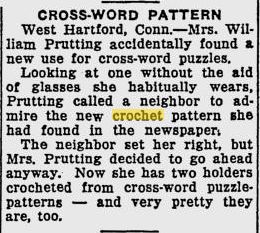 Learning about that made me curious if there are any crossword-related crochet patterns out there. I did a quick search and found this crossword crochet blanket over on Craftsy:
It's not the same thing but it reminds me of how people can use crochet to make QR codes today!
Next up in this vintage crochet series is, of course, 1938 crochet! Look for it on the blog next week. Got a lead on something from this year in crochet? Share it in the comments below!