One of the things I really want to do more of on this blog is share tips and ideas for how to wear crochet in stylish, modern, creative ways. My intention for the past few weeks has been to find different ways to wear a crochet shawl that I have and showcase those ways on the blog. Although I've come up with some cute options, I haven't quite been sure what I wanted to include. So today I've got one style suggestion for you and then a question about how to move forward.
Crochet Shawl as Cape
The item I'm working to style is this vintage crochet shawl. I found it in a thrift store awhile back, and you've actually seen it once before when I wore it as a dress. The thing is that it's a little awkward. It's big, it's heavy, it's made from a not-so-quality yarn. It's got a beautiful stitch pattern that I love but it has to be worn carefully in order to look right.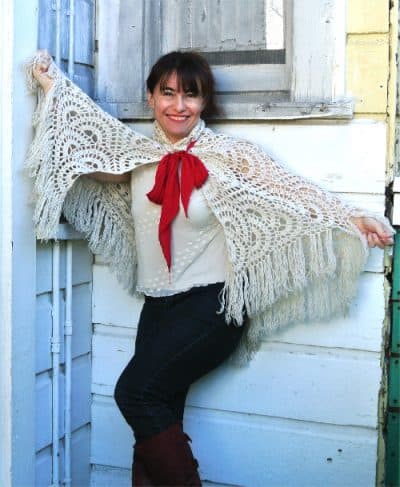 What I did with it in these shots is what I secretly think of as my Little Red Riding Hood look. I've taken the shawl and turned it into a cape. I did this by wrapping it around my neck cape style, then adding a red fabric scarf around the neck to tie it in and keep it in place as a cape. (I just wove the scarf through the holes of the pattern and tied it in a bow around my neck).
As you can see, I wore the cape with a feminine lace top, a pair of skinny jeans and my favorite red boots. The cream of the shawl and top match each other pretty closely. The red of the boots tie in with the red of the fabric tie (as well as the red of my liptstick). And the skinniness of the jeans helps take some of the weight out of the look that could be a problem with this big thick fringed shawl.
What do you think?
What Crochet Styles Would You Like to See?
If you haven't noticed, I've got a bit of a quirky sense of style. I don't have any problem putting together a range of different outfits and of course as I move forward with these style posts I'll always be sharing my own unique ideas for how to wear crochet.
That said, I'd really love to know the types of styles you'd like to see. Bohemian? Professional? Edgy? Comfy? Sexy? How are you most likely going to wear crochet in your life that it would benefit you to see more options for?
And I'd love to know what style problems you'd like help solving. Do you have trouble figuring out what to wear with really colorful crochet? Do you get stuck figuring out how to accessorize crochet garments or how to use crochet accessories with other clothes? Tell me what you want to see more of so I can better shape these style posts into something that will help you!