In this post you'll find all of the information that you need to know if you want to crochet a shawl. This includes basic shawl shapes, advice from the experts, links to patterns, crochet shawl inspiration and more.
What is a Shawl?
Shells and Chains Crochet Shawl pattern by AnastaciaKnits
A shawl is a large piece of fabric that is generally worn wrapped loosely around the shoulders and arms. It can also be worn wrapped around the neck and head. Recently it's been popular to wear triangular shawls backwards around the neck as "triangle scarves". Variations on the shawl, or items considered similar to shawls, include shawlettes, stoles, wraps and capelets. One type of shawl is the prayer shawl (or meditation shawl or friendship shawl); the crocheter prays or thinks kind thoughts for the recipient as the shawl is being crafted.
How Big is a Crochet Shawl?
You can make your crochet shawl any size that you want and you will find that crochet shawl patterns have a lot of variation in size. This is actually nice because you can substitute yarns in shawl patterns and it won't be a big deal if it changes the size a bit. That said, most average crochet shawls are between 50″ and 70″ across at the widest point. This widest point is sometimes called the "wingspan". The shorter side varies greatly; between 17″ and 25″ for an adult-size shawl is a good starting point but this can be very different.
Basic Crochet Shawl Shapes
You can crochet a shawl in almost any shape that you want to, of course, but the four most common shapes for a crochet shawl are:
1. Rectangle Shawl. The rectangular shawl is a great shawl shape to start with since it is easy to create even as a beginner crocheter. You can turn almost any crochet scarf pattern into a shawl by making it larger.
2. Triangle Shawl. The triangular shape is one of the most popular shawl shapes. It is often worked top down as one solid piece although there are many variations on how it can be constructed.
3. Half Circle Shawl. The half circle shawl is basically a variation on the triangle shape but of course it has softer edges. It, too, is a popular choice.
4. Circle Shawl. The full circle isn't a common shawl shape but every once in awhile you'll see a circle shawl and that stands out from the crowd.
Doris Chan's Chrysanthemum Tea Shawl is an example of a circle-shaped shawl
So to make a very basic crochet shawl you would just choose one of these shapes, determine the stitch pattern that you want to use and then crochet away. For example, you could crochet a 60″ wide chain and then do decreasing single crochet rows to create a triangle shaped basic shawl. Or you could start at the bottom of a triangle and increase stitches (see Vashti's "how to increase crochet stitches like a pro!") until you get the size shawl you want.
You can get some ideas for more unusual crochet shawl shapes, like the L-shaped shawl, from CrochetKim.
Enhancing the Basic Crochet Shawl
Some of the most common ways to add on to the basic triangle, rectangle or circle shawl are:
Add fringe; this gives it both decoration and length
Add tassels to the corners; the Easiest Shawl Ever pattern on Crochet Me shpws this
Line the bottom with motifs or add a border; Evan's Elise shawl shown below has a picot border, for example
Create a collar
Accessorize it; for example, you can belt a crochet shawl!
Add buttons
Decorate with appliques, beads or ribbons
Felting
Make your own shawl pin; learn how here
Crochet Shawl Tips from the Experts
Work Side to Side So You Don't Run Out of Yarn. Designer LilyGo mentions in her Laura crochet shawl pattern: "Laura is a crescent shaped shawl worked from side to side in one piece, both the body and the edging. With this construction, you don't have to worry about run out of yarn. Just make sure you weigh your yarn in the beginning and do the other half when halfway through (or a little before, to be safe)."
Play with Math. If you're skilled at some basic math you can use that to turn almost any gauge swatch you make into a triangular shawl. Kristin Omdahl explains this a little bit in a Crochet Insider interview, saying in part: "Take a gauge swatch and figuring out how to make it 60 inches wide for the long edge of the triangle, and how many stitches you need to decrease to make it 30 inches long when you're done with the decreases."
Larger Hooks for Lacier Looks. Milobo mentions in the Eva's Shawl pattern below that: "To get a nice lacy shawl you will need to use a larger hook size than that normally recommended for the weight of yarn – play with different hook sizes until you are happy with the results." This varies depending on your yarn type and stitch pattern but it's a good rule of thumb to be aware of.
Block your Crochet Shawl. Erica Jakofsky says: "Did your shawl come out slightly smaller than you anticipated? If it's made out of a natural fiber you can wet block it to larger dimensions. To do this simply wet your shawl, pat dry (just enough so it's not dripping), and stretch out on a flat surface. Gently pull and shape your shawl to your satisfaction." You can learn more about blocking shawls and get a full tutorial from designer Lisa Naskrent.
10 Most Popular Free Crochet Patterns
Here are links to ten of the most popular free crochet patterns for shawls:
This is the Eva's Shawl, a free bilingual Spanish / English crochet pattern by Milobo.
AnastaciaKnits offers a free crochet pattern for this half granny square shawl.
Lion Brand Yarn's South Bay Shawlette
Elise Shawl by Evan Plevinski; Evan was one of the guys I included in my roundup of 20 male crochet artists.
This is the Wingspan Crochet Shawl, a free crochet pattern by Carole Marie on Ravelry
This beautiful crochet shawlette pattern from designer Rebecca Velasquez is a Caron one skein project.
This gorgeous crochet shawl is made using superfine alpaca yarn and lots of it! It's a free Berroco pattern.
This easy crochet shawl pattern comes from Doris Chan.
Stitch Nation has the free crochet pattern for this bamboo yarn shawl.
Pax by Aoibhe Ni is the most popular free Ravelry crochet shawl pattern in the niche of Tunisian crochet.
10 Popular Crochet Patterns to Buy
And here are links to ten popular crochet patterns that you can purchase online:
Vicki Mikulak sells this crochet shawl pattern as a Ravelry download
This is the simple scallops crochet shawl pattern sold on Etsy by KikisCrochet
Dahlia Crochet Shawl by Lisa Naskrent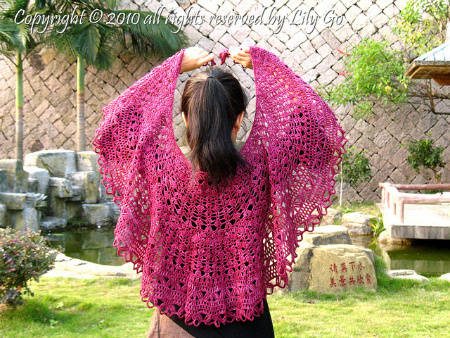 Cassandra Crochet Shawl by Lily Go
Sweet Pea Shawl by NexStitch
Gathering Leaves Crochet Shawl by Lily Go
Crocus Bud Crochet Shawl by Sharlene Boyce
Elsie's Shawl by Kat Mcab, crochet pattern for sale on Ravelry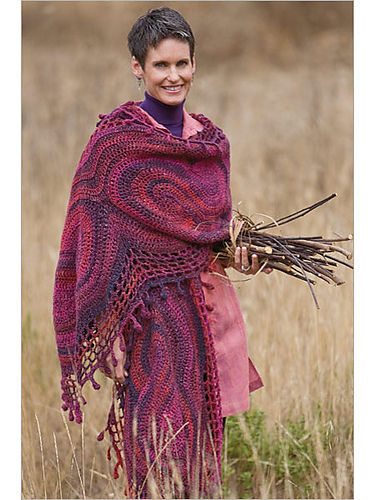 This stunning oversized crochet shawl pattern by Kristin Omdahl is for sale through the Interweave store
This crochet shawl pattern by YuLian Knits is sold on Ravelry
Try a Motif-Based Shawl
Shawls don't have to be made in solid pieces. You can also combine crochet motifs into a shawl shape. You could do this using freeform crochet or work a pattern such as the Triangles Shawl Pattern by Nazanin Fard show aboe.
Crochet Shawl Inspiration
Make sure you look at the photos of 100 unique crochet shawls if you're still in need of inspiration!
Easy Crochet Shawl was shared by Designs by KN for Knit and Crochet Blog Week
And if you want to get some great photographs of your crochet shawls then check out the post on crochet shawls in trees (which also has some other suggestions for props that show off shawls)
How To Wear a Crochet Shawl
Finally, once you've crocheted your shawl, you'll want to wear it as often as possible. This video from the Double Stitch Twins shows you all of the ways to wear a shawl.
Share your tips for crocheting a shawl in the comments below to make this ultimate crochet guide even better!