I'm working my way through the list to complete my Designer Crochet Project, in which I take a look at the career of 50 famous fashion designers and see what crochet they've created or inspired. This week we're looking at Paul Poiret, a designer I confess I didn't know about until doing the research for this project.
About Fashion Designer Paul Poiret
Photo credit: Examiner Article about Poiret
I've been using Simon Werle's 50 Fashion Designers You Should Know to get the basic info for this project, so I'll turn there first to learn about fashion designer Paul Poiret. I learn that he's one of the older designers in the book, dating back to the same era as Madeleine Vionnet. In fact, the book calls him "the first great fashion revolutionary" due in part to his "abolishment of the corset".
Poiret was a French fashion designer born in Paris in 1879. He trained in fashion as a teenager and then in 1903 he opened up his own haute couture salon. His designs were greatly inspired by the thin, athletic frame of his wife Denise Boulet whose silhouette differed greatly from the buxom women most early twentieth century clothes were designed for. Poiret was therefore a leader in loose clothing draped directly onto the body and clothes like kimono coats, culotte skirts, harem pantaloons and other pants for women, which were shocking as the flapper era was just beginning. Poiret was also one of the first designers to elevate fashion illustration as an art form, helping to found a magazine devoted to art fashion.
The Metropolitan Museum of Art says:
"In the 1910s, Poiret introduced an avant-garde sensibility into couture. His penchant for opulent gestures, lush fabrics, fur, and feathers was part of his grandiose Gesamtkunstwerk, inspired by stage and Orientalist extravaganza. He was also capable of more subdued garments."
Poiret had a promising start to his career, shwoing a collection in New York within ten years of opening his own salon. However, he was impacted greatly by The Great Depression and had to close his fashion house in 1929. The year prior to this, he and his wife/muse separated after 23 years together. Poiret may also have just been ahead of his time. A great article on his work says:
"With all of Poiret's accomplishments, the greatest obstacle he faced may simply have been his timing. For if Poiret's debut marked the opening of an era, the curtain call for his encore would not come again until the near close of the twentieth century. And, then almost as if taking their cues directly from the King of Fashion himself, contemporary fashion designers emerged as total arbiters of taste. Ralph Lauren, Calvin Klein, Giorgio Armani, and the late Gianni Versace were among some of the first to expand their clothing lines to encompass home lines. Similar to Poiret, these designers aimed to target all of the senses."
Poiret died as a homeless vagrant during World War II and it was only later that his major achievements as a fashion designer became widely recognized in the industry. Reports indicate that designer Elsa Shiaperielli played a role in making sure that Poiret's genius wasn't entirely forgotten over time. In 2007 the Metropolitan Museum of Art in New York did an exhibit of Poiret's designs.
Paul Poiret Crochet
Poiret was known for his kimono coat, which was very controversial when it came out in the early twentieth century. This one is said to be trimmed with crochet and bobbin lace. It is likely that crochet was used in the details of many of his early pieces.
1921 silk Poiret dress with crochet bauble trim.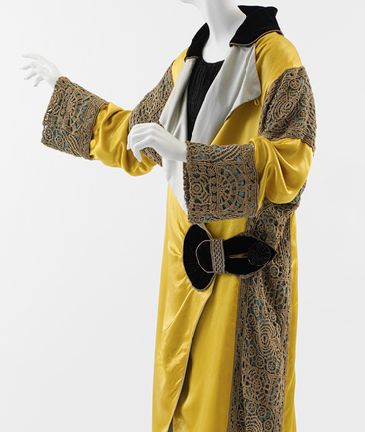 This amazing Poiret opera coat had crochet overlay. See full photos at Metropolitan Museum of Art.
Crochet Inspired by Paul Poiret
In 2009 Edera designed this beaded crochet butterfly and says she was "inspired by the opulent textiles of the French designer Paul Poiret".
Other Beautiful Poiret Designs
Although crochet wasn't a huge part of Poiret's designs, his detailed and unique clothing is definitely worth taking a look at. One great spot to see a lot of it in one place is on the Paul Poiret Pinterest board curated by Marilyn Wojdak. Some of my favorite Poiret pieces include:
This post is part of the Designer Crochet Project, a series of 50 posts about 50 top fashion designers and how they have worked with crochet.