This week kicks off my new series: 50 Years of Crochet History. Today we're looking at crochet in the year 1930.
1930 Crochet Style
cotton and crochet embellishment, circa 1930, via Etsy's EnglishVintage
Crochet in 1930 was mostly done in white cotton thread, although of course there are some variations. Lacy items, items done in filet crochet and crochet for the home were all popular at this time.
1930 Crochet News
The first thing I'll do in my research is scope out any news that was published (via Google archives) in the year 1930. The first thing that I see is an article in The Milkwaukee Sentinel about tariffs, which discusses how a Senate tariff rate has been approved to charge one half cent on every 100 yards of crochet, knitting and embroidery thread.
Another news article in 1930 discusses the best way to finish a white sateen knee-length underskirt. A few options are discussed but the conclusion is that the best option is to attach a knee-length facing using single crochet stitch with mercerized cotton. In other words, crochet is very practical for homemakers at this time in crochet history!
A New York Times article discusses ways to help the needy and mentions some rooms that are available that have been nicely decorated with "yards and yards of crochet", showing how the craft can give a homey touch to any setting, something that we all recognize today as well!
1930 Crochet Books
The crochet-related books that were published in 1930 included:
The Crochet Woman: A Novel
. This is a 300-page novel by British poet / author Ruth Manning-Sanders. As far as I can tell this prolific author wrote her first book in 1919, was most prolific as an illustrated children's author in the 1960s and 1970s and continued publishing books into her 90s. Sanders earliest books were mostly poetry and The Crochet Woman was one of her first full-length novels. Bella Crochet explains that The Crochet Woman is an evil queen who uses her crochet work to cast spells!!
What Children Wear in Knitting and Crochet by Ella Allan. This is a crochet and knitting pattern book of kids' wearables. You can view the entire thing online.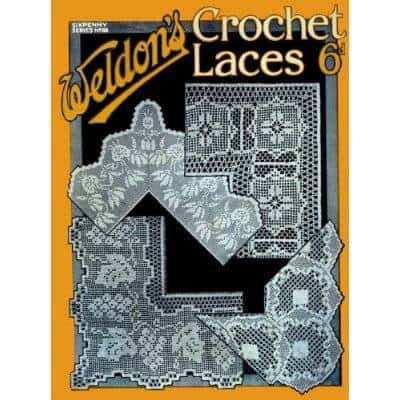 This vintage filet crochet book with 19 patterns in it is believed to be circa 1930.
1930 Crochet Patterns
Some of the types of patterns that I frequently saw referenced in my research into crochet in 1930 were covered dress hangers, children's wearables and edgings for hand-knit items.
This is the Girls' Crochet Jumper (for ages 2-3), which is one of the vintage crochet patterns in the aforementioned 1930 book called What Children Wear in Knitting and Crochet.
The vintage pattern for this crochet dressed doll came out in 1930.
This 1930 crochet hat pattern is available online for free; link via Ravelry.
Note: There are a lot of great vintage crochet patterns, including beautiful dresses, that came from sometime in the decade of the 1930s but don't have an exact date. After I've done the history posts for the decade I'll do a separate roundup post for those!
1930 Crochet Designers
Some of the popular crochet designers of this time included Mary Card and Anna Valerie. Neither appear to have crochet books that specifically came out in the year 1930 but they were submitting designs around this time to various places such as Ladies Home Journal magazine.
1930 Crochet Patents
Finally, I did an online search for crochet-related patents. This is interesting because there is no such thing as a crochet machine even today but people have frequently looked at ways to make a crochet machine, plus there are other crochet tools that have been patented. There are several 1930 machine patents that reference machinery that does knitting and crochet stitches although by all appearances these are really knitting machines.
Other crochet patents filed in 1930 included one for a crochet rack or frame. I don't quite understand what it is, exactly, but here's what the patent says:
Additionally, there was a patent filed by an Albert E. Woolnough (great name!) for a crochet toy; the stuffed bear drawing shown above.
And finally, there was a crochet patent filed in 1928 that was issued in 1930 for a new type of crochet hook. It was a normal hook on one end but instead of having a blunt other end that side was a sharp needle point designed "to permit the device to do work that is not possible with a standard crochet needle". The center of this hook design was "zig zag" to prevent slippage while working. Interesting!
Finally, Vintage Crochet DIY Project
I think my favorite find might be from the April 1930 issue of Popular Science, which teaches how to use crochet doilies to decorate rubber mats for the home.
I'll be back next week with crochet history from 1931!