Last week I shared the ultimate guide to crochet shawls and the week before I did the massive roundup of 100 unique crochet shawls. I thought it would be nice to also take a look at some of the best crochet pattern designers when it comes to shawls, so that if you're on the prowl for crochet shawl inspiration you'll have some good resources to start with.
Here are ten of the best crochet shawl pattern designers and some of their most popular crochet patterns:
1. Doris Chan
All Shawl by Doris Chan
Doris Chan has designed hundreds of crochet patterns, both for her own self-published pattern line and for various yarn companies. Her patterns have appeared in various magazines as well as several of her own books; later this year she's releasing a new crochet lace pattern book
that I bet has some shawls in it! She has more than three dozen crochet shawl patterns listed on Ravelry at the time this post is being written. Here are some of her most popular crochet shawl patterns:
Doris Chan's Chrysanthemum Tea Shawl is an example of a circle-shaped shawl
With the Siona Stole designer Doris Chan did something unique – creating motifs out of hairpin lace.
Doris Chan's Bohemian Shawl was a popular free Caron crochet pattern.
2. Lily Go
Gathering Leaves Crochet Shawl by Lily Go
Lily Go is a Malaysian knitter and crochet who designs her own patterns, which she sells through her blog, Ravelry and Etsy. She is also a mother so she only releases a few new patterns each year but gives each pattern time and attention and this can be seen in their popularity. She designs a variety of different types of items including many beautiful shawls. Some of her popular crochet shawl patterns include: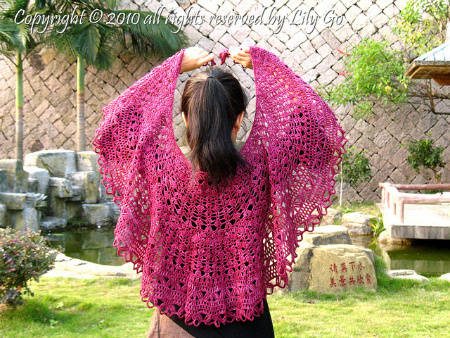 Cassandra Crochet Shawl by Lily Go
Piquant is a one-skein crochet shawl pattern by Lily Go
This is Lily's Garden Path Shawl
3. Kristin Omdahl
The Dragonfly Shawl by Kristin Omdahl (from the book Crochet So Fine)
Kristin Omdahl is a knit and crochet designer who has published several books and appeared on craft TV shows. She especially loves drawing inspiration from geometric shapes found in nature for creating her designs, something she discusses as it applies to shawls in an interview with Dora Ohrenstein. Kristin's book Crochet So Fine has several great crochet shawl patterns and as of the writing of this post she has more than 50 crochet shawl patterns listed on Ravelry. Some of the popular designs include:
This star motif crochet shawl by Kristin Omdahl is in Crochet So Fine
.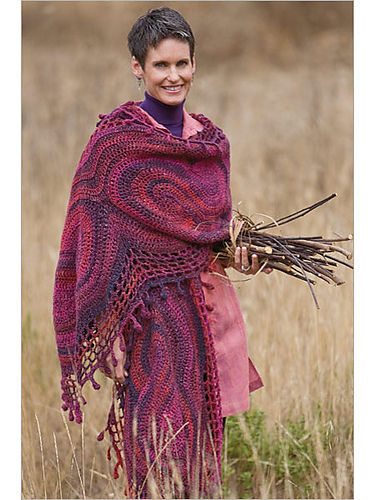 This Infinity Wrap oversized crochet shawl pattern by Kristin Omdahl is for sale through the Interweave store.
The Sprouts Chain Shawlette is Kristin's most popular crochet shawl pattern.
4. Lisa Naskrent
The Dahlia shawl is one of the most popular crochet patterns on Ravelry, for shawls or any other category.
Lisa Naskrent launched Crochet Garden in 2005 and has been designing patterns full time ever since. She designs a diverse range of different products and her patterns have been in several publications. At the time of the writing of this post she had nine crochet shawl patterns that were popular on Ravelry. She is especially skilled at designing laceweight shawls.
Lisa Naskrent's Dragonfly Shawl was a Flamie award-winning design a few years ago.
The Maia crochet shawl pattern is sold on Ravelry.
Lisa's Midsummer Night's Shawl was on a 2010 cover of Interweave Crochet Magazine.
5. Crochet Kitten
CrochetKitten's Magnificent Mantle worn as a crochet triangle scarf.
I knew that CrochetKitten had a lot of great crochet patterns but I actually didn't realize how popular her shawl patterns were until I started doing the research for this post. A search of the most popular of all crochet shawl patterns on Ravelry turned up several of her designs on the first page of results.
Clapochet crochet shawl pattern by CrochetKitten
The tasseled and beaded Josephine Scarf can be worn as a sarong or a shawl as well.
6. Rebecca Velasquez
This beautiful crochet shawlette pattern from designer Rebecca Velasquez is a Caron one skein project.
Rebecca Velasquez is a Texas-based knit and crochet designer whose work has been widely published in a number of magazines. She prides herself on using a classic silhouette and style in her unique designs. She has created many different accessories patterns, including some popular shawl patterns. Here are a few of those:
This is a Stitch Red design by Rebecca Velasquez called The Sister Shawls and it actually comes with a pattern in crochet and a matching pattern for knitters.
Rebecca designed this Haiku shawl for Quince and Co.
This is a free crochet pattern from Caron that Rebecca designed.
7. StitchDiva
StitchDiva has written instructions for creating your own freeform hairpin lace shawl like this Klimt she made.
Jennifer Hansen, AKA Stitch Diva, is a full-time knit and crochet designer based on California. Her designs have been featured in popular magazines, her own books and on TV. I haven't taken any classes with her myself but I constantly hear that she's a good teacher from people who attend various workshops. She is especially known for her work in niche techniques like hairpin lace. Some of her most popular crochet shawl patterns include:
The Andalusia is a convertible crochet shawl worked in broomstick and hairpin lace.
Stitch Diva says that this quick crochet shawl pattern can be worked up in a weekend.
The crochet pattern for the Feather and Fan shawl can be found in the book Crochet Master Class.
8. Kim Guzman
Mariposa shawl by Kim Guzman
Kim Guzman, aka Crochet Kim, is a crochet and knit pattern designer who also does technical editing; much of her work (but certainly not all) is in the niche of Tunisian Crochet. As of the writing of this post she has three dozen crochet shawl patterns listed on Ravelry. Some of the most popular ones are:
The Oasis Wrap is a free crochet shawl pattern through Caron designed by Kim.
Kim's Friendship Shawl is also a free Caron crochet pattern.
This prayer shawl pattern is a great example of filet crochet; free pattern by Kim via Talking Crochet newsletter.
9. Robyn Chachula
Robyn Chachula's Convertible Crochet Shawl uses buttons to become a shrug.
Robyn Chachula, aka CrochetByFaye, is a crochet designer who specializes in creating architecture-inspired designs for intermediate level crocheters who want to take their work to the next level. This includes several unique crochet shawls.
The Nursing Shawl is a free crochet pattern designed to cover baby while Mama is nursing.
Robyn's Floating Wrap was an Inside Crochet pattern inspired by snowflakes.
The Flowering Shawl was also published in Inside Crochet; it is designed to be worn in a variety of different ways.
10. Anastacia Knits
Stepping Stones Shawl by AnastaciaKnits
I am going to be honest in saying that I personally have only crocheted one shawl before using a pattern and that was a pattern by AnastaciaKnits, but I'm hardly the only one who likes her crochet shawl patterns. She has some very popular patterns on Ravelry. Anastacia offers both free crochet shawl patterns and ones to purchase and there is a lot of variety in the shapes, stitches used and styles among these different crochet shawls. Here are some of her popular crochet shawls:
AnastaciaKnits offers a free crochet pattern for this half granny square shawl.
One of Anastacia's most popular free crochet shawl patterns is the Snowdrop Shawl published in Crochetvolution.
This is the Julia Heliconian shawl sold by Anastacia.
Honorable Mention: Evan Plevinski
The Elise Shawl by Evan Plevinski is one of the most popular crochet shawl patterns on Ravelry. He is one of the only male crochet designers with a popular pattern in this niche on the site.
Do you have a favorite crochet shawl designer? Share who it is in the comments section!