A little while back I heard about an iPad app filled with colorful characters that were originally created in crochet. I was curious about it but I don't have an iPad so I kind of put it in the back of my mind. I just decided to read more about it and it turns out that there are now versions for iPhone and iPod. I do have an iPod and it's only 99 cents to download so I decided I'd check it out.
The Crochet Character App
The app I'm talking about is Loopy Lost His Lettuce. It is an interactive story book for kids with thirty different pages of images. You can choose to have it read to you or to read it yourself. I selected to read it to myself and it offered me a choice of "easy, medium and hard" versions. The app also includes six different games that you can play, which also include these different options.
Basically the story is that of Loopy the Snail who is traveling along meeting different characters as he looks for his lost lettuce. You use the devices features, like tilt, to move certain parts of the story along as he looks for his lettuce. Loopy and the other animated graphics were made using crochet. Even on the small iPhone you can see the details of the crochet work and the yarn details (like in the grass). As a crochet lover I find this totally neat.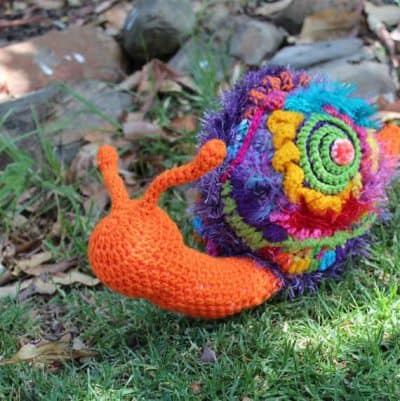 All of the crocheted creatures for this book were made by Australian crafter Gem of the shop Twizzlez. Gem especially loves making unique wearable art for people but in this case she used freeform crochet to create kid-friendly characters and settings for the story book.
Other Crochet Apps
Learn about some more crochet and yarn apps here.