Welcome to Day 5 of 12 Days of Crochet Christmas in which one lucky winner will get a chance to win 4 balls of luscious red Egyptian cotton yarn from the sponsor along with some bulky yarn from my stash.
Reminder: All days of this giveaway are open until 12/25. Visit this page to enter all five days of prizes so far.
Today's Prize: Yarn!
One randomly selected winner will win 4 matching balls of cotton yarn:
This is Drops Muskat 100% mercerized cotton yarn. Each ball is 50 grams (approximately 100 m / 109 yards). That's a total of more than 400 yards of terrific red cotton yarn. Learn more here.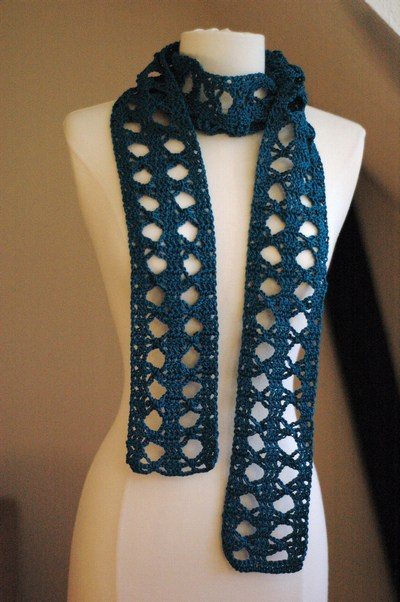 This yarn can be used to make the Papillon Scarf (pictured above), a free crochet pattern from By Number 19. The pattern is made with 2 balls of the yarn so you'll have enough from your win to make 2 beautiful red scarves if you choose to use the pattern. The designer explains: "The Papillon Scarf is a lacy scarf and the pattern is both written and charted. It's an easy project suited for a beginner crocheter. More than 50 crocheters have already made it on Ravelry."
In addition to the above yarn from our sponsor, I'm adding in one large skein (a whopping 615 yards) of bulky yarn. It's Sensations Rainbow Classic "a classic brushed yarn" in a variegated green color.
Thanks to the Sponsor
Today's giveaway prize was sponsored by Birgit of By Number 19. She shares:
"I am a fiber enthusiast from Copenhagen. My crafty mother taught me how to knit and I attended a folk school where I learned to weave, spin and dye wool with natural plant fibers. As a crocheter I am self taught with the help of Japanese crochet books.
On my blog I publish free crochet patterns and write about outstanding crochet artists and bloggers, who deserve a wider audience. My patterns are often charted, since I am a visual crocheter and have a hard time deciphering written only patterns. My style is influenced by the Scandinavian design tradition where 'less is more'. Have a look at my crochet world at bynumber19!"
How To Enter The Giveaway
Do you want to win your choice of Jocelyn's terrific crochet patterns? You must spread the word about this giveaway. You can do that in one or more of the following ways, worth one entry each:
Tweet the giveaway. Link to this post and mention @CrochetBlogger and @19number19
Share on Pinterest. Pin any of the images in this post (linked back to the post, of course).
Share on Facebook. Link back to this post.
Share via G+. Link back to this post.
Once you have shared this giveaway with at least one of the entries above, you can also get additional entries, worth one point each, by doing any of the following things:
When you are done with all of your entries, leave me ONE comment on this post sharing all of the links to all of your entries (for example, to the Tweet that you posted and to your Pinterest page).
Don't Forget Your Extra Entries
Don't forget that the top three people who have the most entries at the end of the 12 days of giveaways will each win a signed copy of Crochet Saved My Life. If this interests you then you may want to also do any of the following for bonus points:
Get the full giveaway details here.