Welcome to Day 3 of 12 Days of Crochet Christmas in which one lucky winner will get a chance to win crochet patterns from two different indie designers. There are two accessories patterns from A Creative Being and one winner's choice pattern from Mel's Daisy Patch. Plus I'm adding four Piecework magazines from my own stash.
Today's Prize: Crochet Patterns
One randomly selected winner will get:
More info on the three patterns up for grabs today: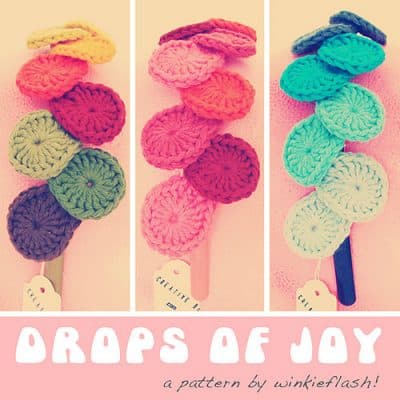 Drops of Joy Crochet Pattern donated by Wink of A Creative Being. This is a pattern to make a super cute cascading drops headband.
Mini Teacup Ring crochet pattern donated by Wink of A Creative Being. This is a pattern for an adorable crochet accessory.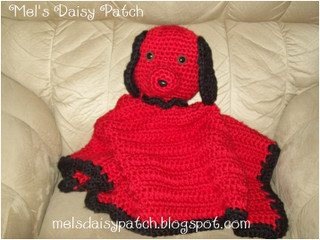 Winner's choice crochet pattern donated by Mel's Daisy Patch. The pattern pictured here is the super cute Snuggle Puppy Blanket but the winner can choose any single pattern from this page.
In addition to the patterns offered for giveaway by today's sponsors, I'm adding four back issues of Piecework magazine from my own stash. This is a terrific magazine that shares the history and patterns of various crafts, including crochet. The four issues I have are all from 2012 and are the March/April, May/June, July/August, and September/October issues.
Thanks to the Sponsors
Today's giveaway prize was sponsored by two indie designers: Marinke Slump of A Creative Being and Melissa Graham of Mel's Daisy Patch. Learn more about each of these great ladies:
Marinke is a crochet designer and blogger that you can find on Facebook and Ravelry. She shares:
"Hi! I'm Marinke but you can call me wink. I started crocheting a couple of years ago to keep myself busy, and it still keeps me busy today! I share my creativity on my blog a couple of times a week. I focus mainly on crochet but you'll also find free patterns there, as well as peeks into my life. I hope to inspire people to be creative on a daily basis, and to spread that happiness!" :)
Melissa shares:
"My name is Melissa Graham and I am the owner and designer at Mel's Daisy Patch Crochet and Crafts. I started crocheting in 2007 after losing my mom in a car accident. It was something she always wanted me to learn to do and became a way for me to deal with the pain of her loss. I never dreamed that a couple of years later I would be designing my own crochet patterns or that I would have a blog and online stores. I have to say crochet has been a blessing for me in many ways. It was not only a way to deal with the pain of loss but also a means to meet wonderful people and make lasting friendships. I started the blog as a way to follow others who shared the same desires I had for crochet and through it I have made friendships with other crocheters and crafters from many different cities and countries.

When I first started crocheting, I made and donated prayer shawls to friends and organizations in my area. I started designing my own patterns when my kids wanted me to make them things that I could not find a pattern for online. They tend to be my critiquers and let me know whether or not something is going to work. I have yet to make very many things for myself. Most of the things that I make either end up in my children's rooms or at someone else's house. Crochet for me is not just a hobby; it is a part of my heart that I can physically share with others."
How To Enter The Giveaway
Do you want to win these terrific crochet patterns? You must spread the word about this giveaway. You can do that in one or more of the following ways, worth one entry each:
Tweet the giveaway. Link to this post and mention @CrochetBlogger, @winkieflash and @daisycrochet.
Share on Pinterest. Pin any of the images in this post (linked back to the post, of course).
Share on Facebook. Link back to this post.
Share via G+. Link back to this post.
Once you have shared this giveaway with at least one of the entries above, you can also get additional entries, worth one point each, by doing any of the following things:
When you are done with all of your entries, leave me ONE comment on this post sharing all of the links to all of your entries (for example, to the Tweet that you posted and to your Pinterest page).
Don't Forget Your Extra Entries
Don't forget that the top three people who have the most entries at the end of the 12 days of giveaways will each win a signed copy of Crochet Saved My Life. If this interests you then you may want to also do any of the following for bonus points:
Get the full giveaway details here.