Take a look at everything that happened on Crochet Concupiscence this month in case you missed anything in the world of crochet!
Favorite Posts
My very favorite post to put together was this year's Thanksgiving post on 20 Reasons I'm Thankful for Crochet and I liked looking at reasons to (and not to) swatch for gauge in crochet.
I also really enjoyed researching to learn more about weighted crochet blankets for children with sensory dysfunction disorder.
Crochet Art and Artists
Upcycling Textile Artist Samantha Claire Wilson
1990s Crochet Artist Bill Davenport
Mathematical / Architectural Crochet Art from Ciro Najle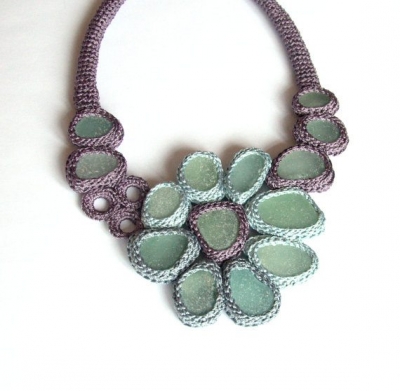 Unique Crochet Art Jewelry from Etsy's Asta
Jo Hamilton Crochet Art at BAM
Crochet Patterns
15 Most Popular Free Crochet Baby Blanket Patterns
10 Free Crochet Jewelry Patterns
5 Unique Crochet Grannyghan Patterns
Crochet Patterns from the Stitch Red Project
Inspiring Pattern: Crochet Monkey Blanket
Free Pattern: Crochet Scallop Leg Warmers
Free Pattern: Spiral Crochet Hooks Organizer
Crochet Books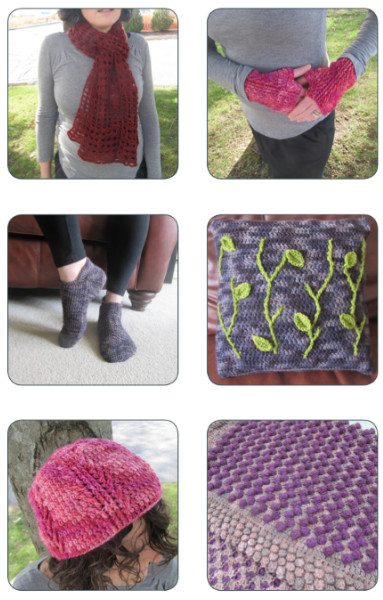 Poetry in Yarn at the Bakery PDF Pattern Book
Crochet Fashion
I looked at 20 Years of The Sak Crochet and then later did a comparison of similar crochet items from The Sak and Dolce and Gabbana
Lady Gaga's Crochet Cling Wrap Gown
Style Suggestion: Wear a Crochet Poncho as a Strapless Top
Crochet and Health
I'm continuing to share posts about crochet and health as well as news about my book Crochet Saved My Life (which has its own new website now!)
5 Unique Benefits of Yarn Crafts
5 Benefits of Crochet for Depression
Causes of Depression in People Who Were Helped by Crochet
5 Ways Crochet Saved My Life Works
Crochet Heals Because it Gets You Out of Your Head
Crocheting through Chronic Fatigue (Debbie's Story)
Woman's Cathartic Crochet Leads to Good Cause
Woman's World Mentions Health Benefits of Crochet
Crochet History
I learned and shared about the multi-craftual work of 1970s pro football player Rosey Grier.
And each Sunday in my "then and now" look back I shared some crochet history including:
Crochet hats were hot in the 1940s
Crocheters making stuffed animals in the 1950s
Women wearing crochet pants in the 1960s
General Crochet News
Trochet: "Trash" + "Crochet" Eco Project for Low Income Women
Professional Skier Crochets Items For Sponsors In Effort to Raise $20,000
Blind Woman Crochets 40 Mile Chain in World Record Attempt
Underground Crafter hosted a CAL
My Life in Crochet
I was honored to be compared to the CLF
My book was available at the Hudson Valley Yarn Crawl
I got Yarn Info From Spinchat
And my awesome readers helped someone find the pattern she was looking for. Thanks!
And now it's December. That's an exciting month here on Crochet Concupiscence and will include giveaways, daily crochet blogger awards and more. Stay tuned!