All this week we'll be looking back at 2012 to see everything that happened in crochet. We'll kick it off today with a look back at all of the crochet art news and information on this blog this year.
January
February
March
I absolutely loved putting together a roundup of Olek art videos. Other art pieces I wrote:
April
May
I reported on the disappointing news that a crochet art piece by Adrian Kershaw was vandalized. But there was good news too: crochet was part of the street art in Havana, the creators of the hyperbolic crochet reef have opened a permanent exhibit space in Los Angeles and Joana Vasconcelos became the first female artist to exhibit at The Chateau de Versailles.
And of course on Mondays in May I profiled different crochet artists:
I also shared the cool new-doilies of Asimina Chremos.
June
I profiled the work of several artists:
In other crochet art news:
Melissa Maddonni Haims covered a piano in crochet
A Yarn Garden display opened in Northern California
Eco-art plarn project Something in the Water launched a version in Brazil
And I've been playing around with making some crochet art of my own
July
I did a roundup of New York Crochet Art from artists other than Olek. But I did also do a post about one of Olek's newer shows. I also did a roundup post of the Top 10 Examples of Extreme Crochet Art that included one of her pieces.
I also shared:
Crochet Wire Sculptor Ruth Asawa
International Freeform Crochet Guild online exhibit and newest book is complete
Shauna Richardson did a video interview for her Lionheart project
Looking at the crochet pieces in Joana Vasconcelos' Versailles exhibit
Visual Chronology of Crochet Playgrounds by Toshiko Horiuchi MacAdam
August
Olek Says Crochet is For People
September
Etsy's Wire Crochet Artist YooLa
Transformative Crochet Artist Mary Tuma
Surprising Crochet Art from Industrial Designer Alessandro Zambelli
Exhibit: The Mysterious Content of Softness
Possible New Book about Hyperbolic Crochet Coral Reefs
October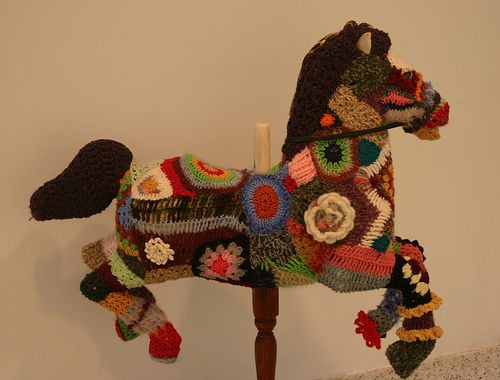 Crochet Artist Donna Rutledge-Okoro
Portrait Crochet Artist Pat Ahern
Alessandra Stabili Wire Crochet Jewelry
Jerry Bleem's Plarn Crochet Art
Yarnbombing Italy Post-Earthquake
November
Upcycling Textile Artist Samantha Claire Wilson
1990s Crochet Artist Bill Davenport
Mathematical / Architectural Crochet Art from Ciro Najle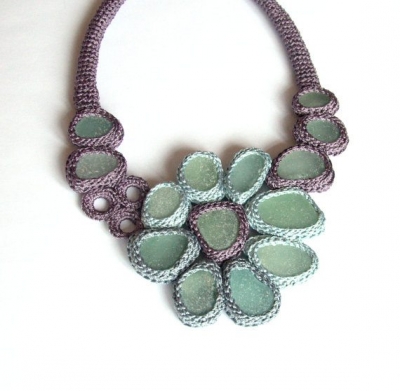 Unique Crochet Art Jewelry from Etsy's Asta
Jo Hamilton Crochet Art at BAM
December
Total Process Crochet Artist Yokoo Gibran
Belgian Home Crochet Artist Renilde de Peuter
Actress and Crochet Artist Sarah Louisa Burns
10 Examples of Crochet Taxidermy Art
And some recent news from 3 crochet artists
Crochet art is one of my very favorite topics to cover in this craft so you can expect the news and artist profiles to continue in 2013!