October included I Love Yarn Day and American Craft Week. It also included many other opportunities to highlight great crochet. Here's the month's roundup of all that was on the blog. If you really liked a post, share it so others can support it too!
Favorite Post
My favorite post to write this month was 5 Crafters' Homes I'd Love To Retreat To where I looked at the inspiring crafty homes of five people who crochet.
Crochet Art and Artists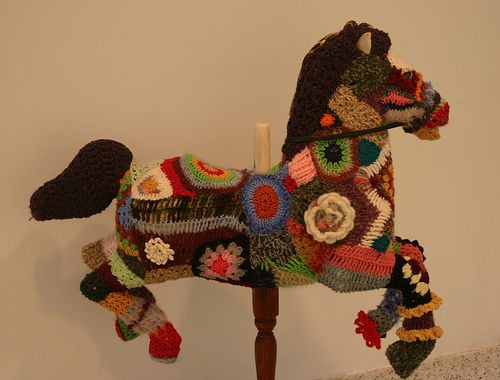 Crochet Artist Donna Rutledge-Okoro
Portrait Crochet Artist Pat Ahern
Alessandra Stabili Wire Crochet Jewelry
Jerry Bleem's Plarn Crochet Art
Yarnbombing Italy Post-Earthquake
Crochet Designers
Edgy 1970s Crochet Designers: Bonnie Meltzer
1970s Crochet Designer Susannah Lewis
1970s Crochet Designer: Susan Morrow
Etsy Husband and Wife Team Craftypodes (Interview)
Crochet Books
Crochet Patterns
15 Beautiful Free Crochet Patterns for Kids' Dresses
15 Beautiful Kids' Crochet Dress Patterns to Buy Online
Small Projects, Large Hooks! 15 Quick Free Crochet Patterns for Holiday Gifts
Crochet Fashion
I did the monthly celebrity crochet roundup yesterday. Other fashion crochet posts included:
Designer Crochet: Oscar de la Renta
More Dolce and Gabbana Crochet
Fair Trade Fashion/ Crochet by ZemZem Atelier
Leah Eneas Launches Crochet Line
ManieOne Crochet Shoes and Accessories
Harriet Cole's 108 Stitches Collection
Crochet and Health
I'm continuing to share posts about crochet and health as well as news about my book Crochet Saved My Life (which has its own new website now!)
Crocheting Through Grief: A True Story
Infographic: Crochet Hooks in Surgery
Are Simple or Complicated Crochet Patterns More Healing?
3 Positive Features of Crochet
Tools For Crocheters to Relieve Hand Pain
General Crochet News
Crochet History: Canal Narrowboats
Crochet Bridges Gap Between Inmates and Community
Roundup of Crochet Wedding Favors
A Chat: Value in Craft
My Thoughts on Foreign Language Crochet Blogs
Knitters Seem Welcoming to Crocheters
Yarn
My Crochet
Off-the-Blog News
Crochet Concupiscence and my book Crochet Saved My Life both got some great off-blog attention this month as well. Here are some of those links:
Happy November everyone! What will you be giving thanks for this month?