Donna Rutledge-Okoro is a crocheter who seamlessly moves between art, commerce and design. She sells her patterns on Ravelry and Etsy. She shows her finished items on Etsy as well as on her own blog. And she does yarnbombing and public art, including recently displaying a crochet-covered Smart car at the Birmingham Museum of Art.
Donna Rutledge-Okoro
Donna Rutledge-Okoro has been blogging about her crochet work since 2004. She opened an Etsy store in 2008 where she sells her crochet patterns and finished items, most of which are accessories and several of which have cool innovative style with an urban edge. Okoro began yarnbombing in 2010. Some of her yarnbombed chairs were placed on display in 2011 at the Jennifer Harwell Gallery and most recently she was commissioned to do some yarnbomb art for the Birmingham Museum of Art. She also teaches crochet. I love that she is immersed in so many different aspects of the business of crochet!
Donna Rutledge-Okoro Art
photo credit: Mark Almond, Birmingham News, click through to see full slideshow
I learned about this artist from a newspaper article reporting on her yarnbombed Smart Car. It explains that she's crocheted functional pieces for a long time but was inspired by Olek's work to start yarnbombing about two years ago. She left her crochet yarnbombs on benches in parks. She then went on to yarnbomb the dog statues at a local park, covering them with hats and scarves that the homeless in the area could remove and actually make use of.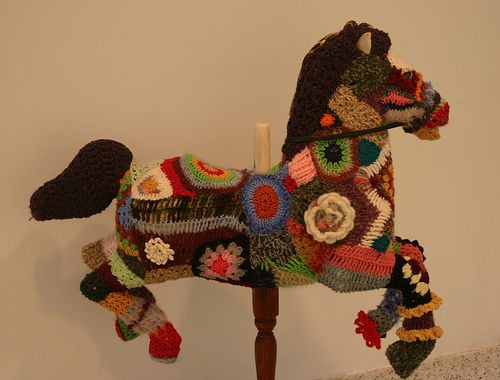 One thing I really love about her yarnbombing is that she includes an identifying tag with a QR code on it. This allows people to use mobile technology to scan the card and find out more about her art and designs. I think this is such a smart thing for public artists to do with their work!
The Birmingham Museum of Art reached out to her to ask her to yarnbomb the Smart Car, which belongs to a board member, in conjunction with their show called Warhol and Cars: American Icons. Her work was on display there last month.
See more yarnbomb art photos from Donna on Flickr
Donna Rutledge-Okoro on Etsy
The artist/ designer uses the name MsSunflwr on Etsy and has a shop there that she calls Knots and Loops. She sells finished items, crochet patterns and crochet kits.
One design that I really love from her shop is the Tughari, which she explains means "Change position" in Igbo. The piece can be worn as a beanie or converted to a cowl. So innovative! Plus it's a unisex design. The designer's patterns are also available on Ravelry. Find her here.
Other Similar Crochet Artists
Donna Rutledge-Okoro says that she gets her yarnbombing inspiration from Olek
Although she references Olek, her work reminds me more of yarnbomb artist Magda Sayeg, especially since Sayeg has worked with the Smart Car brand. Sayeg has also made a commercial art career out of yarnbombing.
Her yarnbomb chairs remind me of some I've seen recently on the Yarn Bombing blog