Photo from the Be Sweet Yarns Facebook Page
I've previously written about quite a few fashion and accessories companies that are involved in fair trade crochet but I've yet to write about a yarn company doing similar work … until today! I wanted to tell you about Be Sweet yarns, a company that helps women in South Africa.
About Be Sweet
Be Sweet is a company that was founded in 2003 by Nadine Storyk Curtis. I'm familiar with the company because they are based in the San Francisco Bay Area. I first saw their yarns when I went to Bluebird Yarn Store in Sausalito and that's how I learned about the company. They also sell knitting and crochet patterns and ready-to-wear knit items.
Be Sweet Supports Artisans
From the Be Sweet website:
"Be Sweet works with job creation programs to give artisans the confidence and the means to support themselves and their families in otherwise economically depressed regions"
Be Sweet works with people in South Africa, allowing them to use both traditional and handcrafted techniques to create their products. The way fair trade works is that the supplies are provided to the artisan in advance, so it's not as if these economically deprived people have to pay anything. They get a fair wage for their work, allowing them to support their families. In some cases this is the first time these people have had the opportunity to have a paying job.
You can learn about some of the women who work with Be Sweet here.
Be Sweet Gives Back
Be Sweet also gives back in other ways. First of all, they use environmentally firnedly practices and materials including recycled materials to make their products. They also donate a portion of their proceeds to support schools in South Africa, which will give more people in the area the opportunity to go on to make a self-sustaining living.
The Yarns
Be Sweet sells a lot of different types of yarn. Most of it is really unique, which is terrific. Some of the more unique ones that I've noticed:
Recycled T-shirt Yarn. What a great way to try tarn without having to cut it for yourself. I know I personally don't enjoy the cutting up process.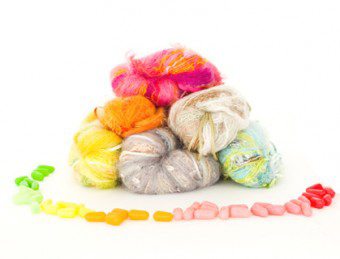 Magic Ball yarn described on the site as; "A divine arrangement of hand dyed boucle and brushed mohair yarns tied with knobby, ribbon, and metallic goodies."
Sari Silk Nubs described on the site as, "Colorful recycled silk sari fibers hand spun with baby boucle mohair and a thin metallic strand."
There are plenty of yarns that aren't so novelty too. One that looks good to me is the Simple Sweet Line of solid colored yarn that's a blend of wool, kid mohair and superfine alpaca. I bet it's super soft.
I should note that their yarn descriptions include knitting gauge and needle size but I don't see anything for crocheters. It doesn't bother me because I don't usually look at this stuff but I figured I'd mention it.
Fun Fact: Be Sweet also sells crochet and knitting patterns and even has some for free.