2011: crochet in art and fashion
Let's take a look at what was happening here on the blog, and in the world of crochet, during this same time last year. While we do, I'll be in AZ spending time with my family for my Dad's 60th birthday. Last year I did a birthday post for him talking about organ donation and crochet because he is a two-transplant survivor.
Crochet Art
I profiled Ana Laura Alaez, a Spanish multimedia artist who does beautiful three-dimensional crochet work. Her newest work has been in photography.
I also profiled Ernesto Neto, the Brazilian crochet artist that I've mentioned a few more times because of how his work reminds of Toshiko Horiuchi Macadam and because of his recent NY show.
Olek yarnbombed the Astor Place Cube. Of course, Olek has made the crochet news a bunch more times since then for other yarnbombs as well as various art shows. Her Brazilian playground alligator has been my recent favorite.
There was a unique crochet art fundraiser called As Far As Eye Can See. Basically you could buy a square on this virtual board and when you did so money was donated to earthquake survivors and the square would reveal a crochet square underneath. The final result is shown above; 63% of the squares were sold.
Crochet Books
I reviewed Sarah London's Granny Square Love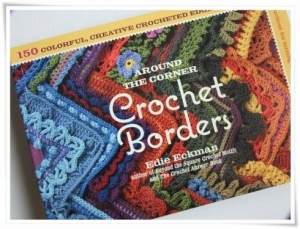 I also reviewed Edie Eckman's Around the Corner Crochet Borders. I continue to enjoy both of these books.
I made a list of crochet-related Google eBooks offered through Hickory Stick Bookshop. As I mentioned then, I was part of their affiliate program. I did a similar post with stuff from the Interweave store. I have since decided to stop participating in any affiliate programs except Amazon's (I've used theirs for years).
Crochet Inspiration
25 Holidays to Celebrate with Crochet
10 Types of Crochet Things to Get Free on Listia
Crochet News
I wrote about a woman who crochets in her free time – when she's not hunting that is. Her story inspired the title of my booklet of 2011 crochet articles.
Susie Hewer Knits and Crochets While Running Marathons
October is breast cancer awareness month so there were some stories related to that around this time. Like the one about Ex Truck Driver Patti Hodge who crochets to deal with cancer diagnosis. And the news about the largest pink scarf display.
Crochet designer Shannon Beach has created the Puppoose, a crocheted carrier for little dogs.
Undocumented Student Raises College Funds with Plarn
Woman Wins Sweepstakes, Uses Money for Crochet Supplies
Crazy Crochet Injuries in the News
Crochet Fashion
London and Milan Fashion Week both featured lots of crochet
Crochet Quotes
Here were some of the smart things people said:
"As crafters, we all have experience with the ways in which yarn and a hook can foster community. When you pull out yarn, someone nearly always comes over to offer a tip or story." – Betsy Greer

"My mum taught me at an early age to find my own answers, that discovery is an integral part of any creative process. I think that's why I design. I love discovering how things work, how to manipulate elements to get the desired effect, to learn from mistakes and love the process." – Andi Smith

"To many of us who crochet, knit, weave or spin the epitome of a yarncrafter is one who can do all of those things and more. Fortunately, those of us who may only participate regularly in one of those crafts can also consider ourselves a yarncrafter." – source

"The best way to discover and learn new things is by mistake. You miss a stitch or just add an extra loop or stitch and there you go. Another new flower. The word 'errata' does not exist in my vocabulary. Instead it is replaced by the phrase "the never threaded road to something amazing". And when I see how beautiful it is I cannot stop with just one or two. I have to have them in every color I have in my stash." – The Little Treasures

"Hats, mittens, blankets, and afghans rarely need more than a re-gauging to accommodate your choice of current yarn to make them "modern"; the same goes for classic cardigans, shawls, and pullovers. Some styles, however, may require a bit more fine-tuning to reflect today's more relaxed fit." – source

"I think it's a great pity that, while craft is back in fashion and craft is clearly groovy again, in the preceding decades it was very passe. I know lots of women in their thirties and forties who didn't grow up crafting and are learning it now, and I'm delighted to see the convergence of these practices." – Maria Elena Buszak

"Fiber arts is soothing. It relieves stress and gives me an outlet for my creative self. It takes me away from television and games, both of which I have wasted a lot of time doing. It also allows me to create useful items." – Crochet with Cris

"Don't panic! You can do this! If you can put your hook somewhere, wrap the yarn over the hook, and pull the hook out, you can crochet any stitch." – Edie Eckman

"Free-form crochet is like the jazz music of fiber arts." – Sachi Fujimori

"Once mastered, crochet is incredibly speedy and portable. Equipment is minimal and inexpensive. It is easily stowed away in a small bag and can be carried with you on your travels." – Jane Crowfoot
Crochet on Etsy
I put together a collage of crochet cable items on Etsy. I also made my first ever Etsy treasury, inspired by yarnbombs. I got a lot better at treasuries as time went on!
I interviewed PeaceJoyYarn
Yarn
I did a yarn review of Plymouth Yarns Italia Fingerpaints bulky yarn, which I then used to make a crochet cowl
I reviewed Caron's Simply Soft Paints, which I liked enough to use for the bulk of my large granny square blanket
I reviewed online yarn seller mixedmedium, which has great prices on good yarn
My Crochet
I crocheted this sachet bag
I was crocheting a lot of jewelry
This Day In Crochet History
I looked up this date in crochet history and found an article in 1940 about the Red Cross needing knit and crochet items to send to European countries before the end of the year. They were specifically looking for "25 children's sweaters, 5 beanies, 5 mufflers and 15 shawls". The Red Cross still accepts handmade donations of items to this day.
Did you miss any of these posts last year? You can visit the originals using the links throughout this post.