2011 in Crochet: Zari crochet jewelry, Caroline Routh, Ivana Trump in crochet shorts, Anoli Perera
What was going on in September 2011 in crochet? How has it changed? What about some longer-ago history? It's all here in this post starting with National Wool Week, which I first explained last year. It starts this year on October 15th.
Crochet Art
I profiled the work of tapestry crochet artist Caroline Routh. I mentioned her recently because her work reminded me a little of the work of Sophie Buckley. Caroline Routh's work is featured at Mad and Noisy Gallery.
I also profiled the work of Anoli Perera, a Sri Lankan mixed media artist who adds crochet to her creations. Last year her work was part of a group exhibition in India and she had a solo show in Sri Lanka.
Crochet Books
I reviewed Crochet Edges and Trims, an Interweave publication edited by Kate Haxell. I'm curious how the contents of this one will compare to Kristin Omdahl's upcoming new book called The Finer Edge: Crocheted Trims, Motifs & Borders.
I also took a look at a retro 1989 book called Granny Squares-Nanny Squares: New Twists for Classic Crochet
. I love some of the patterns in this book – truly timeless!
Crochet Inspiration
5 Awesome Crochet Items for Bicyclists. I was reminded of this post again recently when Crochet Today did a roundup of bicycle crochet as celebration for the Tour de France.
5 YouTube videos about yarnbombed trees. My most recent post about a yarnbombed tree was about emerging artist Issa Abou-Issa.
Crochet News
Storms devastated The Crochet Museum. It took awhile but by February the museum was back up and running. Here's a slideshow of someone's trip here; it's located in Joshua Tree, CA.
Dog Lovers Learn to Crochet to Make Afghans for Sick Friend. I recently shared an update to this story.
67,000 Crochet Bears Made for HIV+ Children in Africa
Some of the other news from this time:
Crochet Fashion
I looked at the beautiful zari crochet in the St. Erasmus jewelry line. No new items have been posted on the site since I checked it out last year but the St. Erasmus Facebook page says that there's an upcoming Autumn-Winter collection.
LeAnn Rimes was spotted in a crochet swimsuit
Christopher Kane created this terrific crochet cashmere jacket. I wish this designer would start doing more with crochet again; I really loved his 2011 stuff! Since it was made with cashmere, it was one of the things that prompted me to write an article about The Ethics and Issues of Cashmere Wool.
Crochet Quotes
Here were some of the smart things people said:
"I hope art in general can inspire and initiate change. I use street art as an additional viewing space, like a gallery or any other area that is showing my work. Good public art works make a person stop walking, stop staring at the ground, and focus on art. My work is never finished – the continuous response of the viewers is the art. My work is simply an instrument for their expressions. It proves that all things are interconnected." – Olek

"Planet earth can be an unsettling place to live, don't you think? But in times of insanity, crochet is a dependable friend we can always turn to." – Amy Solovay

"Crochet is incredibly easy to get started with. Because it involves a repetition of the same movement – drawing the yarn through a loop on the hook – the basics are really quick to pick up. It can feel a little strange to start off with, especially if you are used to knitting, but the fingers soon learn the new movements and the rhythm becomes like a calming second nature." – Carol Meldrum

"Working in blocks of color can be as straightforward as choosing three or four cheerful colors and making large motifs into a wrap. Or crocheting large swaths of quieter variegated color in a very simple lace pattern. Two contrasting motifs together can set up a great framework for a big throw; you can have a lot of fun adding bright colors to a neutral background. The wonderful thing about color blocks is that you can work a variety of shades into pattern work without losing the actual pattern." – Kathy Merrick

"Appreciation of the unique is not a new phenomenon: traditionally, beautiful linens for the home were embellished with fine crochet and so the craft came to represent the formality of the very best. These household items that were so lovingly created display a wealth of ingenuity and expertise that many a modern volume draws upon." – Kate Haxell

"With experience, the physical act of making crochet fabric becomes automatic. At that point, the smooth, repetitive and intellectually non-challenging motions free up our higher brain functions to take in and process information and all manner of other stimuli. In other words, while our hands are very busy with crochet, our minds may be engaged with other things. I might be tempted to say crochet makes you smarter. Certainly the possibility of layering pleasure upon pleasure makes the craft even more fun." – Doris Chan

"The newest lace trend is a move toward bulkier laces — crochet-like pieces made of thick wool and other hearty fabrics instead of thin knitting. And lace-like perforated leather cutouts adorn some apparel." – Eva Stutzman

It is a delight to see a revival of artisan skills such as crochet and ikat weaving and raffia embroidery but with none of the 'home spun' connotations." – Jimmy Stephen-Cran

"It is the element of decorative utility that craft embodies that makes it both enduring and endearing … crafting is, ultimately, about the power to transform ourselves and the world around us." – Crochetbug

"Contemporary crochet, now set on its way by the big new crochet hooks and the eye-opening revelation of all the different things that could be made with them, came finally and fully into its own in rather a strong and startling manner, and started an explosive rash of artistic endeavor such as was never heard of before." – source
Crochet on Etsy
Collage of Crochet Stripes on Etsy
Collage of Crochet Pockets on Etsy
Yarn
I was enjoying the Weekly Color Inspiration Posts on the Malabrigo Yarn blog. I still love looking at these color features.
I reviewed Creme de la Creme Yarn
And I reviewed yarn seller Jane & Michael. You can now find this UK yarn seller under the name A Stash Addict.
Here What I was Up to A Year Ago
I started this crochet dress. I finally finished it recently.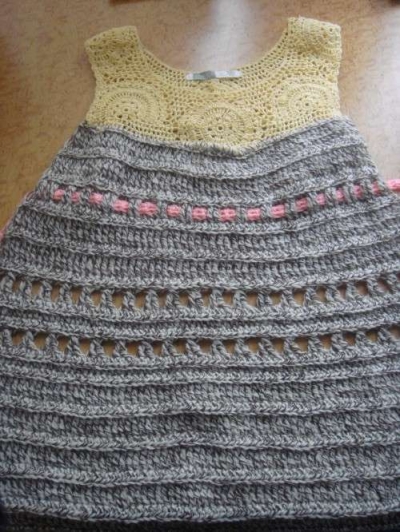 I started crocheting what was intended to be a dress but turned into a crochet apron.
I planned to attend a lace-focused fashion show but I didn't end up going in the end. The video above is for the 2012 fashion show, which I unfortunately also missedd. The 2012 show didn't have a lace theme but I see some crochet in that video for sure. I'll need to make sure to go next year!
I made these two crochet bags, some of the favorites I made for my Year of Projects!
I made this crochet capelet although I have to confess that I've never really found a cute way to wear it.
I explored lots of new blogs for my Hooked Together Project.
I made a list of 25 sources for crochet news and another on 25 charities that accept crochet donations.
This Day In Crochet History
I looked up this date in crochet history and found that in 1925 there was a poem entered to win a $1000 prize that included a line about crochet. The section was:
"In the evening when with hubby,

I am seated in the swing,

And with crochet-hooks or needles

I am making pretty things."
Did you miss any of these posts last year? You can visit the originals using the links throughout this post.