There's an exhibit at Castellani Art Museum that features Irish crochet along with celebrating many other types of Irish Lace.
The Museum
The Castellani Art Museum is part of the Niagara University campus, near Niagara Falls in New York. The museum celebrates the visual arts, mostly in the form of moderna nd contemporary artworks. What interests me is that they specifically devote attention to "folk arts". The museum's website site says:
"Folk arts are creative practices rooted in tradition and a sense of group identity. Because folk arts are created by and for a particular group of people, they reflect the unique history, values, interests, and aesthetics of that group."
The idea of the program is to recognize the artistic value of regional art works that are often just considered "craft" rather than "art". I love that the museum devotes attention to this important area of the arts, an area that has often been overlooked by the art community.
The Exhibit
The current exhibit that is part of the folk arts program at Castellani Art Museum is called (Re-)Making Irish Lace. It is described as an exhibit "displaying Irish styles of lace, old and new, historical and reimagined, this exhibition celebrates the ingenuity and handwork of women in Ireland and Western New York."
The exhibit brief explains that Irish lacemaking boomed in the 19th century. It was a way for people in Ireland to earn an income and support themselves in a desperate time of famine. Some types of Irish lace were really popular (including Irish Crochet) but most types were undervalued both at the time that they were made and later on in history.
The exhibit shows some of these older pieces. They are paired with new pieces of Irish Lace made by contemporary New York artists. This shows the beauty of the original works as well as the possibilities for re-imagining them in a creative way that is of interest today.
It sounds like a great exhibit!
Talk with Molly Carroll
On September 3oth the museum will host a "show and tell" discussion with Molly Carroll. Carroll is a lace collector and a restorer of Irish lace. She will be showing her collection of historical lace pieces. She will also be sharing some of her experiences as a collector over the past three decades.
Irish Crochet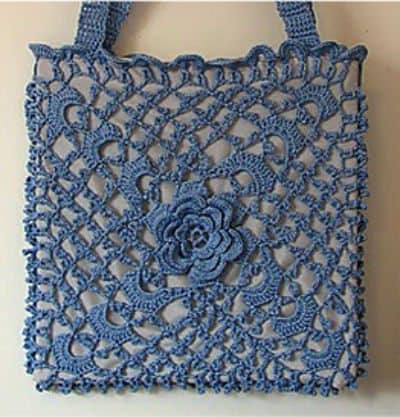 Irish crochet bag, free pattern online
ArtVoice, writing about the exhibit, says:
"The earliest and most characteristically Irish lace is known as Irish Crochet, a style modeled on Venetian and Flemish originals by the sisters of the Ursiline convent at Cork, who in 1845 opened a crochet workshop for the local women. A display bolt of Irish Crochet presents a hodge-podge of sturdy individual motif elements including stylized leaves and flowers and grape clusters, seemingly by different hands, no motif just like any other, connected by a webwork of threads embellished with tiny decorative knots."
Irish crochet is only one type of Irish lacemaking but it's an important part. It was one of the few types of Irish lace that became very popular in the 19th century. The demand for pieces helped provide an income to many women suffering through poverty in Ireland at this time.
This is also really important to the history of crochet. This was around the time when crochet was first being introduced and becoming popular as a craft. Without this period in crochet history it's hard to say whether crochet would ever have gotten so popular at all!
This lacemaking exhibit runs through December 2, 2012. If you're in upstate New York you may want to check it out!