I've featured a few items recently from Yoola on Etsy. She does beautiful crochet wire work and I wanted to take the time to do a full post sharing her work with you today.
About Yoola
Yoola (Yael Falk) is an Israel-based jewelry artist who uses crochet and knitting techniques worked with wire to make delicate, eye-catching, elegant designs. She derives inspiration from great color combinations in nature and from the experience of taking a raw material and turning it into something fabulous. In the vieo above, she talks a little bit about her craft process. You can see more of Yoola's videos on her YouTube channel.
Wire Crochet Home Decor
I especially love the home decor items that Yoola makes out of delicate wire crochet. I mentioned one of her items in my roundup of beautiful crochet lamps because lamps are something she does really well. She also crochets sculptural decor, like these pears:
Yoola's Crochet Bridal Jewelry
Although what I really love from Yoola is her home decor work, her specialty is really in making wire crochet jewelry. I enjoy her bridal jewelry:
Gold wire crochet cuff bracelets for the bridesmaids
Crochet bridal necklace
Pearl earrings for the bride, knit and crochet combo in wire
Other Yoola Crochet Jewelry
Of course, bridal jewelry isn't all that Yoola does. Here are some of her other great wire crochet accessories:
Unique crochet hoop earrings – I love the creative style she gives to the shape of her pieces, which are simple and yet really unique
Crochet bangle bracelets, this set is made of oxidized sterling silver
Crochet and turquoise ring
Do It Yourself Crochet Options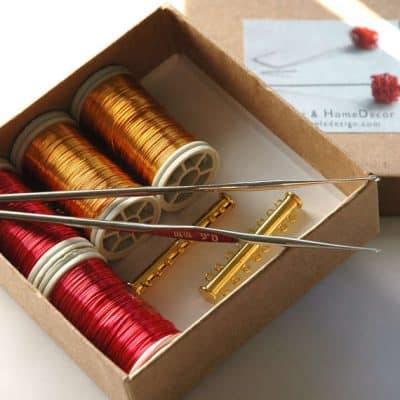 Yoola sells beautiful finished pieces of work through her Etsy shop. However, as crafters, many of us would rather make our own stuff, right? Yoola offers options for us, too. First of all, she sells patterns and video tutorials for recreating the work that she makes and sells in her own store. And secondly, she sells jewelry making kits that provide all of the materials for making items in one organized set. You can find all of that in her Etsy shop, too! You can also visit Yoola on her blog.