Learn Bruges Lace is a new technique and pattern booklet from Annie's written by Ellen Gormey of Go Crochet. This book was my first experience trying out this particular crochet technique. I found that it was easy to learn; the book gives all of the instructions you need to get started.
What is Bruges Lace?
Traditional Tape motif, Bruges Lace
Bruges Lace was totally knew to me and although I knew it was a form of crochet I didn't know anything else about it. Ellen's introduction explains that that Bruges lace is a variation on bobbin lace that originated in Brugge, Belgium. She goes on to give an excellent description of what Bruges Lace is.
The basic thing that I learned is that Bruges Lace is worked using three different types of small motifs that are joined together as you go. First is the "tape", which is made up of short rows (the foundation chain is typically less than ten chain stitches). Then there's the arch, which is worked similarly but basically creates a half circle instead of a straight motif. And then there's the circle, which is basically just the arch continued through to a full circle size. That's simplifying it but those are the basics.
The Learn Bruges Lace Book
Ellen's book has two core sections. First are the stitch instructions for the basic motifs. This includes instructions for several different types of tape and arches. I worked the traditional tape and an increasing stitch version of tape. There are several other patterns shown here as well. Each motif is only 7 – 16 really short rows so they can be worked up super quickly to practice your Bruges Lace skills.
Ellen makes it really easy to learn the techniques by including options for every learning style:
Clear text description. Since I'm a wordy girl, I apprecated this. There are notes that add helpful information to the basic pattern instructions.
Photos. They are large and clear.
Stitch diagram. If you like working from symbol charts then you won't be disappointed because these are included as well.
Basic Bruges Lace Arch Motif
These same varied options are also available in the second part of the book, which is a selection of eight full patterns for crochet accessories. Ellen has included three crochet hat patterns, two patterns for scarves and then one pattern each for a bracelet, a cowl and a blanket.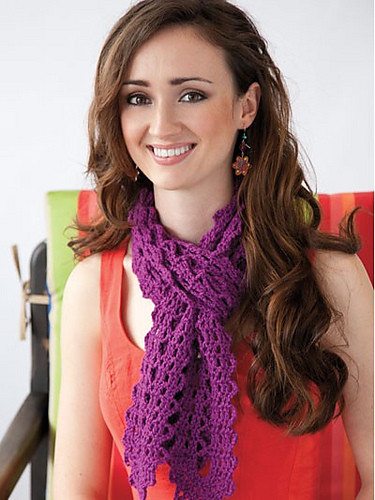 Crochet scarf pattern by Ellen Gormley from Learn Bruges Lace
I haven't worked any of the full patterns yet myself but I've looked through them and they seem really clear. I've started one of the crochet scarf patterns because it seemed like the easiest way to take the skills I learned in the technique/motifs section and transfer it directly to the pattern. I'm also really interested in the cowl pattern, which has a great spiral design.
Crochet spiral cowl pattern by Ellen Gormley from Learn Bruges Lace
Learn Bruges Lace is available as a
print edition
for under $10. It's also available as a digital download.
About Ellen Gormley
Ellen is a crochet designer whose first book, Go Crochet! Afghan Design Workshop
was published in 2011. She's followed that up quickly with this new crochet pattern book. I'm so curious to see what she does next!
The Learn Bruges Lace Blog Tour
This giveaway post is one of the first stops on the Bruges Lace blog tour. Crochet Mama's Bloghad a review and giveaway over the past weekend. There will be posts coming up soon on Tampa Bay Crochet, The Crochet Architect and Say it Rah-Shay.
Giveaway!
Ellen and Annie's have generously allowed me to do a giveaway so you can win your own copy of Learn Bruges Lace. To enter just leave a comment on this post telling me what interests you about Bruges Lace.
You can get one additional entry for each of the following actions. If you do these, leave me a single comment on this post with links to each entry.
This giveaway is limited to US entrants only. The winner will be picked at random. The giveaway will close at noon PST on Saturday August 8th and the winner will be announced on the blog the following day.