Mary Quant was only a fashion designer for about fifteen years but her designs contributed greatly to the sensibility of fashion in the 1960s. There are several vintage knit and crochet patterns out there bearing her name.
Fashion Designer Mary Quant
British fashion designer Mary Quant is credited with designing the miniskirt, the hallmark garment of the 1960s when her designs were best known although she actually opened her first boutique in the mid-fifties. If you think of a quintessential sixties fashion statement, you'll have a good picture in mind of the basics of Quant's style. By the mid-1960s she had expanded to open a cosmetics line and by 1970 she wasn't really making clothes anymore but instead had a business of cosmetics, interior design and accessories. She sold her business in 2000.
Mary Quant Crochet Patterns
In my search for crochet by Mary Quant I found several old crochet, knitting and sewing patterns with her name on them. I can't tell if these were made by her or just crafted after her style, but either way they're cute: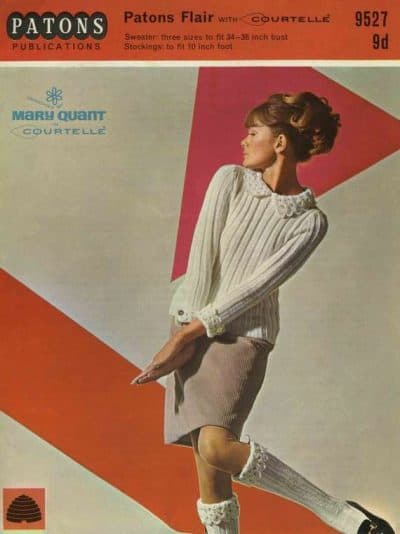 Knit sweater and socks with crochet details, via Etsy's LittleJohn2003
Mary Quant crochet dress pattern sold on eBay
Other Mary Quant Crochet
Etsy's funkomavintage sells this Mary Quant cotton shirt featuring crochet details
Mary Quant Worn with Crochet
Mary Quant's 1960's style works really well with crochet so it's a great brand for people who like vintage clothing.
Here Fashion Void shows how to wear a great Mary Quant blue jumpsuit layered with a crochet dress
Other Mary Quant Fashions
This post is part of my Designer Crochet series.