In addition to all of the crochet blogs I read, I also eyeball tons of design blogs. You know what I've noticed lately? Lots of these blogs are featured crochet lamps of various kinds. And they're so stylish! Here's a roundup of amazing crochet lamps to inspire you to perhaps make something amazing to add new light to your own home. And if you haven't found the crochet pattern you're looking for, be sure to check our selection as well!
1. Cotton and Silk Pendant Lights
I'm in love with these crochet pendant lights that were recently featured on Dezeen. It's a limited edition design crocheted from mercerized cotton and surplus silk. They come at a price tag of £1,100 each.
2. Blue Doily Lamp
This blue doily lamp from Swedish blog Calinas (a previous link love find) is one of my favorite examples of upcycling doilies.
3. Metal Crochet Lampshade
Etsy's Yoola makes beautiful wire crochet lampshades (and other home decor items as well) that are remniscent of the work of crochet artist Ruth Asawa
4. Feminine Crochet Lamp
There is a free crochet pattern for this beautifully designed lamp offered via Ravelry.
5. Granny Square Lamp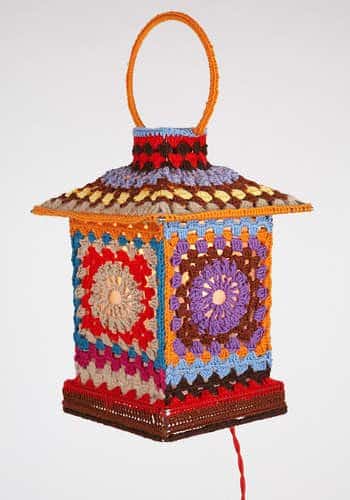 This cute little granny square lamp was one of the homeware design items from fashion designer Moschino
6. Crochet-Your-Own-Kits
Last year I wrote about these custom crochet kits being produced by Finnish company Lappajärvi Dye Works
7. Crochet-Covered IKEA Lamps
What a crafty IKEA hack; these were featured in an issue of Crochet Today
8. Epoxy Crocheted Lamp
This Marcel Wanders design was featured as a top design by TIME magazine. TIME said it was fabric and resin; the maker's website specifies crochet and epoxy. Either way it's cute and contemporary!
9. Crochet Paper Lantern
There is a pattern for this idea over at Pickles; the lamp was previously featured in my roundup of 20 things a crocheter can do with paper. Another crochet lampshade pattern from this site that I like is their big fat lampshade.
10. Country Crochet Lampshade
This crochet lampshade by Crocheted Gifts could work in many spaces but I think it would look especially good in a country-inspired home.
11. Chunky Crochet Light
I adore the chunky texture on this pendant light. It was on the Dessacord blog but I saw it on CRAFT.
12. Artistic Granny Lamp
Artist Jaboopee makes many different creative lamps including this lovely granny motif light
13. Statement Lamps in Crochet
These gorgeous crochet lamps would be the talk of any room! They're from Cai but I saw them on Inhabitat.
14. Granny Stripe Bedside Lamp
This little lamp is so cute! It's from Etsy's petitus who sells other crochet lamps and crochet lampshades.
15. Hemp Crochet Light Pods
These are the luminous light pods from the book Unexpected Crochet for the Home. I previously mentioned these in my roundup of hemp crochet ideas.
16. Upcycled Wine Bottle Lamp
I think this upcycled wine bottle lamp covered in crochet is so romantic! It's sold by Etsy's shellscape53.
Where would a crochet lamp work in your home?