Many people crochet baskets, vases and vessels. However, not everyone elevates what they're creating to an art form. Sophie Buckley does just that. She uses a creative approach to explore the depths and potential of crochet in contemporary soft sculpture, drawing inspiration from nature to create works of usable art that are beautiful and thought-provoking.
About Crochet Artist Sophie Buckley
Sophie Buckley is a UK based crochet artist born in Staffordshire. She grew up with an artistic mother and a handy father who both encouraged her ongoing love affair with nature. She was especially inspired by water life, beginning with a love for her father's handmade pond and continuing as she got older through her experiences with snorkeling and diving. Nature, and particularly ocean life, inspire all of the crochet sculptures that she creates. In fact, what first drew me to her work was not the individual pieces but a photo I saw showing many different blue hues of work in one space, suggesting the color and undulation of perfect waves. Sophie stays true to nature in her work by trying to use primarily local and natural materials including wool and willow. Sophie went to art school at Falmouth University.
Sophie Buckley's Crochet Art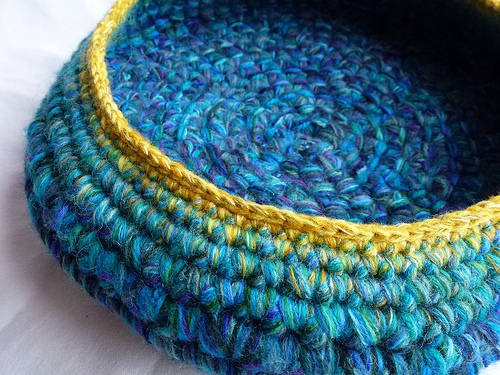 Sophie explains on her website:
"Ocean life and the patterns governing natural growth inform my work. Crochet techniques allow me to work in a way which captures an element of this, gradually changing as it grows, layer building upon layer. I make pieces instinctively, each one informs the next, and shapes develop and evolve over time."

Her many shades of ocean blue are my favorite to see but she also works with other nature-drawn colors including greens, corals, creams and the occasional burst of red.
I adore her vases and vessels but she also makes accessories, especially handbags.
For Sophie's final degree show at Falmouth University she explored some math-based crochet work including Fibonacci based monofilament pieces and hyperbolic crochet work. These math-based pieces lend themselves well to explorations of nature since this type of math often appears spontaneously in nature.
Fibonacci based crochet piece
Hyperbolic crochet
Other Similar Artists
Kyle Ethan Fischer also draws inspiration from nature
Carolyn Yackel does math-based crochet art, which I thought of because of the Fibonacci explorations in Sophie's final art show at school.
Caroline Routh's tapestry crochet is a different style of crochet work but there's a similarity in the shape of the vessels she makes