Earlier this week I did a post about crochet designer Anna Kosturova in which I pointed out two different pairs of crochet pants she makes that I love (bell bottom pants and yoga pants). And I got to thinking … I haven't seen too many pairs of crochet pants that I love. Sure, I loved the Girly Monster Pants I featured on the blog last year but those were kids' pants. I'm talking about stylish crochet pants for grown-ups. Is anyone making them besides Anna Kosturova? I decided to do some research and here are the best crochet pants I found:
Anna Kosturova's Crochet Harem Pants
In addition to the crochet pants from Anna Kosturova that I already showed you this week, she also sells a pair of crochet harem pants that can be worn to the beach. They're cute, although I don't love them as much as her other crochet pants.
To recap, these were the pants I loved from Anna that I already showed you:
Etsy's OnceOverTwice
Etsy seller onceovertwice makes many variations of these great comfy-looking crochet pants. Here are two pairs I love: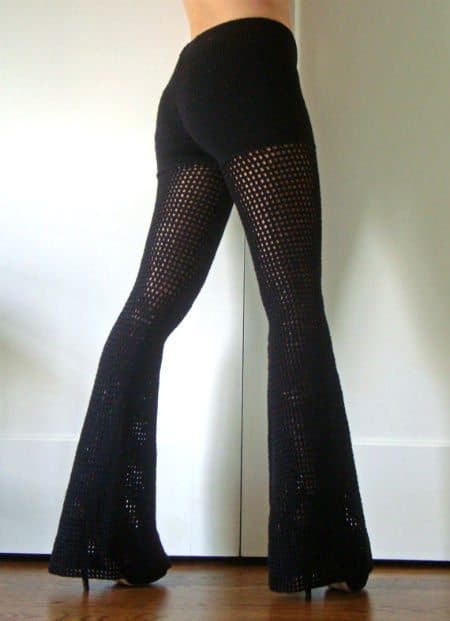 White Crochet Pants
I love the pattern of these crochet pants. They are sold through Dawanda.
Free People Crochet Pants
Does anyone know the story behind who crochets for Free People? I've always kind of wondered because they have so much crochet in their line. I hope it's all done at fair wages. In any case, they are a good source for crochet pants to buy or get inspiration from:
The basic crochet pants they have are my favorite although that could be because they have terrific styling with that crochet top and great bag!
I also like their crochet harem pants with bonus points because they're lined so you can actually wear them out. I think they'd look cuter with heels than with these sandals though.
One Teaspoon Harem Pants
Harem pants seem to be a top choice when it comes to crochet pants right now.
Jane Crochet Flare Pants
These pants were sold by Shopaluxe. I saw them posted on intoTHEnow.
Babukatorium Rainbow Crochet Pants
Babukatorium does everything in rainbow and does it beautifully. Her crochet pants are no exception.
Mystic CreationZ
Mystic takes Jamaican and African roots and infuses them into her crochet creativity. She has several pairs of crochet pants. Here are two I like:
And I have to say that even though they are a little ridiculous, there is something I kind of love about her crochet shantz:
Trina Turk Crochet Beach Pants
I love these because they have pockets. They're designed to be beachwear but I bet you could put them over a pair of leggings and then style them with a great top and have a day-to-night outfit. Question for you guys – do you think this pair is really crochet? It looks like some other kind of lacework to me but it's marketed as crochet.
High Waisted Crochet Pants
I'm not usually a fan of high waisted pants even though I know they're "in" but I kind of like this crochet pair sold on Etsy by lapetitemarmoset.
Crochet Tunic and Pants Set
This vintage outfit looks great today. Sold on Etsy by BasyaBerkman.
Vintage Crochet Pants
I can't end this post without giving a nod to some great images of retro crochet pants:
This set of crochet patterns were shared online by OMG Heart. It seems like it was pretty common for the crochet patterns of the day to have bottoms that matched their tops.
These 1970s crochet pants (free pattern here) are so stylish!
The crochet pattern for these 1960 pants is sold on Etsy by eStitches.
Crochet Pants Patterns
There aren't too many good crochet pants patterns out there other than the vintage ones. Here are a few I did find:
Pineapple Crochet Bell Bottoms, pattern sold through Ravelry
The One Size Fits All Pants Free Crochet Pattern
Crochet Drawstring Pants, pattern link through Ravelry
Do you have any crochet pants? How would you wear them?