July flew by! In case you missed any of this month's posts, here's the review. Just follow the links to the original posts.
Popular July Posts
I really believe that one of the best parts of both blogging and crochet is that each offers the opportunity to be part of a great community. It makes me happy to say that the two most popular posts on the blog this month were the two that were most about connecting to my community.
First was the post that I did sharing the brief bios of the women whose stories are in my new book, Crochet Saved My Life, which has its official release tomorrow.
And second was the Introduce Yourself blog post where I asked my readers if they wanted to come share a little bit about themselves on the blog. I was so happy that people responded so well to this. I heard from people I know as well as people who had never commented before and it was a joy to learn more about everyone. If you didn't comment, feel free to still do so!
Crochet Ideas and Inspiration Posts
These roundup posts were designed to inspire; I hope they did!
20 Ways to Combine Crochet and Fabric
10+ Ideas for Personalizing Your Crochet Hooks
26 Most Popular Crochet Patterns to Buy Online and 20 Most Popular Free Crochet Patterns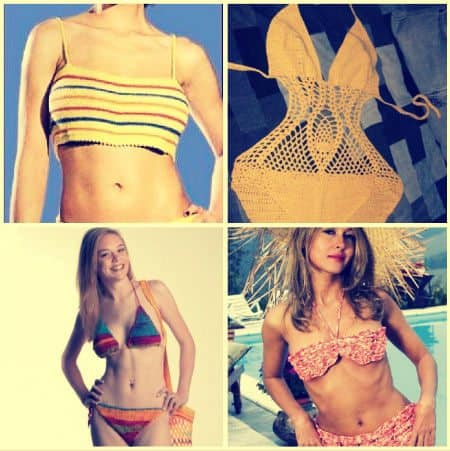 10 Hottest Free Patterns for Crochet Swimsuits
Best of the Best Crochet Wedding Veils
12 Wedding Cake Crochet Toppers
Crochet Art and Artists
I did a roundup of New York Crochet Art from artists other than Olek. But I did also do a post about one of Olek's newer shows. I also did a roundup post of the Top 10 Examples of Extreme Crochet Art
I also shared:
Crochet Wire Sculptor Ruth Asawa
International Freeform Crochet Guild online exhibit and newest book is complete
Shauna Richardson did a video interview for her Lionheart project
Looking at the crochet pieces in Joana Vasconcelos' Versailles exhibit
Visual Chronology of Crochet Playgrounds by Toshiko Horiuchi MacAdam
Foreign Language Crochet Blogs
I have fallen in love with looking at crochet blogs written in other languages. I shared posts suggesting some Japanese Crochet Blogs and Latvian Crochet Blogs.
1970s Crochet Designers
I explored the work of two really terrific crochet designers from the 1970s:
Crochet Fashion
I did the monthly celebrity crochet roundup this morning. I also did a post previously about Vanessa Hudgens in crochet.
I looked at the crochet items in the lines of several famous fashion designers:
And there was some crochet fashion news:
Krochet Kids collaborated with Vans to make new crochet shoes
Painted Bird debuted with a new line of colorful crochet shoes
Eco-designer Dahea Sun created a fashion line that displays acid rain levels by changing color. It includes a bit of crochet.
Rohit Bal reportedly had crochet in his show but I couldn't see it in the video I shared. Could you?
I did an overview of Sophie Digard crochet scarves
General Crochet News
Sharon Silverman's Crochet Scarves book is now on tour. Oddly that's the only news I had this month that wasn't crochet art or crochet fashion news.
My Crochet
I made this crochet dress and am trying to figure out how to style it
I also tried to figure out how to style this purple crochet dress
I finished my crochet rugs
And I made some crochet headbands
I reviewed my experience with Year of Projects and explained why I'm not participating again this year
Happy July everyone! Do you have any big crochet projects planned for this summer?