I won't pretend to understand even a tiny bit of Japanese. I do know that Google Translate tells me that "crochet" in Japanese looks like: かぎ針編み. Although Google Translate does get a lot of things wrong so that may not be accurate. However, I don't need to know the language to be able to see lovely crochet on a blog, so here are eight Japanese crochet blogs that I think are fun to glance at now and then because the crochet photos on them are pretty.
This is the blog of the Japan Amigurumi Association. It's filled with visual goodness for ami lovers.
This is another Japanese amigurumi blog. It's set up much like American blogs with links to Facebook etc. and is filled with great photos.
T's Cafe Tricot is a Japanese knit and crochet blog
I'm pretty sure that this is a crochet teacher's Japanese blog. There are some cute crochet accessories in the posts here.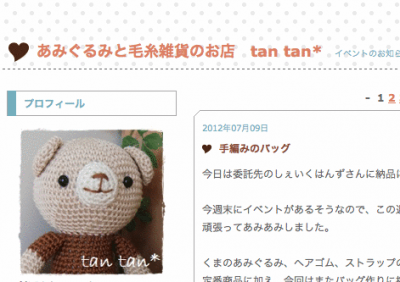 Tan Tan is a Japanese blog filled with crochet items that the blogger has made.
From what I gather this Japanese crochet blog has knitting on it, too.
My best guess is that this one is a personal Japanese blog from a crocheter who shares doilies, home decor and crochet accessories.
The items shared on this Japanese blog frequently combine crochet with other crafts.
If you like supporting foreign language crochet blogs, be sure to share this post. And don't forget to check out the previous posts on Latvian Crochet Blogs, Portuguese Crochet Blogs and crochet blogs in other languages.