Miss Donnathorne by Mona Mauri, 1977
Something really cool has happened since I started putting together this series of blog posts exploring what the crochet artists of the 1970s are doing today … Several of them have come out of the woodwork to let me know what they are up to. I mean, of course there have been the artists that I tracked down and contacted but there have also been some super cool women who have reached out to me to say that they were there during that time and they'd be happy to tell me about it. I love these stories and I also love getting the opportunity to explore the work of these artists. Today's post is about one of those women: Mona Mauri.
Who is Mona Mauri?
Mona Mauri is a multi-medium artist working in fiber, ceramics and digital art. She explores common themes throughout the different mediums: capturing human emotions and thought processes. She often works with found objects in her pieces and those objects help serve as a starting point to evoke memories and emotions in the viewers of her art. She constantly pushes herself to try new techniques and to explore art in new ways, which is something that I think is really valuable for all artists. Mona has continually exhibited her work both physically and online. Recent projects she's participated in include the Brooklyn Sketchbook Project, The Global Women Project and a postcard exhibit at A.I.R. Gallery in New York City.
1970s and 1980s Crochet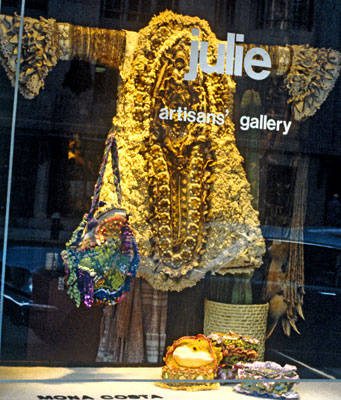 Mona Mauri's Queen's Coat in window of Julie's Art Gallery, New York
In the early 1970's Mona was living in New York on East 13th Street and 2nd Avenue, which was just down the street from a place called Studio Del. Del (Pitt) Feldman was the owner of the shop and was the first one that was really showing off crochet art to wear in that area. Mona was really inspired by what she saw there and it influenced her own work tremendously. In fact, that ended up being the first place that Mona showed her work. She also sold some hats to Bendel's at the time and was beginning to work on making crochet vests.
In 1973 Mona was at the Northeast Crafts Fair in Rhinebeck and she met Julie Schafler Dale. If that name sounds familiar it's because Dale is the author of the Art to Wear book that I'm constantly recommending, which showcases pieces from the 1970s and 1980s from artists who were exhibiting in her gallery. Dale asked Mona to bring some of her work in and she started to exhibit there.
In 1977 Mona started working with another artist, Liz Surbeck Biddle, on collaborative wearable art pieces that were exhibited at the gallery. Mona explains the process on her website: "Liz did painting on silk and we would quilt it and then use crochet to build the clothing forms and we would pass the vest, purse or coat back and forth to each other adding beads, sequins, mirrors, feathers and whatever else we could find to enhance the pieces." You can explore a gallery of this work on the fiber arts page of Mona's website or on Flickr.
Crochet purse, 1979
Mona also had exhibits in many other spaces at this time besides Julie's including The Philadelphia Museum of Art, the American Craft Museum and the Brunier Gallery at Iowa State University.
Some Thoughts on Those Early Days
Mona graduated from college and moved to New York City in 1970. She mentioned that in college everyone seemed to be making Indian bracelets. Also around this time a lot of the artists were traveling to Europe and Latin America and returning to the states with inspiration from the crafts that they saw in those places. That inspiration got translated into new ideas and melded with the hippie movement and that's when you started seeing everyone with embroidered jeans and handmade necklaces, wearing afghan coats and moccassins. Mona says, "somehow crochet evolved as the perfect medium to make garments; it was easy to make changes, very spontaneous, not like knitting."
Magic Garden Crochet Coat, 1977
Mona also talked about how the wearable art movement just began to embrace more and more inspiration and embellishment. She says, "I really got into the glitter and glitz and embellishment of our garments. I'd go all out in the garment district, at Tinsel Trading Company especially, finding trinkets to sew onto our work. Definitely more was more, not less is more." This seems to be true of what the other artists were doing at the time, too. If you look back on the work from artists like Janet Decker and Sharron Hedges you see that their creations just got more and more layered and detailed and embellished until about the mid-1980s when there seemed to be a scaling back in design styles with a more minimalist approach adopted by many artists.
Digital Collage
Much of Mona's recent work today is in digital photo collage; see gallery. She does beautiful collage work layering vibrant colors and images against one another in both simple and complex scenes. Mona says on her site: "My collages are a reflection of society as I use layers of varied materials (memories) to show the complex world we reside in." Mona does personalized digital collage work as well. She says, "Bring me your stories, your photos and memorabilia, the things that mean so much to you. As in a dream, I'll capture that special play between reality and illusion, a magical state where anything can happen." In addition to this, Mona also does website design.