I recently did a roundup of the most popular free crochet patterns on Ravelry. Free patterns are definitely great, but there is no reason not to pay for crochet patterns, too. Crochet patterns are usually not very expensive, allow you to support independent designers and offer you the chance to get designs that you simply can't get for free. This roundup shows you the most popular patterns on Ravelry that can be purchased online.
Ravelry's 10 Most Popular Crochet Patterns to Buy Online
If you go to Ravelry and sort for the most popular crochet patterns to buy online, these are the first ten that will come up today:
Note: In some cases I've linked to the main place I know of to buy the pattern but there may be cheaper options offered by the designer in other spots around the web including on Ravelry.
3 Crochet Hats
Three of the most popular crochet patterns to buy online are patterns for fun and funky hats. They are:
Owl Earflap Beanie by Inner Hooker
Lael Viking Helmet by Tara Murray
Sock Monkey Hat with Earflaps, Braids and Pompom or Flower by Shelley Tudor
Slippers and Shoes
Three more of the most popular buy-able crochet patterns are for shoes:
Oma House Slippers by Tara Murray
Booties Baby Goshalosh Boots by Elizabeth Alan
Felted Crochet Slippers by Bonny Smith
Other Popular Patterns
The four other most popular crochet patterns to buy online right now are:
Dahlia Crochet Shawl by Lisa Naskrent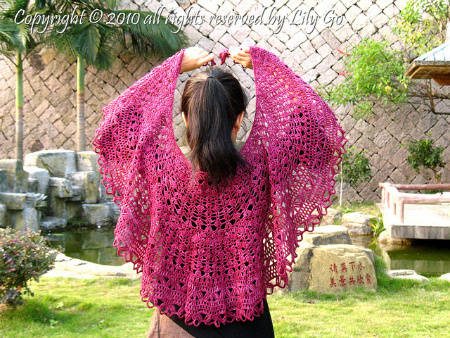 Cassandra Crochet Shawl by Lily Go
Plumeria Frill by Michelle B.
Nelson the Owl by Stacey Trock … It's worth visting the link just to see all of the cute versions of this owl that have been crocheted!
Other Much-Loved Patterns to Buy on Ravelry
In addition to sorting Ravelry for the "most popular" patterns you can also sort to find the "most projects", "most favorites", and "most queued". Here are the purchaseable crochet patterns that are in the top ten of those lists although they don't currently rank in the top ten most popular crochet patterns to buy:
Most Projects
Hook Candy Baby Shoes – There are three different crochet shoes patterns by Hook Candy in the top ten of "most projects": Little Button Loafers, Double Strap Baby Booties and Baby Mary Jane Skimmers.
Kathy Merrick's Babette Blanket
The Boteh Scarf by Kathy Merrick
The Anne Scarf by MK Carroll
Sweet Pea Shawl by NexStitch
Theresa Grant's Adorable Apple Cozy
Most Favorites
When you switch over to "most favorites" you see that Hook Candy also has some adult size crochet shoes that make the cut.
Afternoon Tea Fingerless Crochet Gloves by Dora Ohrenstein
Linda Permann's Peanut Butter Sweater
Sunshine Day Baby Afghan by Alicia Paulson
Most Queued
Gathering Leaves Crochet Shawl by Lily Go
Crocus Bud Crochet Shawl by Sharlene Boyce
Hourglass Crochet Jacket by StitchDiva
Curious Question: About what percentage of the time do you purchase patterns compared to using free patterns? Share your answer in the comments below!