There are thousands upon thousands of free crochet patterns and tutorials on the Internet. However there are some that have really taken off and become super popular because they're easy yet eye-catching and addictively fun to make. If you haven't tried them, here are twenty popular crochet tutorials to bookmark and attempt at some point.
1. African Flower Motif
African Flower Crochet from Heidi Bear
The African Flower Motif is gorgeous especially when it's made really colorful. My favorite free crochet pattern for this design comes from the tri-lingual blog Heidi Bears. She also offers a free crochet tutorial that shows how to join-as-you-go with the African flower motif. If you want to take it further, she also creates beautiful crochet animal patterns based on this motif, like the pony shown below.
2. Hexipuffs
Hexapuff Lap Quilt from Crochet Works
Hexipuffs are stuffed hexagons. They became popular last year when Tiny Owl Knits came out with the beekeeper's quilt pattern, which is knit hexipuffs, and then crocheters made their own version. There is a free Ravelry download called The Apiary Puff for folks who want to try this cool design.
3. Wool-Eater
Sarah London's Wool Eater
Sarah London created a great free crochet pattern called the Wool-Eater. She did a Wool-Eater blanket CAL that kicked off the craze and then lots of other people wanted to make one as soon as they saw it.
Here is another example from e.mireles on Instagram
4. Blooming Flower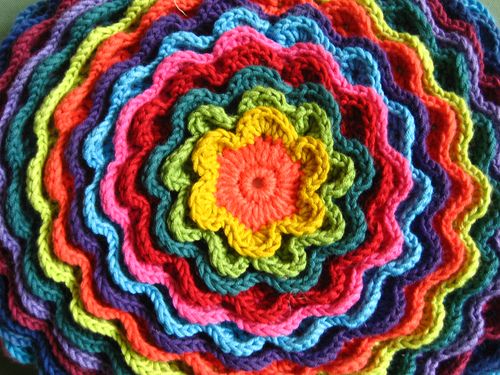 Lucy's Blooming Flower
I adore this crochet pattern and think it's wonderful that it's become so popular. The free crochet pattern is available over at Attic 24.
dawnlangley74 on Instagram shows the blooming flower cushion in two-tone
5. Crochet Flower Pincushion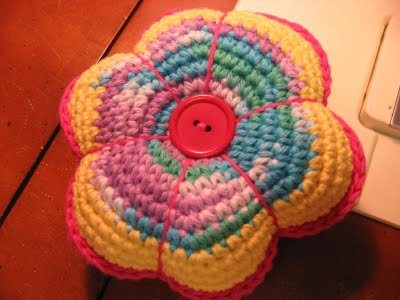 Crochet Flower Pincushion made by AlleySally
This free crochet pattern became popular first in the Danish language version and was then re-created for English-speaking crocheters. The pattern is be Liselotte Weller.
6. Crochet Flower Hotpad
Flower hotpads crocheted by The Sweatshop of Love
I love the beautiful design of this unique crochet pattern.
7. Reversible Crochet Swiffer Sock
Crochet Swiffer Sock by @lindamade
Linda Permann shares a free crochet pattern for the reversible swiffer sock over at Crafty Stylish. Cute and useful too!
8. Granny Mandala
Granny Mandala
Crochet with Ramyond offers a free crochet tutorial for making this granny mandala or granny circle. See my crochet granny circle tutorial here.
9. Celestine Crochet Dodecahedron
Dodecahedron in crochet
This great free crochet pattern comes from Berroco. They make a version for knitters as well. I love math-based crochet!
10. Circles to Squares Crochet Afghan
Circles to Squares crocheted by Helen Morgan
Shiri Designs offers a link to a download of this free crochet pattern from Lion Brand Yarns.
11. Flowers in the Snow
Another version of the circle-inside-a-square crochet idea that is popular is Flowers in the Snow, which can be found through Ravelry or on the Sols(tr)ikke crochet blog.
12. Noro Catherine Wheel Scarf
Petit Tricotage made this version of the Noro Catherine Wheel Scarf using Monet-inspired colors
For awhile it seemed really popular to make things using the Catherine Wheel crochet stitch, alternating colors row upon row. A popular free crochet pattern for that was the Noro Catherine Wheel Scarf available on Ravelry. And here's a video for just the basic Catherine Wheel Stitch:
13. Crocodile Stitch Scarf
Crocodile Stitch Scarf by Yarn Muse
This stitch is one of the most popular crochet stitches right now and it can be used to make almost anything. You can learn how to get started with it by using the free crochet pattern that Yarn Muse offers for a Crocodile Stitch Scarf. I also have a Crocodile Stitch Crochet Scarf Pattern over at Red Heart.
14. Mobius Scarf/ Cowl/ Wrap
Rebecca Velasquez crochet mobius cowl
Almost everyone seems to have crocheted a mobius scarf at one time or another. The most popular free crochet pattern for this one seems to be the one that Red Heart offers by Rebecca Velasquez. One I particularly like is the Magnalee Mobius wrap available on Ravelry. And incidentally, if you've already made too many mobius scarves but like the idea, there's a great idea for mobius crochet gloves on Ravelry too.
15. Groovyghan
Pattern no longer available
16. Round Ripple
Pattern no longer available
17. Mollie Flowers
Mollie Flowers Crochet
These cute poofy crochet flowers are a free pattern on Roman Sock.
18. 3D Flower Squares
Pitsikuduja's flower square crochet bag
The most popular free crochet pattern for 3D flower squares is probably this one from Rose Hip.
19. Chunky Crochet Basket
Chunky Crochet Basket by Liz
I've seen lots of people paying attention to this chunky crochet basket, a free pattern from Crochet in Color, and I can absolutely see why!
20. Granny Square
Granny Square Poncho by Le Monde de Sucrette
I know that the granny square is super basic but that doesn't mean that everyone's tried it. And really, there are so many fun things that you can do with a granny square once you've learned it that it just had to be mentioned! If you're looking for really popular ideas for the granny square, look no further than the blog Le Monde De Sucrette where you'll find free crochet patterns for a large granny blanket and a granny poncho, both of which have been popular to recreate. Other popular free patterns using the granny square include Granny Square Slippers over at Purl Bee and a granny variation called the Sunburst Granny. You'll find a good free tutorial for joining granny squares over at Carina's Craft Blog.