I received an extra copy of the Spring 2012 Crochet! Magazine so I thought I'd do a giveaway to pass it along. There are 34 patterns in this magazine as well as a tutorial on backed broomstick lace, an introduction to Japanese crochet from the fabulous Edie Eckman and a tribute to Jean Leinhauser.
So, I'm going to add some photos of items from this issue of the magazine here. To enter to win my extra copy of this magazine, you just need to pin at least one of the photos to Pinterest, linking back to this post. You get one entry for each pin. Leave me a comment at the end of the post telling me how many times you pinned and including your Pinterest name.
Passion Flower Crochet Jacket, design by Margaret Hubert
Spider Lace Crochet Jacket, design by Brenda Bourg
Acero Lace Crochet Top, design by Mona Modica
Shamrock Lace Crochet Sweater, design by Sharon Hubert Valencia
Line Dancing Crochet Top, design by Melissa Horozewski
Open Flowers crochet jewelry, design by Joyce Bragg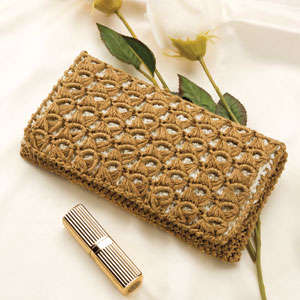 Backed Broomstick Lace Clutch, design by Linda Dean
This giveaway ends at midnight Sunday April 8th PST.