Earlier today I showed you some options for matching different colored crochet scarves to a yellow dress. But scarves aren't the only crochet choice for styling a yellow dress. Here are some other options.
Make a yellow dress super feminine with a pink crochet flower and pink heels. (Note, this crochet flower was a gift from crocheTime, best known for the terrific crochet clocks she makes.)
A funky belt makes the combo of a purple crochet scarf and a yellow dress even more eclectic. Purple shoes finish off the look.
A cool crochet hat is the only accessory you need when you've got a dress like this that really stands out on its own.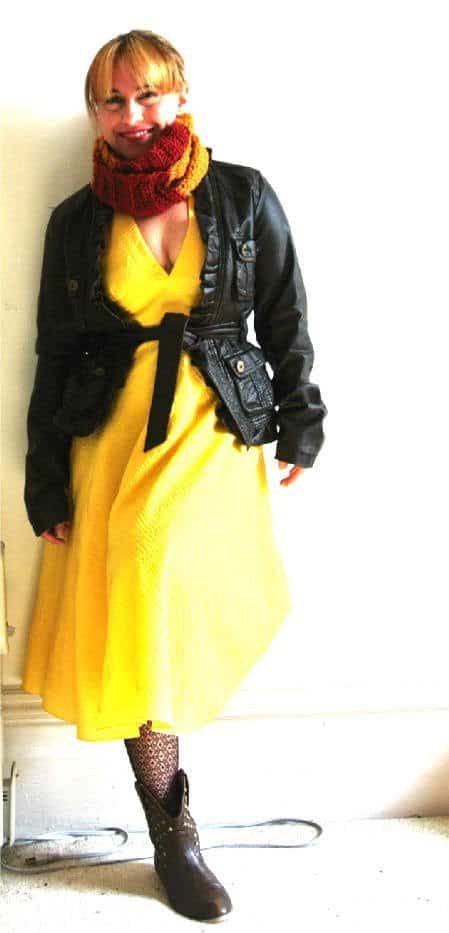 A warm weather look for a yellow dress: Add a brown leather jacket, brown patterned fishnet tights and brown cowgirl boots to create a warm funky style then add an autumnal crochet cowl to finish off the look.
White makes a yellow dress look soft and summery but make it a crochet shawl and you'll still stay cozy.
It's tough to pull off multi-colored crochet accessories with a yellow dress but it can be done. I chose a ponchette that has just a tiny bit of yellow to make a match but then has blues and greens so it's not overwhelming to look at.
Ready for the beach with a crochet bucket hat and a matching crochet tote bag.
A classy black crochet cowl and heels is perfect for taking this yellow dress to a cocktail party. Don't forget the wine in thread crochet cozies!