The topic of today for Knitting and Crochet Blog Week is to take a look at where you're at with the craft and where you want to be. I always think it's good to do this. In fact, I make these lists a lot. (Here are 25 crochet styles to try, for example.) But what I've learned over time is that I actually don't want to learn most of the techniques that I say that I want to learn. They are often things that I think are beautiful but the truth is that the details of doing the work end up not interesting me personally as a crafter. I might want to produce the results but I don't enjoy the process so I won't say never, because you never know, but right now here are five super awesome crochet techniques that I adore looking at and probably won't ever do myself:
1. Broomstick Lace
Photo credit: Occasional Crafter
I think that broomstick lace is shockingly beautiful. In fact, it just might be the most beautiful type of crochet in my eyes. However, the actual process of doing it doesn't really interest me all that much. I am admittedly an impatient crocheter who doesn't mind sometimes having stitches that aren't even in size and shape and that's fine by me but I feel like I wouldn't want that with broomstick lace. I feel like the joy of loving it so much would be lessened by actually working it so I'm going to do my basic stitches and just adore this one from afar. This actually is probably true of other types of crochet that aren't plain old hook crochet including tunisian crochet, knooking and hairpin lace.
Update: Never say never … I learned broomstick lace in late 2012 and ended up loving it!
2. Tapestry Crochet, Especially Portraits
Gone with the Wind in Crochet by LeemaCCrochet
I think tapestry crochet is super impressive. I'm probably more impressed by this type of crochet than any other in terms of technique. I especially like crochet portraits like the ones that Jo Hamilton does. And I like landscapes and pictures. The Gone with the Wind poster in tapestry crochet is one of my favorite things I've ever seen online. And for awhile I thought I wanted to learn tapestry crochet. But actually I don't really like changing colors often and I don't like working with graphs so I can't see actually enjoying working on tapestry crochet.
3. Reading Symbol Charts
Image from a crochet symbols tutorial at By Number 19
This is a skill that I think is great if you enjoy crocheting from patterns especially complex patterns and foreign language patterns. I, however, have pretty much no intention of ever learning to read symbol charts. My brain flat out does not think that way. I'm so glad that books and designers offer symbol charts for the crocheters that do work best this way. But I don't work that way. I'm a words person. And I highly doubt that's ever going to change.
4. Yarnbombing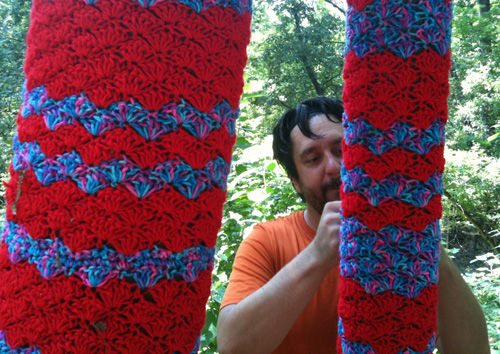 Yarnbombing public art display by knitters and crocheters in Atlanta who call themselves The BeltLine Knitterati
There was a point in time where I kind of wanted to do some yarnbombing. Actually, when I first read about yarnbombing I was very envious of the girl crews with the cool names and the great camaraderie and I even got in touch with a local yarnbomber to see if she wanted some help but that didn't pan out and over time I've decided that I don't really care if I never do any yarnbombing myself. I think it's cool. I like it. It makes me smile when I see it in my city. I'm not opposed to doing it myself but I'm not actively seeking it out either so I doubt this is one I'll end up trying. But you never know. :)
Update: Although I've never gone out and yarn bombed anything myself, I've contributed my work to several collaborative yarn bombing projects including those by Yarnbombing LA.
5. Amigurumi
Andy Aguilar of The Dope Fiends creates funky, fun amigurumi
I tried it once. Once was enough for me. I don't do a ton of fancy stitches when I crochet but I got really bored with the sc of amigurumi. And I don't really like working with small hooks. And I hate sewing parts together. And I think stuffing is annoying. I think people do really super cute stuff with this crafty aspect of crochet but I'm enjoying it online and at craft fairs and not by doing it myself.